NYPD Boosts Security in Wake of Colo. Theater Shooting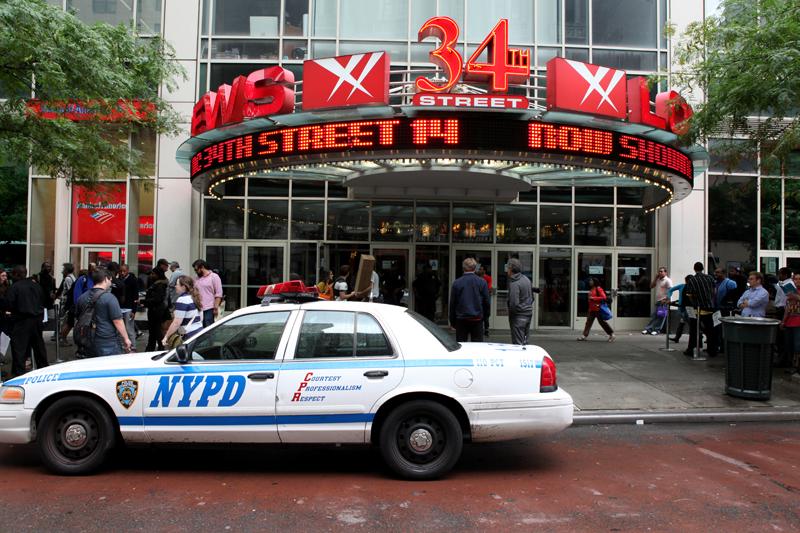 The NYPD and other local law enforcement are beefing up security at area movie theaters after a gunman killed at least 12 at a midnight premiere of the new Batman movie in a Denver suburb early Friday morning.
Police Commissioner Ray Kelly said security at area movie theaters would be boosted "as a precaution against copycats" and to "raise the comfort level of people who are going to the movies."
"We're just concerned that someone perhaps seeking notoriety will attempt to do something similar. That is the general public concern," Kelly said.
At the AMC Theatre on 34th Street, patient ticket holders waited outside the theater Friday afternoon for staff to check their tickets before entering. Some had been waiting since 1 p.m. for an evening screening. Two police officers stood nearby.
In a message on its website, AMC Theatres says moviegoers should leave their costumes at home this weekend: "We will not permit face-covering masks or fake weapons inside our buildings," the company wrote in a statement.
George Shara, 31, from the Bronx was sporting a plaid Batman hat as he waited in line outside the Midtown Manhattan theater where several wore Batman T-shirts, but no one donned costumes.
He said he was really sorry about what happened but thinks "people should just come out and relax and enjoy themselves."
At 5 p.m. Shani Bess, 27, from the Bronx blamed an "aggressive friend" for forcing her to wait in line for a 9 p.m. screening. Glancing at the NYPD, she said she's not really concerned about anything happening in the city this weekend.
"I saw they beefed things up after the incident, so I think it'll be pretty safe," she said.
Michael Goldfarb, Chief of Police in suburban Eatontown, N.J, said there will be a ban on costumes at the Monmouth Mall. They will also turn away duffel bags and backpacks from its theaters.
"People are going to wear capes or any covers or anything—we're going to ask them to let us see what's underneath," said Goldfarb.
Goldfarb said the Monmouth Mall in northern New Jersey will have three private security guards at the mall and AMC Theatre there, in addition to two police officers and an increase in regular police walk-throughs. Officers will now walk into theaters.
The increased police presence will continue for at least two weeks.
Richard Goldring, the executive vice president of Strike Force Protective Services, a private security firm, says he's seen an increase in inquires for theater security today, following the shooting. "We make sure everyone that enters is ticketed and that there are no people in theater that are trying to get in to the theater that aren't ticketed patrons—and no one is opening and fire entry doors," he said
His company provides security at public venues, including movie theaters in New York and New Jersey. He said he has not received any requests for armed services or metal detectors Friday.
A 24-year-old suspect, James Holmes, was arrested shortly after the shooting in Aurora, Colorado.
The FBI says there is no indication the incident is tied to any terrorist groups.
Mayor Michael Bloomberg said "soothing words are nice," but called on the two presidential candidates to speak out about their positions on gun control.
"No matter where you stand on the Second Amendment, no matter where you stand on guns, we have a right to hear from both of them concretely, not just in generalities – specifically what are they going to do about guns?" he said, speaking on his weekly WOR-AM radio show.
A joint statement from City Council Speaker Christine Quinn and the Gun Violence Taskforce said the city must recommit to strict gun control laws. "We will not reduce our vigilance in working to save lives here in this city and beyond," the statement noted. "Gun violence is an epidemic requiring our full attention and resources to combat it, as last night tragically showed."
The shooting did not deter fans who flocked to a Times Square theater for an early screening of the film on Friday morning.
Eric Monroy, 20, of Brooklyn, said he's not going to let a shooting in Colorado stop him from going to the movies in New York.
"You can still relax and hang out, but you still got to be alert, you still got to be vigilant," he said. "You could have a stupid punk with a gun just shoot up everybody, you know?"
Cooper McGill, 29, from the Upper East Side, said he did have some hesitation when deciding to see an early screening of the film – but ultimately decided to go ahead with it.
"It's kind of a show of strength as Americans that we can all band together and just move forward," McGill said.
Earlier in the day AMC Theatres said it is working with local law enforcement across the country and reviewing its safety and security procedures. "Being a safe place in the community for all our guests is a top priority at AMC and we take that responsibility very seriously," the statement read.
Jorteh Senah contributed reporting