Police Say 71 Shot, 12 Killed in Colo. Shooting
Seventy-one people were shot and 12 killed when a gunman wearing a gas mask opened fire on moviegoers at a sold-out midnight premiere of the new Batman movie outside of Denver, Colorado, police said.
Police say suspect James Holmes, 24, tossed gas into the theater before pumping "many, many rounds" into the packed theater – using an AR-15 assault rifle, a 12-gauge shotgun and a .40 caliber Glock.
Twelve people were killed, 10 in the theater. Many other victims from the shooting are in critical condition, police said.
Aurora Police Chief Dan Oates said he is "confident" the shooter acted alone. He declined to comment on the gunman's possible motive.
Holmes, who was dressed in all black, was arrested by police in the back parking lot of the theater near his white Hyundai.
New York City Police Commissioner Ray Kelly, who was briefed no the shooting Friday morning, said the gunman had red hair and called himself the Joker. Officials in Colorado declined to comment, and WNYC could not independently confirm.
Cops said his apartment, four miles from the scene, was booby trapped with trip wires and incendiary devices.
Holmes did not have a prior record. He had a single traffic summons in October 2011.  
Hundreds of calls began to flood 911 at 12:39 a.m. Within a minute, two dozen officers responded to the scene to find chaos unfolding.
"Shots fired in the theater," tweeted a witness @dingos8myTARDIS. "I'm outside, one of my friends is still inside. No one knows what's going on. … Oh, God. I don't know what to do."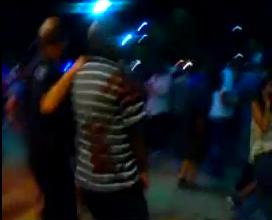 (Photo: A man in a bloodstained shirt exits a Colo. theater where a gunman opened fire during the premiere of "Dark Knight Rises."/Courtesy of YouTube)
A witness told the Daily News that the gunman burst through the theater's emergency door and tossed tear gas into the theater before opening fire moments after the film started.
We "heard loud noises and [saw] smoke and thought, 'This is a joke. This is fireworks,'" moviegoer Megan Walton told the News.
Police said they are investigating how the shooter entered the theater.
A cellphone video shows the chaos inside the theater as a crush of moviegoers rushed to the exit, many of them shrieking and at least one emerging in a shirt soaked in bloodstains.
"Let's get out of here!" one theater-goer screamed.
The FBI is helping in the investigation and says there is no indication the shooting is tied to any terrorist groups.