Sylvia Woods, Owner of Iconic Harlem Restaurant, Dies
Sylvia Woods, the "Queen of Soul Food" and owner of Harlem's famed Sylvia's Restaurant died Thursday afternoon. She was 86.
A statement from the family said that Woods died Thursday afternoon at her Westchester home "surrounded by a host of family and loved ones."
"Sylvia gallantly battle Alzheimer's for the past several years, but never once lost her loving smile," the family said.
She founded the restaurant — then a small luncheonette that consisted of a counter and a few booths — with her husband in 1962. It grew into a much larger family-owned operation that drew politicians from Bill Clinton to Congressman Charles Rangel, locals and tourists looking for Southern favorites from fried chicken to collard greens.
Rangel said he was saddened to learn of Woods' passing. "She was a dynamic, warm and kind woman whom the entire Harlem community will miss," he said in a statement. "Sylvia's may have been famous nationally and internationally, but its soul has always remained in Harlem. Nothing can replace its founder, but her legacy will live on in the memories she helped make."
Chef Marcus Samuelson, owner of Red Rooster a few doors down from Sylvia's said he met Woods 15 years ago, and it was a life changing event. "The speech she gave there gave me the spark to one day move to Harlem and open a restaurant. And constantly looking to Sylvia's on how to do it — including the community, hiring the community and being of the community."
Thursday night was the annual Harlem Week reception at Gracie Mansion, where Woods was scheduled to receive an award commemorating the 50th anniversary of Sylvia's Restaurant. Instead, there was a moment of silence before Tina McRae, a family friend, accepted the award on behalf of the Woods family.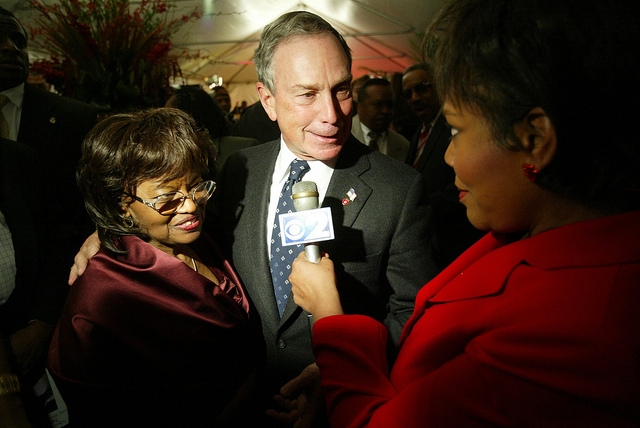 When Woods turned 80, she publicly announced that she was retiring and passing the torch to her children and grandchildren.
She was a recipient of several legacy awards including the Merit Award from Mayor Michael Bloomberg, and numerous declarations and citations from political figures ranging from President Clinton to Governor George Pataki, according to the restaurant's website.
(Photo: Sylvia Woods with Mayor Bloomberg at her 80th birthday at Sylvia's Restaurant in 2006./Courtesy of the Mayor's Office.)
Brigid Bergin and the Associated Press contributed reporting.