Williamsburg Park opened last night, becoming the latest in a series of outdoor music venues in the city. It's just two blocks north of where outdoor concerts on the East River had taken place before, but the new space has a lot to recommend it: bands don't get to face the river and the skyline anymore, which may suck for them, but it's great for us.  The massive stage structure casts a big shadow, and at 6:45 (and still 94 degrees) last night, I think we were all really grateful for the shade.  The ground is painted to look like the sky, clouds and all.  The beer stands are easy to spot, though you can't buy any without going to the ID Check tent first.  And most important for an outdoor space, the sound was actually quite good.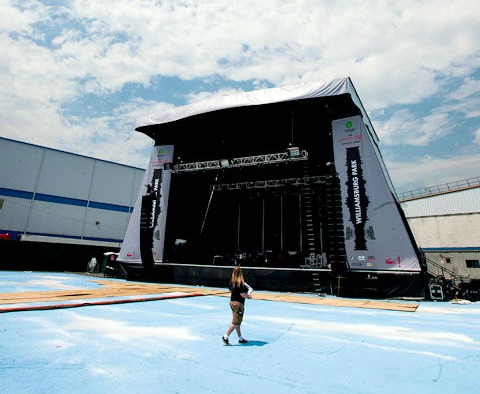 I arrived just as Field Report was starting.  The band is led by Chris Porterfield (get it?  Porterfield?  Field Report?  Well, according to his publicist, when this was pointed out to him, Porterfield said he'd never realized the band name was made from his own last name).  The group played twangy, bittersweet songs that skirted the edges of folk and so-called countrypolitan styles.  This was music that probably needs a more intimate space (they're playing the Mercury Lounge on Saturday, which should suit them fine), but the sound system gave the band a chance to impress.  You could clearly hear, in one mid-set song, some interesting "wrong note" chords. I was
(Photo by Ryan Muir/Brooklyn Vegan)
taken with one song near the end of the set, melancholy but not mopey, and full of lovely piano triplets.  When I asked Porterfield after the set, he identified it as "Evergreen."  It's not on the Field Report EP, but he says it'll be on the full-length due in September. 
The concert's headliners were Counting Crows, and frontman Adam Duritz appeared onstage to introduce Brooklyn's own We Are Augustines, recalling how he'd been blown away by their set at the South By Southwest Festival.  Since we last heard We Are Augustines on Soundcheck, in December, they have been touring relentlessly in support of their debut album, Rise, Ye Sunken Ships; and it shows.  Frontman Billy McCarthy no longer looks and sounds like he's scraping open a raw wound – many of the songs were written after the death of his brother – but still cuts a compelling, high-energy figure onstage. And, when necessary, a brave one as well.  He began in his trademark fedora, but while hurtling himself across the stage in their first song the hat came flying off.  As it turned out, that was the least of his problems.  Afterwards, backstage, he explained that his vocal mic had started drooping, and as he started leaning down to stay with it, the weight of his guitar threw him off balance – so he lost his hat and wrenched his back in one fell swoop. 
Although he was barely moving afterward, McCarthy and the band never let on that anything was amiss during a set that was tight and focused, if too short.  Their single "Chapel Song" rode a brisk pulse, and the high point of the show, "Book of James," originally a cry of anger and defiance in the face of unbearable tragedy, roared its newly uncovered message about the healing power of music. That healing power would be put to the test at the end of the evening, when all three members of the band would be singing with Counting Crows on their grand finale.
The crowd seemed to fill about two-thirds of the space, which is quite large, and most of them had clearly come to see the headliners.  T-shirts I haven't seen in years abounded: Counting Crows, of course, but also Sublime, Steve Forbert, even a Ziggy Stardust shirt.  This audience clearly enjoyed Adam Duritz's literate, narrative songs – probably because a) the band was in fine form, and b) they could hear the lyrics.  During "Mr Jones," I had wandered to the merch table in the back, far from the main body of the crowd and close to the exit, and was impressed with how clear the sound was.
I'm guessing the organizers wished for a full house (which I think would have been uncomfortable), but it was a promising start for New York's newest outdoor venue.