NYU's Scaled Back Expansion Bid Approved by Council Committee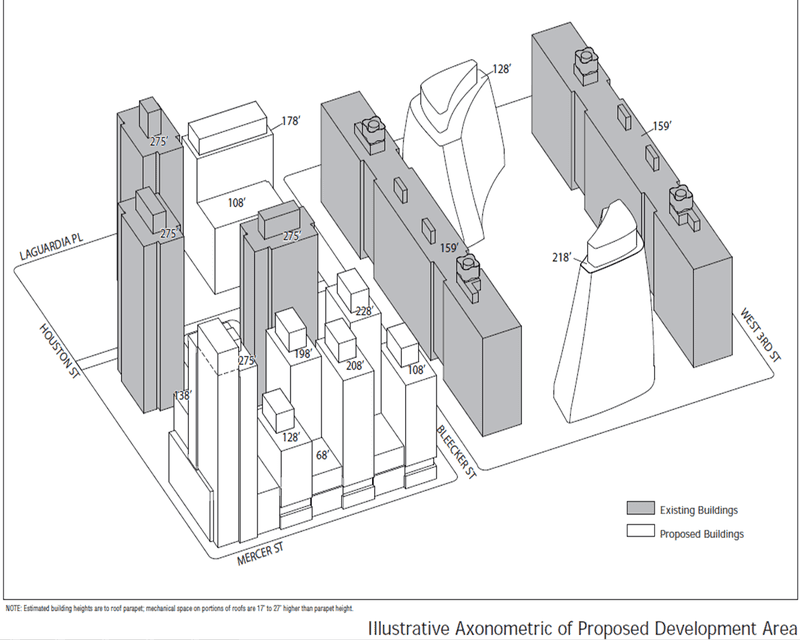 New York University's controversial expansion plan was approved by a City Council committee on Tuesday after the school said it would scale back development.
The subcommittee on zoning and franchises voted unanimously in favor of the plan. The committee on Land Use voted in support of the expansion, 19-1.  
The plan presented to the committee Tuesday included a 26 percent reduction in above-ground space from NYU's original proposal earlier this year.
Councilwoman Margaret Chin said that NYU's changes struck a balance between the school's needs and the community's character.

"I wholeheartedly believe that this proposal will allow NYU's growth in the Village to occur at a sustainable pace, and that it will not overwhelm the wider Village community," Chin said at City Hall.
The modified expansion plan reduces the amount of above ground building space by 352,000 square feet from the original 1.34 million square feet.
Several towers in the proposed Zipper building on the superblock between Houston and Bleecker streets decreased height —a total of 123 feet or 70,000 square feet. The tallest tower still stands at 275 feet. The LaGuardia and Mercer buildings, proposed to be built on the block between Bleecker and West 3rd streets, also lost a total of 250,000 square feet, with the Mercer building going from 11 stories to four.
Opponents to the plan say the modifications still do not alleviate their concerns about decades of construction or how the large buildings would alter the character of the neighborhood.
NYU professor Mark Crispin Miller says he and other opponents will continue to lobby the city council with the help of a law firm. He said NYU could convert existing space rather than build new facilities.
"NYU 2031 even with a 26 percent reduction is unacceptable," Miller said. "It would be unacceptable with a 50 percent reduction. It would be unacceptable with a 75 percent reduction. We don't need it."
The city council will vote on the proposal on July 25.