As Republicans Block DISCLOSE Act, Romney's Position Unclear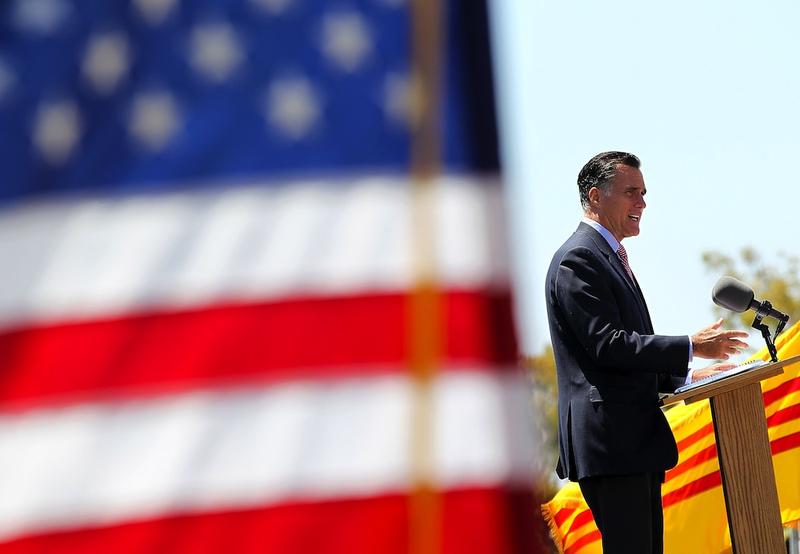 After Senate Republicans won a vote along party lines to kill the DISCLOSE Act, which would have set new political spending disclosure rules for third-party organizations like the NRA and ACLU, campaign finance reformers may have to wait until after the election to see any meaningful legislation come before Congress.
DISCLOSE had been seen by campaign watchdogs as a potential band-aid on the wound left by the Supreme Court's 2010 Citizens United decision. While some groups are seeking to overturn that decision via constitutional amendment, a process that could take years, others such as the Campaign Legal Center have concentrated their efforts on enhanced transparency and reporting legislation in the existing money-equals-speech environment. DISCLOSE would have required organizations spending more than $10,000 on electioneering communications in a calendar year to make public a list of everyone who contributed $10,000 or more to the organization that year, among other reforms.
But with the most recent high-profile push coming up short, Meredith McGehee, the Policy Director for the Campaign Legal Center, said her organization would spend the next few months continuing to educate the public, leaving new bills for a new session of Congress.
"It's going to be very difficult as the election gets closer to do anything legislatively," McGehee said. "Our challenge is to demonstrate why, post-Citizens-United, without DISCLOSE, the threats that loom out there in our political system."
The candidates' challenge, too
Ironically, both presidential campaigns have been doing something like that to each other for months.
Mitt Romney's reliance on large donors, and the enthusiasm of millionaires like casino mogul Sheldon Adelson to donate to Republican Super PACs and other independent expenditure groups, has left Obama openings to attack Romney as corporate America's candidate. The fact that Romney has refused to release a full list of his top bundlers has also made him a target of good-government groups; so far, Romney has only been public about those bundlers who are already registered lobbyists.
On Monday, a Romney surrogate leveled essentially the same criticisms at President Obama.
On a conference call with the Romney campaign, Virginia Attorney General Ken Cuccinelli lamented that top donors and bundlers for Barack Obama had received undue favors from the President's administration. "Two hundred of Obama's biggest donors landed wonderful, plum government jobs," Cuccinelli argued. "Look at the U.S. Attorney General's office. It seems to me that the most similar factor between all of the top people in the Attorney General's office is they were political bundlers."
And so it was that while both campaigns were complaining about each other's fundraising and bundlers and the prospect of undue access and cronyism thanks to shady political contributions, the Senate killed a bill that was supposed to remedy some of those problems.
Where does Romney stand?
The Obama campaign released a statement in support of the DISCLOSE Act, but neither Ken Cuccinelli nor the Romney campaign articulated the Republican candidate's position, despite the fact that it was their party in the Senate voting against the bill.
"I don't know if he's taken a position on DISCLOSE Act or not," Cuccinelli said. "What I do know is committed to weeding out the kind of cronyism we've been talking about today in the executive branch."
A follow-up e-mail and phone call to the Romney campaign for clarification was not immediately returned.
Meanwhile, President Obama said this bill should have had broad, bipartisan support.
"Unfortunately, Republicans chose to block it," Obama said in a written statement. "Instead of standing up for the American people, Republicans stood with big banks and oil companies—special interests that certainly don't need more clout in Washington."
Without the DISCLOSE Act to root for, Meredith McGehee said the chances of any other meaningful reforms coming before Congress this year were very slim. However, while the election has made pretty much any piece of legislation that much more difficult to pass, it's also brought issues of campaign finance to the fore—even in the arguments candidates are using against each other. 
"There's an opportunity to demonstrate the case, but it's become such a polarized situation and it's hard to talk in a way that doesn't get caught up in the elections," McGehee said. "Continue to make the case, show the proof."
All six senators from the tri-state area voted in favor of DISCLOSE. Five are Democrats, among them New York Senators Kirsten Gillibrand, who was a co-sponsor, and Chuck Schumer, who introduced a version of the bill in 2010. Joseph Lieberman, the Independent from Connecticut, also voted for the legislation.