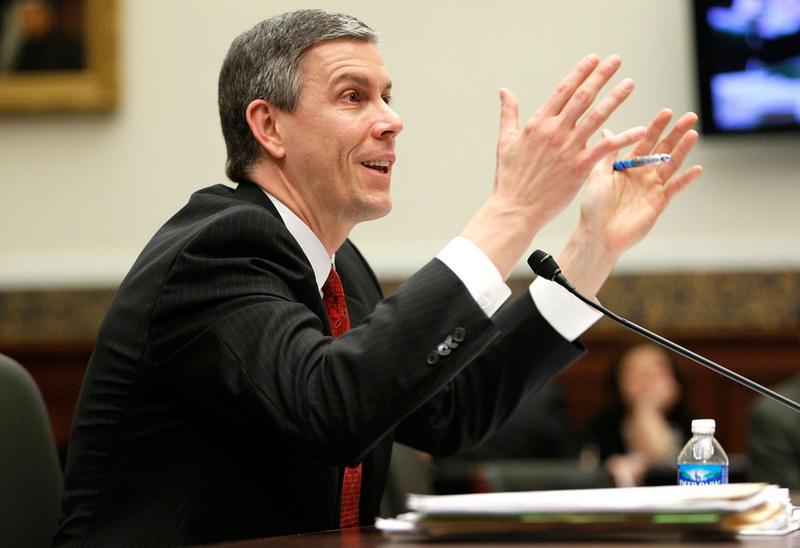 The 2008 financial crisis and the great recession exposed Americans' flawed understanding of personal finance. Little has improved in the last four years: Americans owe more than $1 trillion in student loans, along with $870 billion in credit card debt. Over 11 million American borrowers are underwater on their mortgages, meaning their loans cost more than their house is actually worth.
With these statistics in mind, the Obama Administration is making a push for financial literacy, starting with children as young as three years old. Secretary of Education Arne Duncan thinks it's time for all schools to teach personal finance along with math, reading, and social studies. He thinks it's especially relevant in the wake of the 2008 financial crisis, with all its subprime mortgages and home foreclosures. "There's absolutely no doubt in my mind that if we had a more financially literate population, some of those horrendous things that happened to individuals and their families would not have happened," Duncan says.
Beth Kobliner, author of "Get a Financial Life" and a member of the President's Advisory Council on Financial Capability, helped develop the Obama Administration's program on financial literacy. "The government here is essential in making sure that people don't sign that mortgage document 20 years from now because they never learned about this at school or at home," she says. 
The initiative is one of the first of its kind, as school curriculums rarely include extensive financial education. "You have many parents who just don't have experience themselves," Duncan says. "Where you have a parent who's working in the financial sector, that's one thing, but when you're working in the inner-city and disadvantaged communities, unfortunately, that's obviously not the norm."
Kobliner also highlights the importance of communication within the family concerning finances. "People are ill-equipped," she says. "They don't know how to talk about it." One of the tools that Kobliner has helped to develop is Money As You Grow, a website that features activities that help teach financial lessons to children ages 3-20. "We have to start talking about money," Kobliner says. "It's essential that kids don't get into the trouble we're in now when you're in your 30s, 40s, and 50s."
While the current political climate in Washington has made bipartisanship a difficult goal to achieve, Duncan believes that the initiative will go unaffected by the polarized atmosphere. "I think it's in the country's best interest to have a financially literate workforce and populace," Duncan says. "There's been very little pushback on this, if any. I think we have a long way to go as a country. I think everybody feels this sense of urgency, and so I think politics and ideology really don't have a role to play here."