No Injuries Reported as Seaport Fire is 'Extinguished'
By early evening, the only trace of the three-alarm fire at South Street Seaport that sent up billowing clouds of smoke Saturday afternoon was the lingering smoky smell.
The three-alarm fire that broke out around 4:00 p.m. and involved a soda vending machine at South Street Seaport's Pier 17 was extinguished by 5:20 p.m., according to the NYPD. The fire was caused by wiring under the pier that powered lighting and vending machines, according to a statement from fire officials.
There were no reports of injuries.
The city's Department of Building is evaluating the pier, a popular site for tourists, for any structural damage.
"The safety and security of visitors to the Seaport are always of the utmost importance, and thankfully there were no injuries in this incident," said Michael Piazzola, Senior General Manager with The Howard Hughes Company, which owns and operates the Seaport.
South Street Seaport is also a summer music venue and Saturday evening's performance, which took place not far from Pier 17, went on as scheduled.
Large plumes could be seen coming up from the pier in Brooklyn and farther uptown to Manhattan.
The eastern portion of the pier was evacuated as the fire blazed and emergency personnel worked to put the five out
The FDNY marine unit and fireboats on the scene also doused water on the fire from the East River. The Coast Guard had been called in. In all, approximately 140 firefighters responded to the blaze.
Battalion Chief John Sarrocco said flames enveloped a 100-foot stretch of Pier 17, which was teeming with several hundred people when the fire broke out. Firefighters used chain saws to remove planks of old timber to get to the flames.
"You could hear the wood crackling. It was very hot," said Sean James, who works as a deckhand on a tourist speed boat and saw the fire break out. "It was spreading fast."
James and his fellow crew members sped over to the pier and began drenching the flames with the fire hose on their boat until the fire department showed up.
The Pier 17 shopping mall is 27 years old. There has been a proposal put forth to replace the boxy red structure with a three-story glass building that includes a rooftop auditorium.
Beth Fertig and the Associated Press contributed reporting.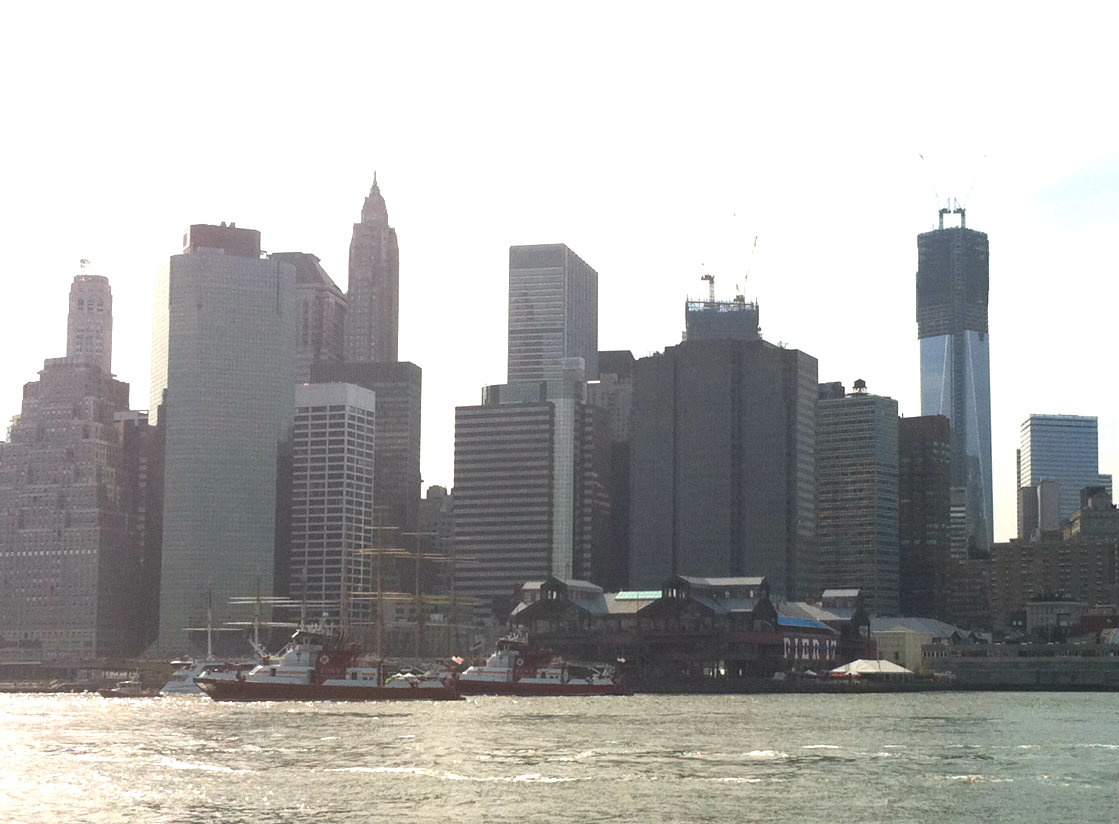 (Photo: Fireboats battled a 3-alarm blaze at Pier 17./Tracey Samuelson for WNYC)