In City Pools, Keeping Conditions Sanitary Is a Daily Struggle
It's a perennial concern for summer pool goers, one lampooned last week as the latest of McCarren Park pool's ongoing problems: fecal matter in the water.
One long-time city pool supervisor says it occurs everyday — usually in the baby pools.
"They let loose in the pool, the babies, they gotta go, they gotta go," said Mark Rosenthal, who worked for the Parks Department for 42 years and spent many years supervising pools in the Bronx before moving on to become president of Local 93. "This is something that happens on a daily basis."
Last Tuesday, McCarren Park pool was cleared in the early afternoon because of a fecal matter incident, according to Parks Advocate Geoffrey Croft, who was at the pool. He said the staff acted quickly and professionally.
"Certainly these things are always a concern because when you think of the word 'public pool' for some people it does conjure up not being clean," he said. Croft added that the Parks Department has a "very rigid inspection process and they're very, very good about keeping those pools clean."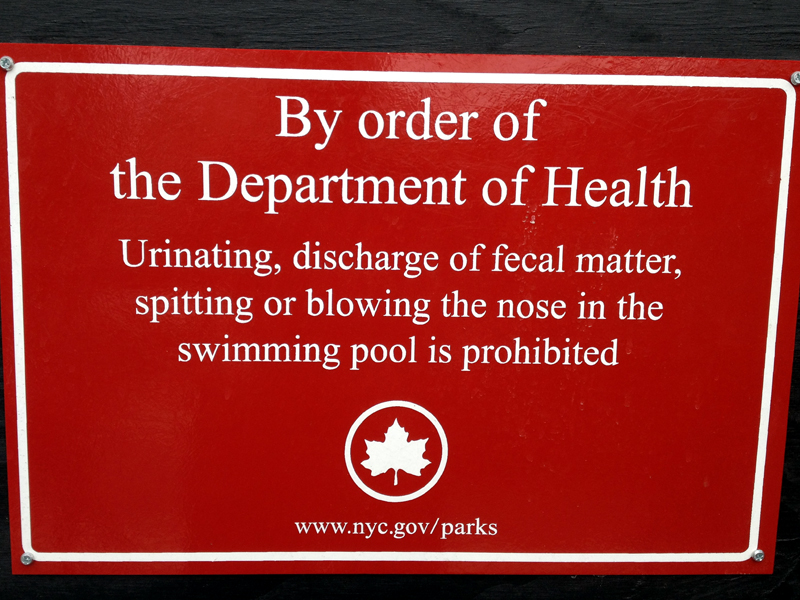 The Parks Department said in a statement that every pool has a maintenance and operations staff and pool supervisor who tests the pH levels every hour.
"Whenever there is an 'unsanitary condition' we clear the pool of swimmers and clean it immediately, takes about 20 minutes," the department wrote.
(Photo: Department of Health pool notice outside of the Tony Dapolito Recreation Center in Lower Manhattan. Stephen Nessen/WNYC)
The Parks Department has 66 public pools across New York City, including many small pools. Last summer, pool attendance hit 1,900,893, according to the Parks Department.
"Sometimes we treat pools like toilets. Sometimes we defecate in the pools, we sometimes urinate in the pool and I think we don't realize we share the water we swim in," said Michele Hlavsa, chief of the CDC's Healthy Swimming Program based in Atlanta.
Hlavsa said there are two types incidents—a formed stool event or a diarrhea event. In the former, the germs are contained and after raising chlorine levels slightly, the pool can be restored to use in 25-30 minutes. The latter incident, however, can shut a pool down for nearly 13 hours and is far more dangerous because there is a high risk for spreading the parasite known as "crypto," which is resistant to chlorine.
"It's not about how well the pool is maintained, it's about swimmers not swimming with diarrhea and unfortunately sometimes they do and they carry the parasite from one pool to another," Hlavsa explained.
She noted that the CDC received 134 reports of outbreaks linked to pools, water parks, lakes, beaches between 2007 and 2008, and of those 59 were "crypto" related. Since the CDC has been tracking "crypto" in 1978,  New York has never had an incident that she could recall.
If parents are concerned about pool water quality, Hlavsa said they can test pH and chlorine levels with test strips available at pool supply stores or they can get them for free here.