Anna in the Swing States: No 'Mile High' Enthusiasm in Colorado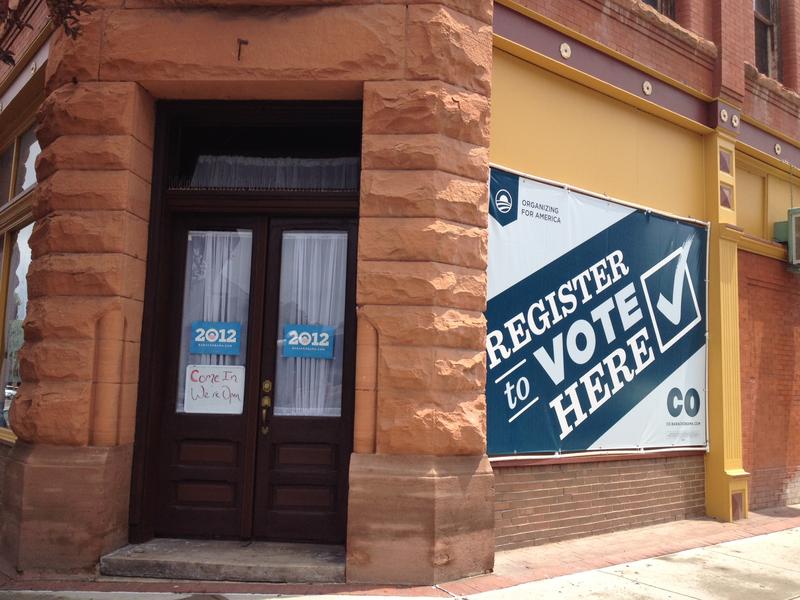 In Colorado, the smoke from the summer's fires had lifted by this week, replaced by ubiquitous "Thank you, Firefighters" signs and banners on buildings and roadsides. Across the state's diverse political geography, there is another consensus opinion: the 2012 election is a bummer.
While attacks ads scream on televisions, voters' feelings about the election are more dulled than divided.
"I've been very liberal and I've been very conservative, and now I'm really just disappointed," art teacher Jana Cramer told me in Fort Collins. "I have no idea who I'm going to vote for. I don't even feel like voting."
That deflated mood crossed the state's diverse political geography, from Pueblo County's Latino civil rights activists, to conservative churchgoing communities in the Denver suburbs, and among Fort Collins' highly coveted independent swing voters. And for many, the choice they're anticipating in November is not so much Obama versus Romney, but whether voting for the guy they kind of like is worth the trouble.
"I don't think I'm voting this year. I'm staying out of it," retired steelworker Steve Martinez told me in Pueblo, Colorado. He's always in presidential elections, and said he'd never vote for a Republican, but he said Obama hasn't earned his vote again. "I don't really like the Democrat right now because there's no change. The job situation is bad. The price of gas is bad. The economy is bad."
From Mile High Energy to Hunkering Down
President Obama won Colorado by nine points in 2008, and he still plenty of fans here. Romney's made some recent gains in polls, but Obama has consistently held the edge this year. But after crowding joyfully into Mile High stadium to watch Obama accept the Democratic nomination in 2008, even his most dedicated backers say that doing it all again feels like a grind.
"We're hunkered down, and we know there's a lot of work to be done," said Wendy Aiello, a public relations consultant and Democratic donor who lives in suburban Arapahoe County. "We've watched a lot of attacks against the president, a lot of personal attacks, and it's not joyful anymore. It's serious business."
Unease with Obama's Tax Plan in Suburbs
In Denver's prosperous suburbs, though, Aiello did allow that the Obama administration's renewed push to limit the tax cut extensions to incomes of $250,000.
"The tax cut situation is making people crazy. That is one thing that people get wild about," Aiello said. "If you have three kids and you make $250,000,, and you want to get them all through college, you're still struggling."
The income-limit debate has been a major turnoff for John Bernstein, a lawyer who works in Denver and lives in suburban Arapahoe County. He voted for George W. Bush for two terms, but he supported Obama in 2008. He even turned out to see Obama accepted the Democratic nomination in person. He said he's not likely to vote for Obama again because of the stalled economy, but the tax question drew his most animated critique.
"I do not subscribe to the theory that people who are earning $250,000 or more should have a tax increase," Bernstein said. "I think it's very unfair and very wrong and a very bad political statement as well as public policy to suggest, as Obama has, that people who play by the rules should be able to get ahead – with the inference that people who do well don't play by the rules."
A clear majority of Americans support the president'stax proposal, but the president's winning Colorado coalition included voters making $100,000 to $150,000 a year. Obama won these wealthy voters by six points, a twenty-two point swing from the Republican column in 2004, according to exit polls.
Restrained Energy Behind Obama's Big Latino Lead
Latino voters were also pivotal in Barack Obama's Colorado win, when their share of the electorate up to 13 percent from eight percent in 2004. But in the Democratic county of Pueblo County, where 36 percent of eligible voters are Hispanic, dejection had replaced inspiration.
Take Camilla Franco, a 26 year-old mother studying car mechanics at Pueblo Community College. She voted for president for the first time in 2008, motivated by the chance to help elect the first black president. This year, she's not sure if she'll make it to the polls.
"Republicans and Democrats just fight with each other," Franco said while she waited for the bus on campus. "How are they going to fix the country if they can't get along? How are they going to fix the world? They're sitting there bickering."
The Obama enthusiasm was muted even among Latino activists who are gearing up for voter registration drives and outreach campaigns in the coming months.
"He's done a number of great things, I believe, but with respect to the Latino community, there's a sense that I see and hear that it has not been enough," said Tom Duran, the Colorado leader of the League of United Latin America Citizens (LULAC). "Almost to the sense of placating to the Latino community at the last hour."
Mitt Romney looks to be in no position to capitalize on Hispanic voters' grumblings about Obama. Obama's lead among Colorado Latino voters had widened in recent poll to 27 points, even as Romney narrowed the overall gap. Even Dan Sandoval, the former Republican Party chairman in Pueblo County, told me the only way Romney would get his vote was if he added a Hispanic to the GOP ticket.
Reservations about Romney, Too
For voters who've proven willing to cross back and forth, the Romney campaign is positioned to exploit the deflated enthusiasm for Obama.
"Romney doesn't offend me," lawyer John Bernstein said, after ticking off the reasons Obama had lost his support. Dick Hinson, an economist at an economic development agency in suburban Aurora, offered similarly tepid endorsement.
Hinson agrees with President Obama that some taxes have to be raised to bring in more revenue. But after voting for Obama in 2008, Hinson said he's leaning towards Romney because of what he sees as a more business-friendly worldview.
"Romney, his program in terms of tax cuts, are not as realistic as Obama's," Hinson told me. "But at the same time, I think a lot of the things Barack Obama does are very socially oriented, the community organizer background, so I think there are a lot of expenditures that could be cut, that won't be cut."
Romney does have his champions. I met Lynn Dompier of Loveland after her first morning making phone calls at the Romney headquarters in Fort Collins. It's her first time ever volunteering for a presidential campaign. She told me she felt like she needed to do something after too many nights complaining at the dinner table.
A self-described conservative, she's convinced Romney's the candidate to get the country back on track. By the time she was on the phone calling strangers, she'd had some practice making the case for Romney. She told me she's still trying to convince her mother that it's better to vote for a Mormon than to stay home.
Debbie Vandenberg of Littleton expressed similar concerns outside a shopping center in the Denver suburbs.
"I just said to my husband I don't know what I'm going to do when the election comes because I don't feel great about either one," Debbie Vandenberg of Littleton told me at a shopping center in the Denver suburbs. Her indecision is notable, because as a conservative Christian voter, she said she's always supported the Republican presidential candidate.
Come November, though, Vandenberg's certain she'll cast a vote.
"I probably would just vote for Mitt Romney, because I know that he takes a stand on some of the things that I believe in," but she added, "I'm concerned about the Mormon issue, and I don't know if that's okay to say."