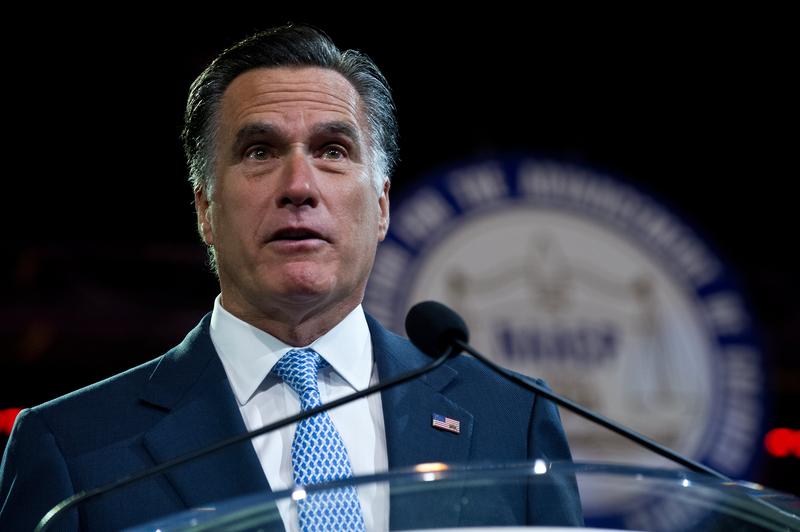 On Wednesday, Republican presidential candidate Mitt Romney addressed the NAACP's annual conference, earning a mix of laughter, applause, and boos. As 95 percent of black voters cast their ballots for President Obama in the 2008 presidential election, opinions are mixed as to the motive for the speech, in which Romney reaffirmed his economic plans to cut "every nonessential expensive program I can find," including the Affordable Care Act. 
Vice President Joe Biden also took to the podium at the conference and delivered a speech that was punctuated by long stretches of cheers and applause. He attacked the presumptive Republican nominee's policies and focused on the benefits of the recently passed health care law. 
Ron Christie is a Republican political strategist and Takeaway contributor. He believes that the headlines telling of Romney getting booed by the audience don't tell the whole story. "We had a smattering of boos, but folks don't recognize that, at the end of his speech, he did get a standing ovation," Christie says. 
"I think it was very wise for him to go. I think that, for far too long, Republican politicians have sort of shied away from the African-American vote and from finding a way to reach out and a meaningful dialogue, [and] just by starting that dialogue, I think he started a trend that could [go] very well for him if he continues to make inroads to the African-American community." By sticking to his message and refusing to pander, Christie believes, Romney came out ahead. 
Kai Wright is the editor of Colorlines, and disagrees with the notion that Romney was aiming to create a genuine dialogue. He suggests that the speech was geared more towards people outside of the room than in the room, saying, "There's actually a long history of folks showing up at black audiences to wag their finger at black folks in an effort to shore themselves up with other folks." In other words, by appearing to make the effort to appeal to black voters, the Republican candidate may be hoping to attract moderate voters. 
"It serves the governor well to stand up to the NAACP in a time when he's struggling with the right still, and figuring out how to get more traction," Wright says. Christie, who says he has a slight bias towards Romney as he has known the candidate for several years, believes that the speech was honest in its intentions. "I genuinely believe he wants to make inroads [to] constituencies of color," he says. 
"I think both campaigns kind of got what they wanted out of it," Wright says. "Whether or not black people got anything out of it is a different question."