Home from War, Reservists Struggle to Find Support
Amid the spa, cocktail bar and other trappings of The Heldrich Hotel, a luxury hotel in New Brunswick, NJ, are eight couples who have signed up for a weekend retreat – who are trying to get quality time without the kids. But it's not all relaxing, these couples are here to work on their marriages, and they're being led by Staff Sergeant Anthony Mauro in a Strong Bonds for Couples training for New Jersey Army National Guard members and their spouses.
In an afternoon session, Staff Sergeant Mauro asks the couples to split up by gender and make 'Top 10' lists of what they think their spouses need in a relationship.
The women go first.
"Of course at the top of the list we put that men want sex from their wives," the spokeswoman for the group said. "Followed by food and/or a personal chef."
She says men also want submissive women. They don't want to be nagged but they do want a "man cave," an ego boost and a stylist.
The men go next.
"Romance, money, security, communication, honesty, empathy, love and affection … quality time and a lot of chocolate," one of the husbands reads from the list.
Actually, says Staff Sergeant Mauro, studies show love is what most women want in relationships and respect is what men are looking for.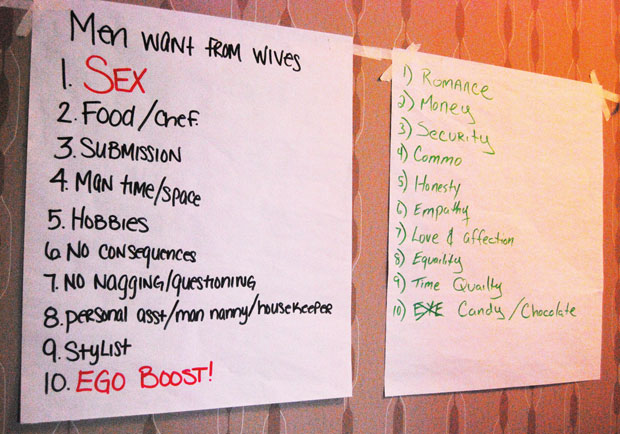 Photo: At the top of the women's list is sex. Romance tops the men's list. Staff Sergeant Mauro says studies show love is what most women want in relationships and respect is what men are looking for. By Abbie Fentress Swanson/WNYC.
These free trainings, according to the Army, have helped lower divorce rates, bring down incidents of family violence and keep soldiers from dropping out of the military.
It's hard to tell if activities like this are helping couples talk to each other and get back on track. But after the session wraps up, Jill Arnstein says she hopes to use what she has learned at the session in her marriage if her husband Jesse gets deployed to Iraq or Afghanistan.
"It's been really helpful to have other couples to talk to and listen to the experiences and issues that they have," she said. "And see that our issues are very similar to theirs, so it kinda' makes you feel better."
Jesse agreed, saying he also likes an all-expenses paid weekend away from the kids.
"Being in the military, they tell you how to dress, when to work, when to go and everything," he said. "So it's nice to get a perk like this where they can set us up for a free hotel for the weekend. All free meals … so they really rolled out the red carpet when a lot of times the military expects quite a bit of its servicemembers."
Due to the nature of the National Guard and the Reserves, it's not always easy to get help before or after deployments. Unlike active duty servicemembers, National Guard members and reservists train near their hometowns one weekend a month and two weeks each summer with the expectation that they'll help out with disaster response. Many who joined prior to 9/11 never imagined they would do two, three or four combat tours in Iraq or Afghanistan.
"For some of our Guard and Reserve, they are put in situations that A) they weren't psychologically prepared for and B) probably in their training were not well prepared for either," said Dr. Mike DeFalco, who directs the Military Wellness Program at Holliswood Hospital in Queens. "The other piece is when they are finished, they come back to our communities and they're not embedded in that environment that could potentially give them more support."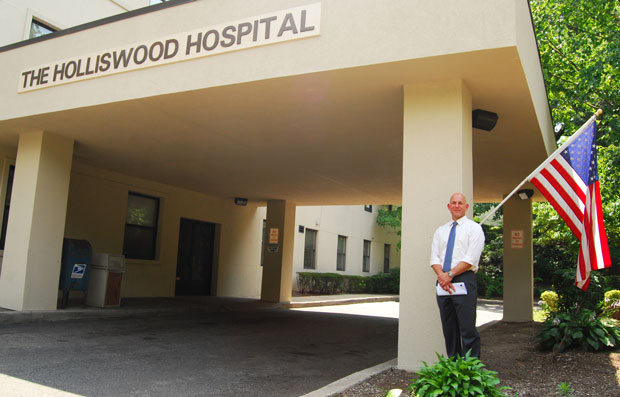 Photo: Dr. Mike DeFalco, director of the Military Wellness Program at Holliswood Hospital in Queens. By Abbie Fentress Swanson/WNYC.
Experts say supporting these citizen soldiers and their families before and after deployments is critical. But since they do not live on or near a base, they can be far from the services and support that military installations have to offer. Some argue that's led to higher rates of behavioral health issues for Guard members and reservists.
Data backs up this theory. According to an Archives of General Psychiatry report, the PTSD or depression rates for Guard members and reservists can clock in as high as 30 percent, whereas active duty troops have prevalence rates closer to 20 percent. The number of suicides in the National Guard and Reserves also increased by 55 percent in 2010 while the Army's suicide rate among active duty soldiers dropped slightly.
"Trends in suicide among the military has been something that's been increasing," said DeFalco. "And tremendous amounts of attention both in the military and on our provider side and in the VA (Department of Veteran Affairs) side. How do you support and prevent and reduce the numbers?"
Major Jason Fetterolf says Strong Bonds has helped him and his wife adjust from a recent deployment to Afghanistan.
"You come across the commonalities that you can help each other with," he said. "It just makes you feel like you're doing the right thing and you're trying the best that you can and you're going to improve."
In the past year, more than 180,000 soldiers and family members have been to Strong Bonds trainings – up from 90 couples in 1999. And it's not just couples. Strong Bonds workshops are also offered to single soldiers, families with children, and to soldiers and families facing deployment.
Critics say there are shortcomings to support groups and programs like this: they're under-resourced and don't directly provide services. They also argue it's not enough to have an open door policy for servicemembers and their families who may seriously need help.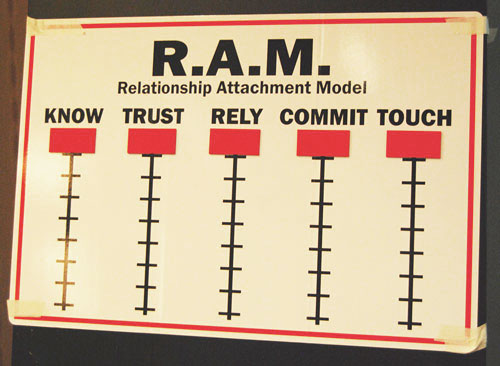 The Army plans to release the results of a study on the program's effectiveness later this summer.
Photo caption: The Strong Bonds training includes use of the RAM Model to help military couples work on communication and intimacy in their marriages before and after deployments. By Abbie Fentress Swanson/WNYC.
But Fetterolf says he's actually seen a change in the room since the session started.
"You could look around the room and look at other couples and see people touching more and realizing this isn't such a bad idea," he said. "Whereas maybe at home it's just too easy to get set in a routine and not want to walk out of the comfort zone and try to open up and communicate better and work towards mutual progress."