Manhattanhenge Returns to NYC
For the second time this summer, city residents will get to experience Manhattanhenge — that's when the sun aligns with the city's street grid, appearing to descend between the buildings.
Jackie Faherty, an astronomer at the American Museum of Natural History, said the best way to see it is to look west between 14th and 155th streets as the sun sets, around 8:30 p.m. on Thursday. The sun should appear as a half orb along the horizon.
"We're getting the amazing moment of the sun right on the grid, when everybody wants to be outside, everybody wants to be doing something that's interesting in the evenings, and it smacks you in the face when you see it," she said.
Faherty said Manhattanhenge also occurs twice during sunrise, in the winter, but it's usually harder to see. That phenomenon occurs in December and January.
The phenomenon is not unique to New York City. In fact, it's purely coincidental, Faherty said, and would occur at some point during the year on any grid like Manhattan's.
"If you look at Stonehenge, or any of the great archaeo-astronomy sites, they were designed specifically to line up with the summer solstice, the winter solstice, the equinoxes," she explained, whereas in the city, it's a coincidence of the grid.
While the half-orb sun seems to get all the glory, Manhattanhenge is actually a multi-day event.
Looking west along the grid Wednesday night, you'll be able to see the full orb of the sun above the horizon, Faherty explained. On Thursday, it'll appear as a semi-circle as it sets.
WNYC wants to see your photos of Manhattanhenge. Send in your Manhattanhenge photos to pics@wnyc.org.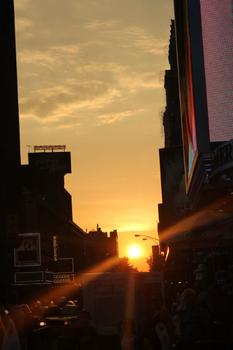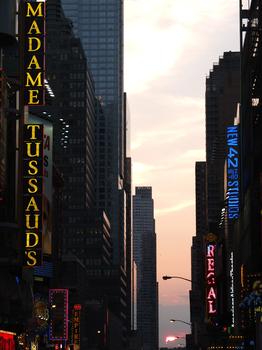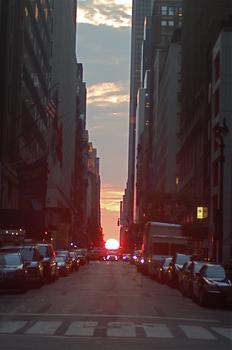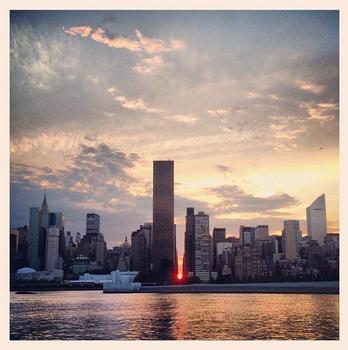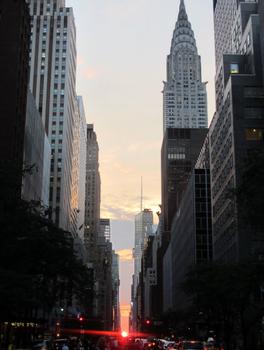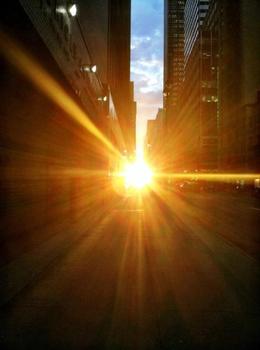 of