Dirty Projectors is an art-pop band led by singer, songwriter, composer, and lefty guitarist (which seems relevant somehow) David Longstreth. They headlined a triple bill last night at Celebrate Brooklyn; and while I missed openers Purity Ring, I made sure to catch Wye Oak, in the middle of the lineup. The Baltimore duo has done some terrific work (check out "Civilian" if you haven't already heard it on TV - it was used in the zombie series The Walking Dead), and I was eager to see them live.
First, the main event. Dirty Projectors' new album, Swing Lo Magellan, came out yesterday (you can stream it here), and it sees the band going from strength to strength. Here are Longstreth's stuttering rhythms, wayward melodies, and those quicksilver changes of mood that sound as if two or three songs were spliced together. But it is - and I use this word advisedly here - accessible. Their new single, "The Gun Has No Trigger," may have genuinely quirky, tricky harmonies, but it's also genuinely pop. Of some left-handed sort.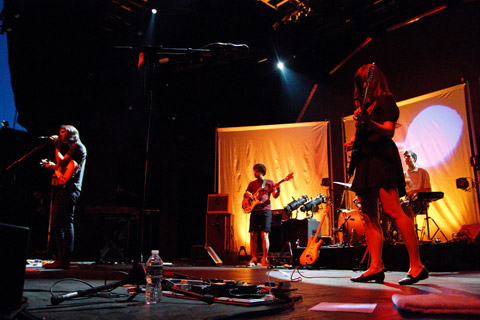 (Dirty Projectors at Celebrate Brooklyn, photo by Amanda Hatfield/Brooklyn Vegan)
The live band is awesome. The quick dual guitar filigrees, the demanding, sliding vocal harmonies... They do it all, confidently and convincingly. I had been curious to see if they could pull off songs like "See What She Seeing" or "Dance For You," with their implausible polyrhythms, live. The answer was a big yes.
Their live set probably won't have converted anyone who wasn't already a fan of the band's fractured song structures, but it did the trick for the enthusiastic crowd of what looked to be about 5000.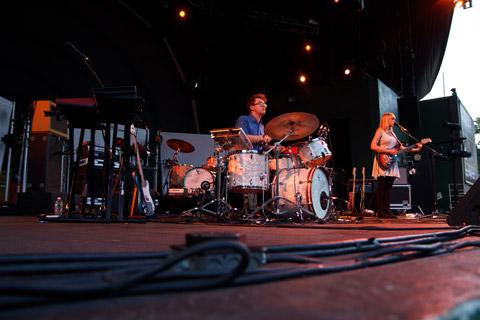 (Wye Oak at Celebrate Brooklyn, photo by Amanda Hatfield/Brooklyn Vegan)
Converts may have occurred, though, during Wye Oak's set. In these post-White Stripes days, we've gotten used to seeing duos that make a big noise, but even so, Wye Oak delivers an impressive sonic jolt. Andy Stack plays drums but leaves one hand free to play bass lines on the keyboard. Charismatic frontwoman Jenn Wasner plays guitar and sings, and last night, at least, her vocals reminded me of Chrissie Hynde, especially in her early Pretenders days. The Baltimore rockers favor chiming, open-string guitar playing that echoes of the sounds of folk/Americana, but the songs tend to burst into squalls of distortion and noise. Earlier in the day, I had heard their new single, "Spiral," written for the Cartoon Network's Adult Swim and offering a decidedly different sound. "A funny little disco song," is how Jenn Wesner described it onstage. She also called it "a gamechanger for us." The recorded track is more electronic sounding, darker, and mixed so the vocals are heard through a kind of aural haze.
Live, "Spiral" wasn't nearly as murky, and a riff that reminded me of Bowie's "Golden Years" emerged that I hadn't noticed earlier. Andy Stack actually played bass guitar, with programmed drums, and the song ended with Jenn Wasner kneeling over pedals, creating a storm of sound.
After their set, Jenn admitted to being a little anxious about the response to the new song. "People get this idea of who you are in their life and they don't want you to change," she said - neatly summing up the conundrum facing artists anytime, anywhere. "We were gonna do it anyway but I was worried."
On this night, with this crowd, she needn't have worried. After doing, by her own count, something like 220 dates last year, they decided they weren't going to tour at all this year. "But then this offer came," Jenn said, "and we couldn't say no." (She also reminded me that she has actually performed as a kind of temp member of the Dirty Projectors.) "The Dirty Projectors audience, probably more than any other band's audience, is so open-minded. They'll go there with you."