Athletes Endure and Make it Through NYC Triathlon
There were no fatalities at this year's 12th annual Aquafor New York City triathlon, according to organizers. Last year two people died during the 1,500 meter swim in the Hudson River.
"The swim went well today," said race director Bill Burke. "Thunderstorms came through and dropped humidity and dropped the temperature down a few degrees."
If the race had taken place Saturday — when temperatures were in the mid-90's — it would have been a brutal race, he added.
Jordan Jones of Golden, Colo., won the men's competition completing the swim, bike and run in one hour, 45 minutes and four seconds. Amy Bevilacqua of Wilton, Conn., won the women's competition with a time of two hours and four seconds.
More than 3,000 athletes took part in the New York City Triathlon, which included a swim in the Hudson, a 40k bike ride on the West Side Highway and a 10k run through Central Park via West 72nd Street.  Thousands of spectators poured into Central Park to watch the athletes, ranging in age from 18 to 77, finish the last leg of a competition.
At the finish line volunteers quickly handed out ice cold towels that were quickly draped around the necks of exhausted participants.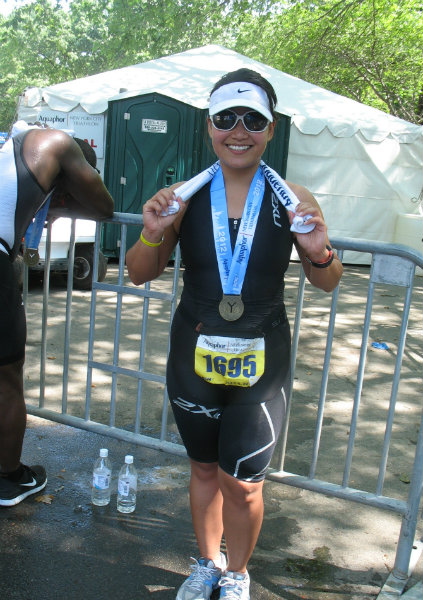 Shanna Wallace, 31, finished the triathlon in 4 hours. "I did great," she said. "I always go in with no expectations."
Several athletes described the swim as much easier this year because of smooth waters and a current that helped make it go faster. But they also described finding condoms, a hairspray can and plenty of dead fish in the water.  "The smell and the taste — I was shocked. I never experienced it this way. I'm just grateful I did the swim but it was exceptional," Wallace who said she designs clothes for a living.
(Photo: Wallace takes a minute to enjoy finishing the race. Cindy Rodriguez/WNYC)
Scott Braley of Fairfield, CT, agreed the water was dirty but said he got over that quickly and ended up enjoying it. "It's an interesting experience to actually be in that water swimming," the 38-year-old finisher said.
Race Director Burke said in the 12 years the race has been in effect, contracting an illness from the Hudson River has never been an issue. He said race organizers check bacteria levels before allowing swimmers in the water and only once — in 2003 — did the swim have to be called off.
While the swim went off without a hitch, the bike portion of the event did not. Burke said there were 7 accidents, including one involving a 3-bike collision. Two cyclists walked away and one had to be transported to the hospital.
But for Yvette Toma of Astoria, Queens, the almost 25-mile bike ride up the West Side Highway to Moshulu Parkway and back to Riverside Park was her favorite part of the race.
"There aren't as many spectators, so you do miss that, but it's a chance to get on your bike and do 25 miles and just fly," she explained.