Watching 'Tax' Tweets After Supreme Court Decision
You know how your corner of Twitter reacted to last week's Supreme Court decision, but how did *everyone* on Twitter react?
As an experiment, and to tinker with some new tools, the WNYC Data News team tried to find out.
Ripping a page from The Guardian's great twinalysis of the London riots and Rupert Murdoch's testimony before Parliament, we recorded the onslaught of tweets from Twitter's "firehose" as the decision was announced and went back to take a look at them.
Right away, we saw "tax" used in celebration by liberals as the basis for the decision to uphold the law, and with derision by conservatives as grounds to repeal it. Could we watch how the word was used over time? See for yourself.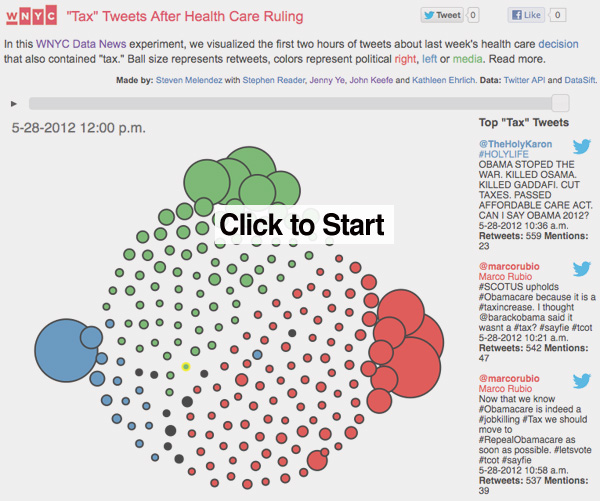 A couple of observations:
You can see how the political right starts to amplify messaging around the tax issue, quickly led by Florida lawmaker and oft-mentioned veep prospect Sen. Marco Rubio.
Republican politicos jumped on the "tax" discussion early, while their Democratic counterparts stayed away from the word.
The most retweeted post matching our criteria was by someone who posts a flurries of obscenity laden tweets and apparently hosted a foam party this week.
Are there more interesting trends to be seen - or to look for?
How we made it
First we determined whether a tweet was related to the decision, such as mentioning "SCOTUS," "Obamacare" or "mandate." We found 385,385 of those between 10 a.m. and noon Friday. (Our log shows the first accurate tweet about the decision was by Bloomberg's Jake Beckman at 10:07:36 a.m.)
Of the decision-related tweets, 46,677 mentioned "tax." We grabbed the most retweeted of those each minute and manually tagged them as being from the left, from the right or from a media outlet. Those we couldn't classify, we left black.
Finally, WNYC's Steven Melendez used visualization software called D3 to represent top tweets as circles living in a world of simulated physics.
That was one experiment. We're toying with others. Have ideas about what we should look for in the tweets? Let us know!
Follow WNYC's Data News team on Twitter @datanews