Swimmers Suggest Ways to Restore Order at McCarren Pool
It's been less than a week since McCarren Park Pool in Brooklyn reopened after being closed for nearly 30 years. Already, a lifeguard has been attacked and three men have been arrested  and charged with second-degree assault for allegedly assaulting a police officer, as well as reports of thefts. Those incidents haven't stopped many from coming out for a swim at the at the Greenpoint-Williamsburg landmark.
The line of hopeful swimmers has snaked from the entrance down around the block since Thursday, many waiting 45 minutes or more to take a dip. There's been a more visible presence of Parks Enforcement Patrol staff, as well as NYPD officers at the pool over the week, too, although Department of Parks officials deny that more security has been added over the week.
It's hard to find anyone in line who hadn't heard of the recent incidents — and those that happened decades ago in the same spot.
"The reason it closed years ago was because of fights and now we're like right back where we started," said elementary teacher Lisa Kasimo, who works and lives near the park.
But even though she and others aren't letting the recent rowdiness get in the way of their fun, they also have lots of suggestions for making sure it doesn't get out of hand.
Chinita Willams from Canarsie, Brooklyn, believes anyone caught engaging in violence shouldn't be allowed back for awhile. "If they fight, they need to be banned for the rest of the summer to make it better for the rest of people trying to come here and have a pleasant time," Williams said standing in line in the hot sun with her two kids.
Kelly Espinal, from the South side of Williambsurg, thought requiring people to pay to get in would cut down on the lawlessness.
"The best thing they should do is charge. It would be better, there would be less violent people," he reasoned.
The Parks Department has said McCarren isn't alone, that incidents of fighting and other rowdiness happen at pools throughout the city.
Frequent Parks Department critic Geoffrey Croft with NYC Parks Advocates believes that the city should been more thoughtful when it came to planning and security issues.
"The city had 28 years to work out a safety plan for that facility that protected both the public and employees alike," Croft said. "You can't let a few people ruin the experience for hundreds of thousands in such a wonderful facility.
Croft thinks elected officials need to allocate more resources to ensure public safety there.
But Ridgewood, Queens, resident Ana Soto, came to the pool twice this week, blames unsupervised kids, not the lack of staffing for the problems.
"I don't think teens under 18 should be allowed in without an adult. And parents should tell the children when you go to a pool you have to have control and it's to have fun—not to fight or to jump. Follow rules and everyone can get along really good."
Bloomberg celebrated the re-opening of the landmark pool built in 1936 and closed in 1984 on Thursday. It underwent a three-year, $50 million renovation.
For a full history of the pool, listen to the audio below:
The Parks Department offered to renovate the pool in the 1980s, but the Community Board and other concerned citizens went in the opposite direction and opted to close it instead.
McCarren experienced a brief period of creative re-use when organizers turned the empty pool basins into a stage for performances, including bands such as Wilco and Sonic Youth, and outdoor movies.
Jorteh Senah contributed reporting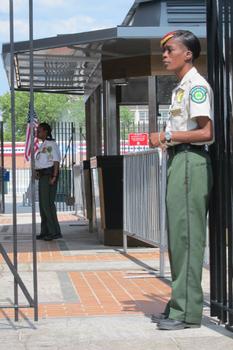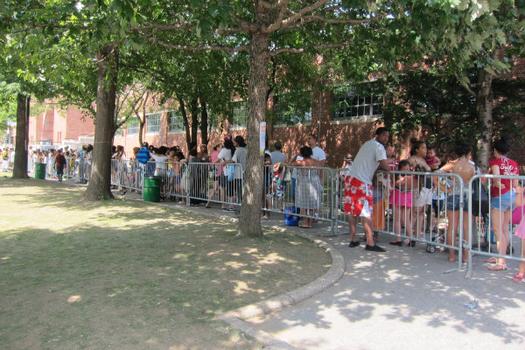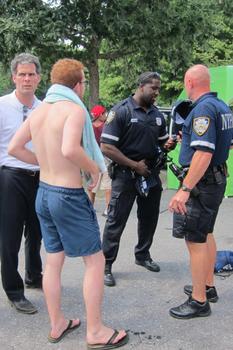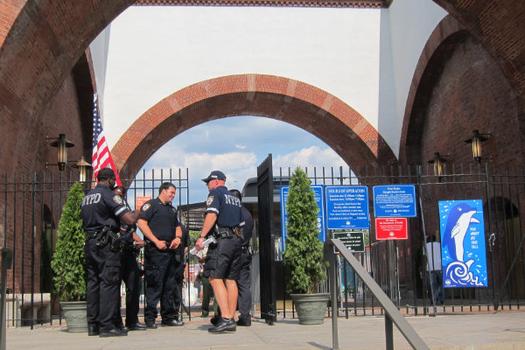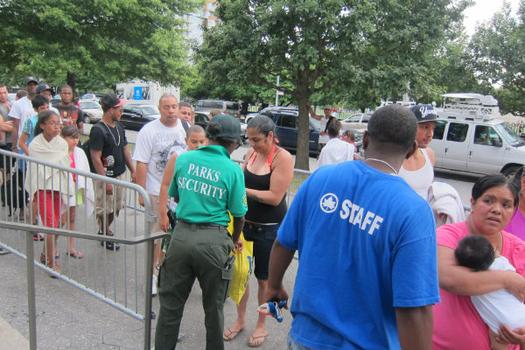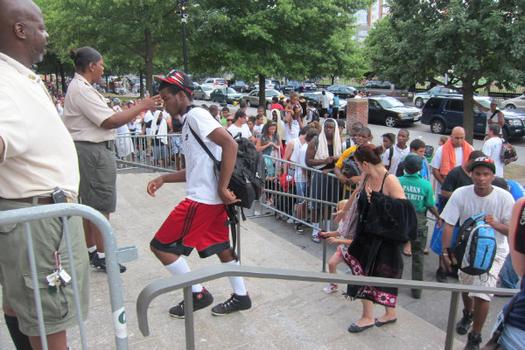 of