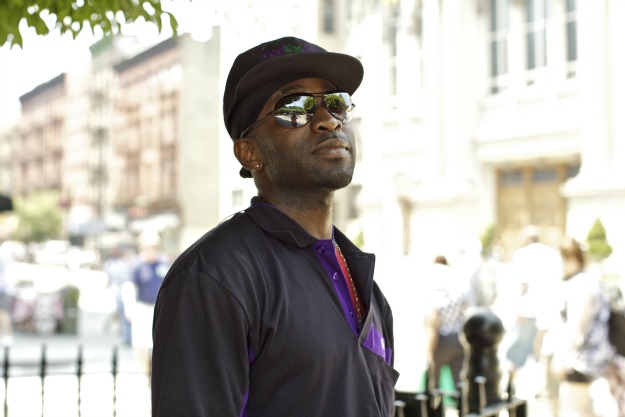 Who: O'Neil
Where: Father Demo Square, Carmine Street and 6th Avenue, NYC
Hi! I'm wondering what you're listening to?
Young Jeezy. 
Which Young Jeezy song?
"Ballin'."
Is that a song that you chose purposefully, or was it on shuffle?
Nah, I put it purposely, but I'd rather listen to Machel Montano, "On De Road." Do you know that? Soca. I'll let you hear it.
Yeah, I'll hear it. [Listens to song] Sounds like the West Indian carnival.
Yeah. It's a lotta energy. Out of my friends, I'm the life of the party. I'm the main dancer. A lot of people know me.
Okay. So you're like the music person... you know all the latest stuff?
I'm like the John Travolta in Saturday Night Fever, your Patrick Swayze with a whole lotta dirty dancing. Yeah.
Wow, I like the confidence. So is that a good representation of what you're normally listening to? What you've got playing right now, Young Jeezy?
Nah, that's just up and down. It's like, my mood change like that [snaps fingers]. I listen to every type of music. I listen to Bee Gees, symphony, reggae, soca, rap, R&B.
What's the most recent thing that you've bought?
iTunes? Reggae... I forgot which one it was. I think it was Vybz Kartel? Y'all know Vybz Kartel?
Nope. How do you spell that?
Vybz. V-Y-B-Z. Kartel. You don't know Vybz Kartel?
No.
Y'all gotta listen to more soca. Y'all gotta get out more.
We'll get out more. What are you going to play next?
That. The song I just let you listen to. [Laughs] Machel Montano, "On De Road."
Is that part of a playlist you've got going?
No, these are my playlists right here. The dollar signs, that's all rap. "Strip Club Music," that...
When do you play that!?
That... well... I guess when I'm headed to the party or when I'm getting dressed. The vibe, you know, it has like Fuego "Super Estrella," Chris Brown and Ester Dean "Drop it Low," "The Motto" Drake, has Ciara, has Luke "Doo Doo Brown."
That sounds like a good playlist. I want that playlist.
This one right here, "Damn Girl," that's my R&B list. Say, if you walk in, you see a dude, you're like, "oh damn, he's fine," you know? Me, I be like, "damn girl!"
(Edited from an interview conducted on Friday, June 29, 2012. Photo by Amy Pearl.)