"These posters contain lead paint, you know." Sonido Martines turned to me. "Do you know how much the postage must have cost? He's crazy..."
We stood in the aftermath of a cumbia party at D'Antigua in Jackson Heights, Queens. Sonido is a record dealer and DJ from Buenos Aires who lives between Bolivia and Peru. The 2"x4" posters advertising the party were also from Peru –- Piero, the party promoter, had ordered them from his home country at great expense.
These toxic yellows were simply the most tangible evidence of Piero's full-blown cumbia fanaticism. (I love the right kind of fanatics, particularly when, like Piero, they are also excellent cooks.) He moves comfortably between two worlds of cumbia -– the genre's massive populist base, which can be found in any sizable Latin community, and the budding blog-scented 'new cumbia' world of mashups and remixes and gringo curiosity.
By inviting Sonido and me to play the music (along with M.A.K.U. Soundsystem, a Colombian fusion band with a kick-ass percussion section) at an outer-borough club that typically caters to rock en español and salsa, Piero was pushing everybody outside of their comfort zones. Locals hoping to catch Galician celtic rock bands (think bagpipes playing ska) got (blessedly) soaked in cumbia. Cumbia fans who had never been to this corner of Jackson Heights had the borders of their city enlarged a tiny bit. The owner seemed happy; friends from down the street stayed until the end.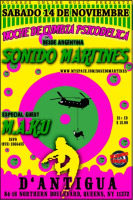 The night felt guided by love, for sound or the way it can bring unlike bodies into the same space and get them moving, eyes open, into an uncertain night. Cumbia's many faces can cut a nice transversal like that, especially in cities like L.A., New York, and Chicago, where long-time followers don't necessarily rub shoulders with newcomer fans in any other context.
As the party was starting, two guys outside picked a fight. Their buddies egged them on. Dude A whipped off his belt and started trying to beat Dude B with it. They spilled into passing traffic. Cars honked, cops came. As the party ended, all was still in Jackson Heights, except the empanada spots, which were jumping (although my memories get fuzzy at this point.) Piero drove us back to Brooklyn. At 36th and 2nd we stopped by a Mexican taco truck (with fiery hot sauce) which hadn't bothered to paint over the logos of its former owners (Knishes!). And a radio in the background blasted cumbia.
Jace Clayton (DJ/rupture) is a DJ, writer, and label owner who plays gigs worldwide.
Bonus! Download this gangsta cumbia track and this remix of a classic Peruvian cumbia group from the compilation Nueva Cumbia Argentina -- The Buenos Aires Implosion. And download this tune from NYC's own La Cumbiagra.