What the SCOTUS Decision Means for New Yorkers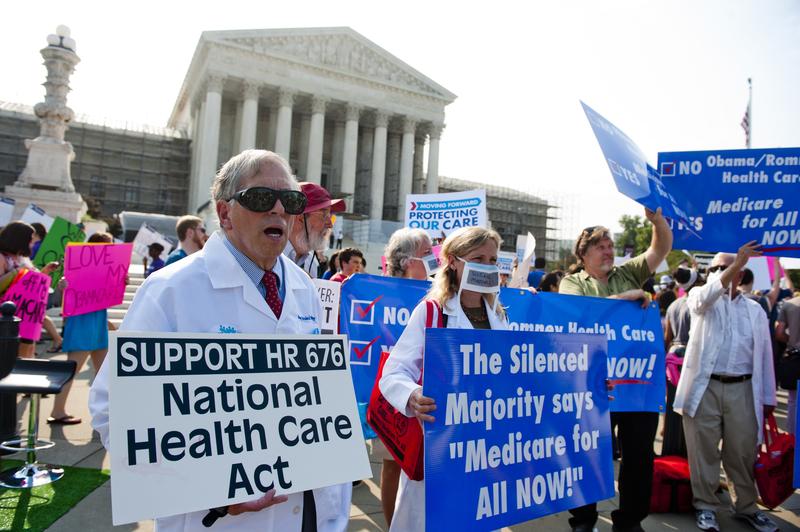 The Supreme Court's decision to uphold the Affordable Care Act on Thursday could mean 1 million New Yorkers who don't have health insurance will be able to get it.
Starting in 2014, the state can make residents purchase insurance if they are not covered. About 2.7 million New Yorkers are currently uninsured, and the Affordable Care Act is expected to reduce that to 1.7 million.
The law requires the uninsured to purchase health insurance by 2014 or risk paying a fine that would start at $95 and go up to above $600 by 2016.
"The Affordable Care Act will provide access to health care to millions of Americans nationwide and more than one million New Yorkers, and I am pleased the Supreme Court upheld this law," Governor Andrew Cuomo said in a statement.
Earlier this year, Cuomo said creating a health exchange for New York was a priority. The exchange would make the state play the role of insurance broker to help people and small businesses buy coverage from private companies.
On Thursday, Cuomo said he would continue to move forward and implement those plans. 
Mayor Michael Bloomberg said the health care system has already adopted many of the changes set forth in the health care reform: "There is no argument, this is the law," he said. "Now let's get on and make it work."
But Paul Howard, from the Manhattan Institute, doubts an exchange will really lower healthcare costs. He said the state and federal government already put too many requirements on insurance companies, limiting the options they can offer people and driving up costs for everyone.
"The idea of creating a marketplace is a great idea," he said. "I don't think a lot of conservatives would have a problem with that. I think what are concern is with is the type of competition we're allowing in that market."
Still, many of New York's politicians and major health care providers applauded the Supreme Court's decision. State Comptroller Tom DiNapoli called it a "victory" for  New Yorkers and Americans, and said it will bring in $1 billion a year to the state in additional Medicaid dollars.
Hospitals in New York are happy, too. Dan Sisto, head of the state's largest hospital lobby, the Health Care Association of New York, described the ruling as "welcome news."

"It provides clarity at a time of massive uncertainty in the economy and the health sector," he said.

Sisto said hospitals do have lingering worries, though, including whether the federal government will follow through the additional funds needed to fully implement the law.

Blair Horner, with the American Cancer Society, says it's great news for cancer patients, both present and future.

"For people with cancer or other serious illnesses, the second bad news after a diagnosis is 'You don't have health insurance', said Horner. "That shouldn't happen now going down the road."
Local policy experts predict the cost of buying health insurance in the private market could drop by as much as two-thirds once government subsidies kick in and the uninsured form large buying pools.
In New Jersey, Governor Chris Christie has vetoed efforts to initiate an exchange.
Christie ripped the decision on Thursday, calling the decision "disappointing" and the "wrong approach."
"I've been clear from the very beginning that I do not believe a one-size-fits-all health care program works for the entire country," he said in a statement, "and that each governor should have the ability to make decisions about what works best for their state."
Much more is at stake for a Medicaid expansion, because New Jersey is currently much more stringent than New York. ACA would add an estimated 234,000 New Jerseyans to Medicaid, compared with only about 100,000 New Yorkers.
New York and New Jersey already expanded family coverage for young adults to the ages of 29 and 31 respectively.
The court has been wrestling with this issue since hearing oral arguments over the course of three days in late March.
Karen Dewitt contributed reporting