"State of Date" Online Dating Do's and Dont's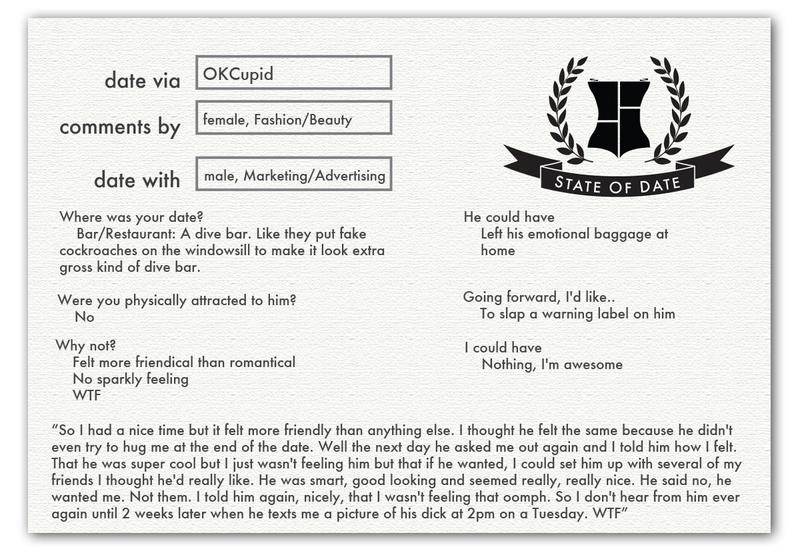 The website "State of Date" collects surveys from online daters (mostly women) reporting on their experience: how they met, how the date went, and more. When they heard about the Brian Lehrer Show's Broadband Love series, they contacted us and offered to post some of what they've learned, from their own experience and their online community. Below are State of Dates top online dating Do's and Don'ts
DO
Edit, edit, edit. Get over the fact that you're dating online and will have to eventually admit it to your friends, and then ask one of them who knows you well to give your profile the once-over. This is invaluable on so many levels.
DO
Use flattering photos. It is shocking the number of people out there who are great looking in person and use the most mediocre shots of themselves online. Your profile is an advertisement and you want to look your best!
Ladies- no ironic moustaches, no firing ranges, no slutty halloween costumes. Instead, try atasteful at the beach photo, or one in a pretty dress. Trust us.
Gentlemen- we don't care about your band. Don't post a bunch of photos with bad lighting and a lot of distractions in the background just so you can have a shot of yourself playing bass/drums/tambourine on the internet.  Smile! A warm, friendly, engaging smile is always the best option. 
DO
Be honest when creating your profile. This counts for appearance as well as deeper insights into your character and goals. If we end up on a date together, it will be very easy to tell that you're actually 5'7 and not the 6'1 you advertised and we will be annoyed and disappointed. Share what you want and what you're looking for and be clear about it as this will minimize eventual drama and heartache.
DO
Have an open mind. We've heard this again and again from both men and women. Online dating can become a shopping experience where you get really picky about what you'll "buy".Though a guy or girl might initially not be what you consider your type it's entirely possible you'll be attracted in real life. Another good reminder is that sometimes even if you don't end up with a boyfriend/girlfriend, the date may have been worth it. We have gotten great roommates, job opportunities, and friends out of online dates that weren't romantical but were awesome nonetheless.
DONT
Use too many iphone photos with hipstamatic filters and weird angles. It makes us wonder what you're hiding behind all that faux-vintage lighting and bad perspective.
Also don't use headshots in your profile pictures. At all. Ever.
(see DO #2 for more guidelines)
DONT
Use your profile to advertise your services as a photographer, model/actor, mediocre jewelry designer, yoga teacher/masseuse or motorcycle mechanic (for example). If you're not on a site to date, then go away please.
DONT
Include mention of your dad (ladies), mom (gentlemen) or exes. This is invariably a red-flag that you may have some issues, shall we say. Find a nice therapist to work them out with, and pretend you're a wonderful baggage-free person in the meantime! Everyone wins.
DONT
Use the phrase "make love" ever, anywhere, at any time. This is mostly a guideline for the gentlemen that we beg you to please heed. There is not a single woman we know who is ok with that phrase, especially in the context of a dating profile. Most of us can't even bring ourselves to utter the words aloud much less read them written by a stranger who is trying to date us.
State of Date is the brainchild of Rachel Nina Schwartz and Asie Mohtarez, two NYC-based ladies who have been on enough dates to realize they needed a tool to help with the process.

Since we rate restaurants, share the details of our lives via our social networks, and recommend to friends everything from food trucks to fashion blogs, State of Date is the next step as applied to dating. The survey is our way of collecting/sharing data from users who find us via word of mouth or on our tumblr. Eventually we hope to grow the project into a full product review site- like a yelp for dating.