The Takeaway
Romney Might Have "Finally Found" What He's Looking For With Portman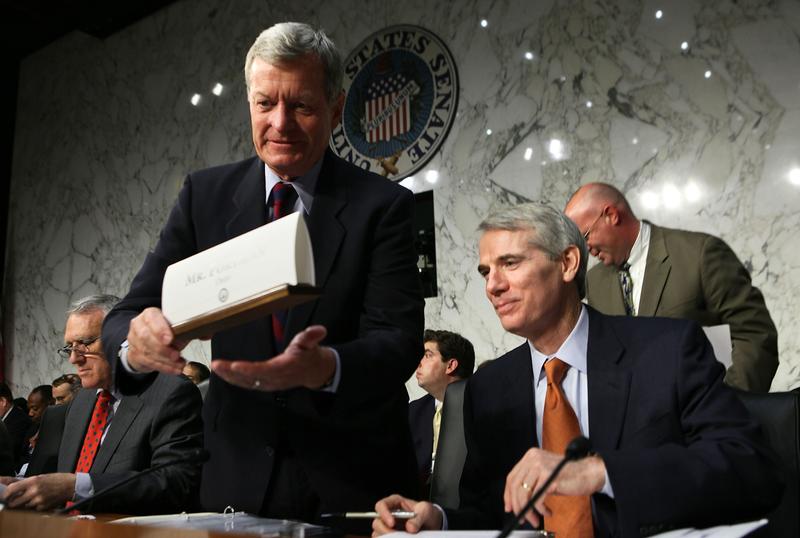 With the National Conventions just around the corner, the Romney campaign is searching for possible running mates. One possible candidate is Senator Rob Portman, a Republican representing Ohio. 
The former Republican congressman and President George W. Bush's budget director is being tipped as Mitt Romney's potential deputy. He's spent over a decade in Congress as an Ohio representative. In 2011 he joined the Joint Select Committee on Deficit Reduction.
ML Schultze, News Director at WKSU in Kent, Ohio, examines Portman as a vice presidential candidate, and calls him as "low-key as can be" in terms of both personality and political strategy. He's quietly built a strong political base in southern Ohio, a key area of the swing state that changed hands in the 2008 and 2012 elections that Romney is working hard to win over. Portman was spotted this past weekend at a retreat put on by the Romney campaign for big donors and political allies. 
"The traditional wing of the party is very comfortable with him," Schultze says. "He's been the U.S. trade representative, he was the budget director under President Bush, he had a dozen years in Congress before he went off to the Senate." The news director thinks of Portman as a safe choice for Romney — a calm, cool conservative who could help win Romney some swing votes in his native Ohio. 
Portman's resume speaks of years of experience on the national level, but as he served most of that time under George W. Bush, challengers would most likely be quick to make that connection. "There will be no lack of an attempt to marry him to President Bush if he is picked," Schultze says. "That's probably the one thing that the Romney [campaign is] most cautious about." President Bush appointed Portman to the position of U.S. trade representative in 2005, calling him a "good friend, a decent man, and a skilled negotiator." 
Another possible reservation about picking Portman is the similarity between the Senator and his possible running mate. Both are white, highly educated men who emphasize free market economics. "[Portman] doesn't expand the group as far as strong supporters of Mitt Romney go," Schultze says. Portman earned a degree at Dartmouth before graduating from the University of Michigan Law School in 1984, while the former governor of Massachusetts is a Harvard man himself. 
As far as politics goes, Romney and Portman have little to no differences in opinion. "If [a difference in political opinion] is there, it's not real clear," Schultze says. "Both of them are fiscal conservatives in a big way. Both of them have acceptable resumes to social conservatives." Portman's longstanding anti-regulation stance is in step with Romney's focus on small businesses. 
While Portman has expressed his support for Romney, his reply to queries about a possible place on Romney's ticket has been negative. "I'm happy where I am, I really am," Portman said yesterday evening in Washington, DC. "I'm fortunate to represent our state in the Senate and that's where I intend to stay."