Racing Brings Out Competiveness and Camaraderie in Vets
On a quiet tree lined street in Midtown Manhattan on Saturday, men were getting some help as they adjusted and tuned up their cycles — checking tires, gears, wheels and moving seats. They were preparing for the Achilles Hope & Possibility 5-mile race on Sunday and, for many of these veterans, it was their first time in a hand cycle.
"I use the work out [hand cycles], but it's nothing like the bike," said Larry Bailey II from Zion, IL.  Bailey, a Marine for over four years, lost his legs and part of an arm in an improvised explosive device (IED) attack in Afghanistan. "Once you know how to use the gears and get comfortable with it, it's nice," he said after riding up and down the block in his bike.
He and about 40 other wounded warriors and their families came up from Walter Reed Medical Center in Bethesda, MD, for the race. Achilles supports athletes with disabilities and, in 2004, the organization set up the Freedom Team, which has been helping wounded veterans run and ride in races as part of their rehabilitation process.
Bailey and some his buddies heard about the race during P/T (physical training), and one of his therapists asked him if he'd do it, and he said yes.
The 26-year-old is pretty excited about his first race — especially finishing and "having something to brag about."
After getting out on the hand cycle for the first time, Bailey also admitted his competitive juices were flowing. His father, Larry Bailey, was on hand to help his son and the others at the race and understood that feeling.
"They're natural competitors – being in the Marines and Army," he said. He predicted most of the group would start out slow, but then "they'd start to bump elbows," he chuckled.
Fellow Marine Christopher Hancock might be one of the racers bumping elbows. "I want to win," he said, laughing. "I don't like coming in last."
Hancock, 25, lost both his legs below the knees last year in Afghanistan from an IED.
Doing the race, he said, is a good way to meet new people, as well as stay fit. "I can't run anymore, so the only way I can get good cardio is by doing something like this."
He is a bit anxious before the start of his first race. This race is actually a warm-up of sorts as he prepares to train for the Marine Corps Marathon in Washington, DC, this October.
It wasn't winning or training that brought James Byler, from Long Island, out to participate. For the 26-year old Marine, who lost both his legs in Afghanistan from an IED, it was the camaraderie.
"It's good to get everyone together," he said. "I haven't seen them in awhile. It's good coming, and good to be around friends." 
Participating can also be a way of honoring those who did not make it back. Chris Claude, 32, from Bayside, NY, is a veteran racer who has his own hand cycle, but instead chose to ride a memorial bike — that is a bike donated by a family member of a deceased service member
"I felt that was a good cause," he said. "Good enough to ride a different bike this time."
The former Marine lost part of one leg in an IED attack in Iraq in 2006. He did the Marine Corps Marathon two year later and has been racing ever since.
For him, Sunday's race is less about his own ride, and more about having fun, riding with some good guys and helping his fellow Marines. "Since this isn't much of a distance race, I'll probably ride a long and check on everybody and make sure they're not having problems."
His rattles off his race calendar this year, which includes the Marine Corps Marathon (again),  the NYC Marathon (again), the Philadelphia Rock and Roll Half Marathon and the Virginia Beach Rock and Roll Half Marathon, before he goes over to help another racer with his bike.
His wife, Shirley, who has accompanied him to this and several other races, was happy to see the support for the veterans and their families. 
But it was also wonderful for her to see the camaraderie between the service members.  "Once you're back in the civilian sector it's very hard to find that and it's really nice that there are events like this that are good for mind, body and spirit," she said.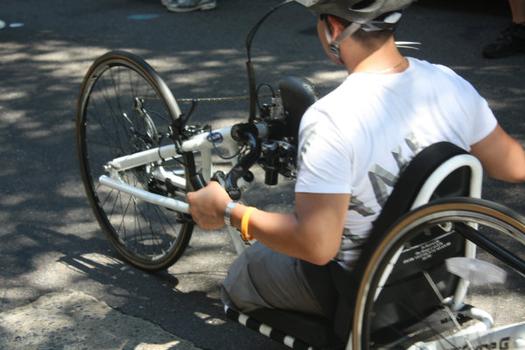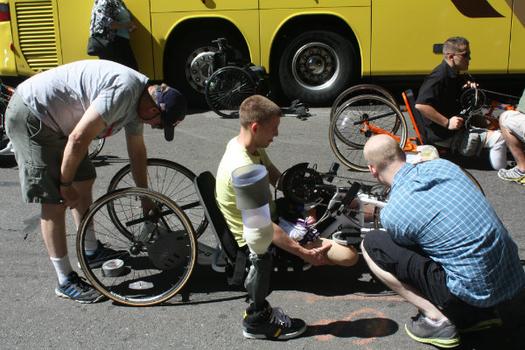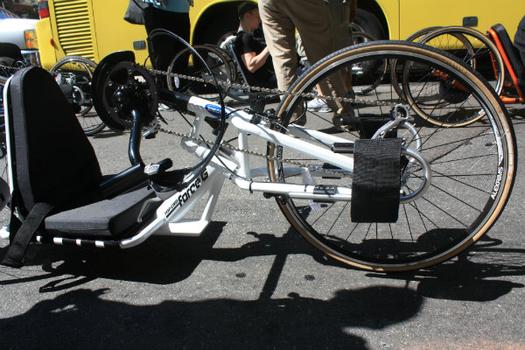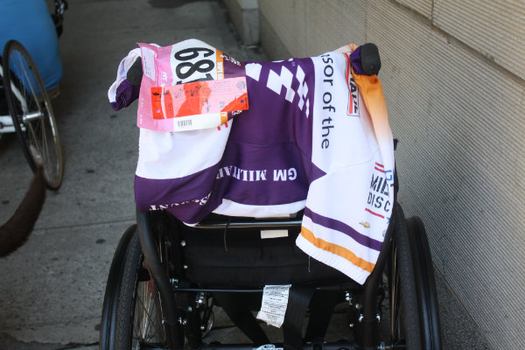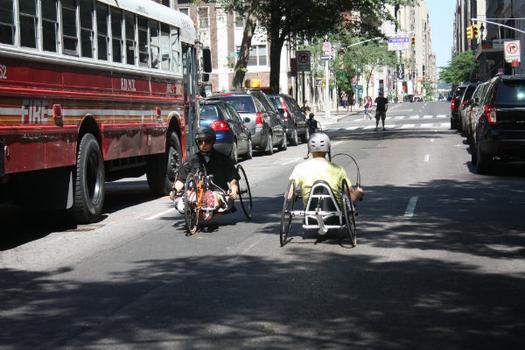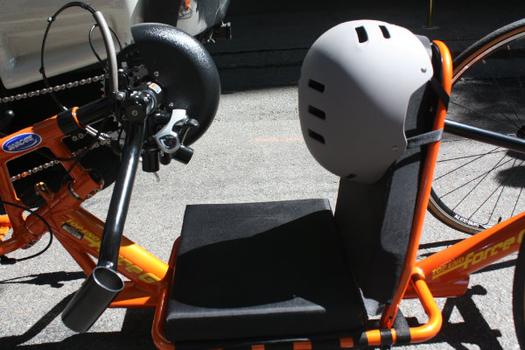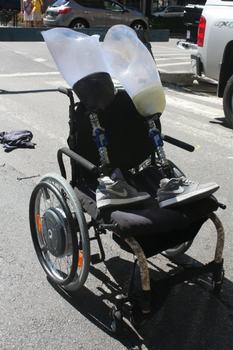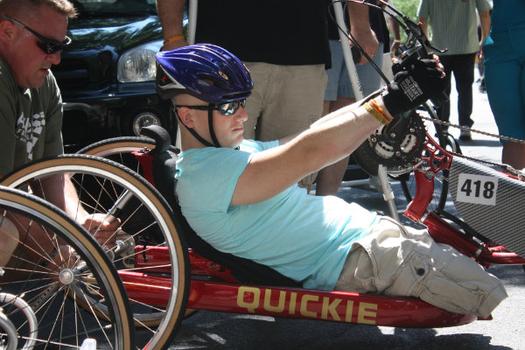 of