Foraging for Food Trends in Brooklyn
When I think of foraging, I think of adventurous foodies on their hands and knees in the woods, looking for morels. When Michael Sinatra thinks of foraging, he thinks of day-long walks through a New York City neighborhood, searching for food trends.
"I can eat pork and shrimp sausage all day long," he said. "With shishito pepper and grape jelly sauce!"
Sinatra is reading from the menu board at No. 7 Sub, which is on Manhattan Avenue in Greenpoint, Brooklyn. He's the Northeast Region spokesman for Whole Foods, the national grocery chain of natural and organic products. With him are two colleagues, Michele Di Pietro and Elly Truesdell. We are embarking on a "foraging trip" in Greenpoint, and it starts with a submarine sandwich at 11:00 in the morning.
"You have to be strategic," Di Pietro advised me. "It's all about sharing, having a bite here and there."
Di Pietro is the Culinary Concepts Coordinator for Whole Food's Northeast Region. That's a fancy way of saying that she comes up with ideas for the company's prepared foods departments. She had a folder with a list of local shops she wanted to visit. 
"I'm trying to find local pierogies," she said. "How cool would it be to find some and serve it in our Brooklyn store?"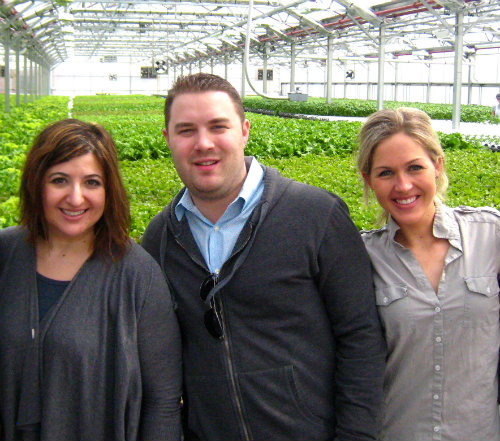 The Gowanus store, the first in the borough, is to open on Third Avenue and Third Street by next summer, with a second one in Williamsburg the following year. 
At the time of our foraging trip, Elly Truesdell was the marketing team leader for the Whole Foods Bowery store. She has since become the Northeast Region's "Local Forager." That Whole Foods even has such a job demonstrates the importance it puts on identifying the Next Big Little Local Thing -- be it Rick's Pick pickles, Siggi's Yogurt or Brooklyn Cured bacon.
"We're just looking for exciting new products," said Truesdell.
Photo caption: The Whole Foods foraging team: Michelle DiPietro, Michael Sinatra, Elly Jones.
Peter Larkin calls it "the treasure hunt." He's the CEO and president of the National Association of Grocers, which represents independent, privately-held stores and chains such as D'Agostino's and Trader Joe's.
"The vast majority of grocery retailers do exactly what you experienced with Whole Foods," he said. "Whether or not they turn it into a tour ... not everybody does that."
Ali Colakogou is the buyer for Eden Market/Garden of Eden. The family-owned, gourmet grocery chain has five locations in New York City, and one in South Orange, New Jersey. Asked how he sources new products, Colakogou said, "I'm a good eater."
"I shop in small, unique places," he said. Sometimes, he says, vendors "find me."
He said he makes an extra effort to source products and produce from local manufacturers and farmers, not only because local is hip, but because he feels an obligation to support them. "Local farmers are getting hurt with the economy," said Colakogou.
But, like most grocers, he primarily relies on food shows to guide him to new products, like the Fancy Food Show in Washington, DC earlier this month, hosted by the National Association for the Specialty Food Trade. Instead of walking through neighborhoods, though, grocers "foraged" across 308,000 square feet of convention center space, among booths offering 180,000 cheeses, chocolates, confections, snacks, spices, ethnic, natural and organic products. 
In a nod toward the locavore movement, organizers arranged a "guided tasting" of DC farmers' markets and invited more than 100 exhibitors from the DC area, including, according to NASFT, a salted caramel ice cream maker from Silver Spring, MD, and a producer of tortilla wraps from Manassas Park, VA.
"Local is huge in specialty food," said NAFST spokeswoman Louise Kramer. She said the organization's annual report on the industry found three-quarters of retailers surveyed said that "local" is the most important product claim today, and two-thirds believe the claim will grow in importance.
Whole Foods played a big role in starting that trend. It was among the first to feature in-store displays spotlighting where fruits, vegetables, meats and fish came from, and who was making, growing or catching it. Add to that each store's goal of sourcing 10 percent of its products from local producers, and you end up with a company that encourages employees to spend the day eating their way through Brooklyn. 
"This is part of our job," said Michael Sinatra. "If we're not doing this, something is wrong. We don't do it every day, but we do it thoroughly!"
Photo caption: The fried broccoli sub at No. 7 Sub in Greenpoint, Brooklyn.
At No. 7 Sub, we settled on two sandwiches: the shrimp and pork sausage one and a fried broccoli sub.
Sinatra took a picture of his sausage sub with his cell phone. "I've already started a Twitter hash tag for this tour."
Di Pietro was also documenting the meal through social media. "My Facebook friends must think I eat all day long," she sighed.
She said that, when it comes to sandwiches, those of the specialty grilled cheese variety are currently the rage. She's also noticing a lot of new restaurants are returning to Italian American comfort food, like meatballs.
"There's also a lot of booze -- booze in desserts, booze in marshmallows, booze in chocolates. And, oh, juicing, juice cleanses. And plant-based diets and veganism," she said.
Did she ever develop recipes for a trend that didn't pan out?
"Several years ago, we were seeing a lot of Middle Eastern and falafel places, so we decided to put venues in our stores in TriBeCa and Paramus based on that style of food," said Di Pietro. She said the concept lasted for about three or four years. "I'd say it was a success, but every venue has a shelf life."
We wiped our mouths and cleared our table at the sub shop, and headed back to Manhattan Avenue. Di Pietro consulted her notes and guided us to a meat market, where I picked up some smoked duck. The Whole Foods team ordered hot dogs. The smoky, garlicky smells coming from our paper bags made our mouths water, even though we had just eaten.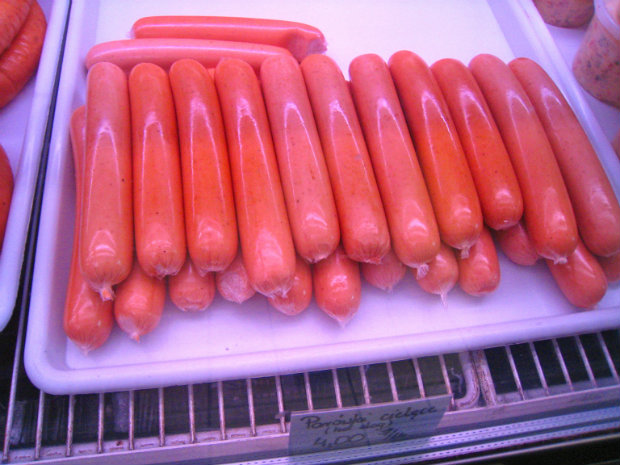 Photo caption: Frankfurters on Manhattan Avenue.
Next, something sweet. We popped into a pastry shop, buying big chunks of poppyseed cake, apple cake and babka drozdova. Our sweet tooths weren't satisfied. Several blocks later, we stopped at a donut shop for donuts filled with rose jelly, and sour cream and cherry. 
"Do you guys make all this yourself?" Sinatra asked the young lady behind the counter. She said yes, on Bedford Avenue. Truesdell picked up a business card.
"It's all about getting their card," said Sinatra. "If the products are great, we just might reach out to them and see if there could be a partnership there."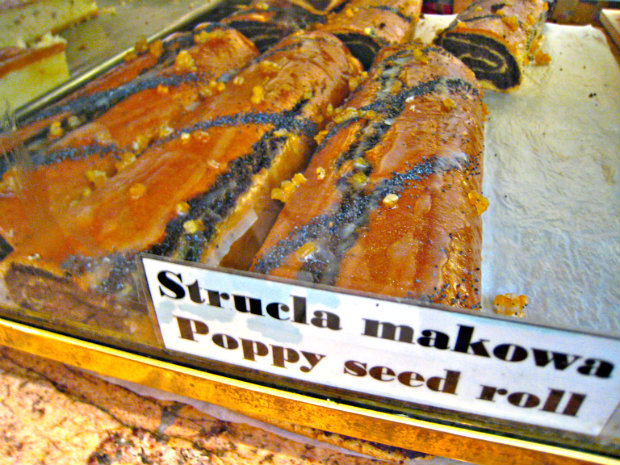 Photo caption: Poppyseed cake at the Cafe Riviere on Manhattan Avenue.
It's not as simple as liking what a baker makes, and ordering a bunch of it to feature on Whole Foods' shelves though.
"You walk into these artisan shops or these old school bakeries, using recipes passed down for years, and they could be using products we don't allow in the store," said Sinatra, "like artificial coloring and preservatives."
Those quality standards get tougher if the vendor makes meat products, like beef jerky or specialty sausages.
We piled into Sinatra's car. It was early afternoon. Our late morning meal of sausage and fried broccoli had become a distant memory. We drove to Bushwick, to the buzz-worthy Roberta's for pizza and a meet-'n'-greet with the staff of Heritage Radio Network, which web casts shows about food politics from a studio inside the restaurant. Whole Foods contributed $10,000 this year to HRN.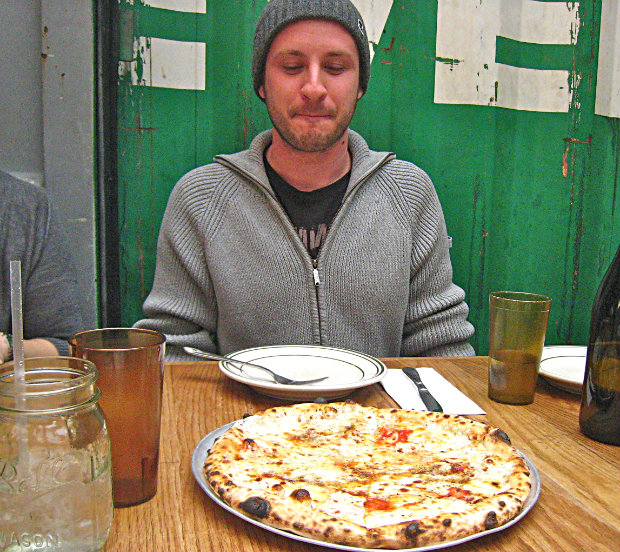 Photo caption: Jack Inslee, executive producer/engineer, Heritage Radio Network, and a Cheeses H. Christ pizza at Roberta's.
After a quick tour of the studio, we sat down at one of the long, communal tables for our next round of grazing. We ordered two pizzas, including the profanely-named Cheeses H. Christ -- taleggio, mozzarella, parmigiano, cream and honey -- a skirt steak sandwich, a tuna melt and, in a nod to health, a romaine salad with candied walnuts, pecorino and mint.
Us gals were starting to worry about having to buy new bathing suits in a larger size, but Sinatra was far from finished.
"My entire life has been a food crawl," he laughed. There was more work to do. Di Pietro had heard of a place in Crown Heights with an incredible olive oil cake.
"The Glass Shop!" I yelped. "I know where that is. I have coffee there all the time!"
We piled into the car again, groaning a little bit, holding boxes of uneaten pizza on our laps.  
By the time we got through mid-afternoon Brooklyn traffic, the Glass Shop had sold its last piece of olive oil cake. Undaunted, we turned our attention to the coffee shop's next-door neighbor, Pete Zaaz, a recently-opened pizza joint. 
Seriously. We were ready for more pizza.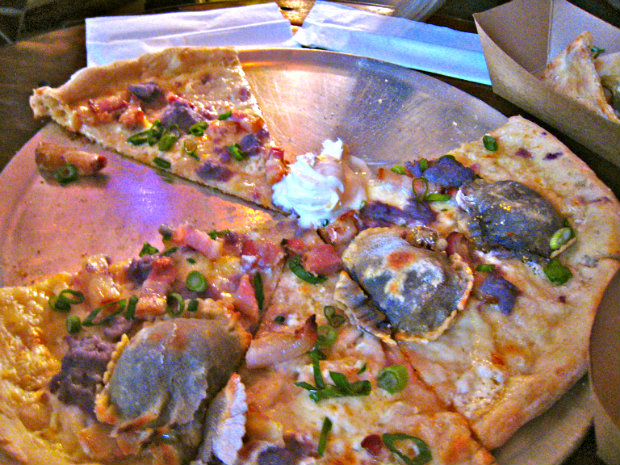 Photo caption: Pierogi pizza with creme fraiche, white cheddar, green onion and bacon at Pete Zaaz.
In honor of our tour of Greenpoint, we ordered pierogi pizza, made with purple potatoes, cremé fraiche, scallions and bacon. The guy behind the counter encouraged us to sprinkle the top of our slices with a house seasoning composed of Thai basil, parmesean cheese, dehydrated picled jalapeños and crushed Cheez-Its.
Michelle Di Pietro was starting to see some patterns. She called it "new nostalgia."
"We just ate at Roberta's, doing traditional foods with really good ingredients, very high-end," she said. At Pete Zaaz, she said, "we're eating this herb blend with Cheez-Its in it. It's a play on nostalgia," she mused, in Pete Zaaz' case "going back to packaged products that are a little bit taboo right now."  
Di Pietro continued, inspired: "I'm also seeing culinary mash-ups, where you're taking different ethnic foods and mashing them together. Pizza, pierogis. Korean tacos. Things that don't make sense, that horrify people, but it works and it's fun."
Sinatra chimed in, noting this wasn't the first time this happened today: "Our first stop of the day, at No. 7 Sub, we were eating a sandwich with shrimp and pork sausage, with some kind of grape jelly, and peppers."
We eased back in our chairs, our day of constant eating finding its rationale in these ideas, mental notes and culinary connections. For Whole Foods, it might lead to new vendors, new relationships, new products and prepared food recipes.
For me, it lead to a trip to the drug store for some antacids, and a vow to do a juice fast for the next 24 hours.