Last night, passersby at Times Square were treated to the sight of close to 200 people standing in the middle of the plaza singing classical choral music. (Soundcheck's technical director Irene Trudel was one of the sopranos.) Our friends at NPR Music had asked Philip Glass to turn his song "New Rule," originally for soprano solo and instrumental ensemble, into a choral piece. That version had its premiere, right there in Times Square.
But it's what happened after the Glass premiere that made this event so memorable.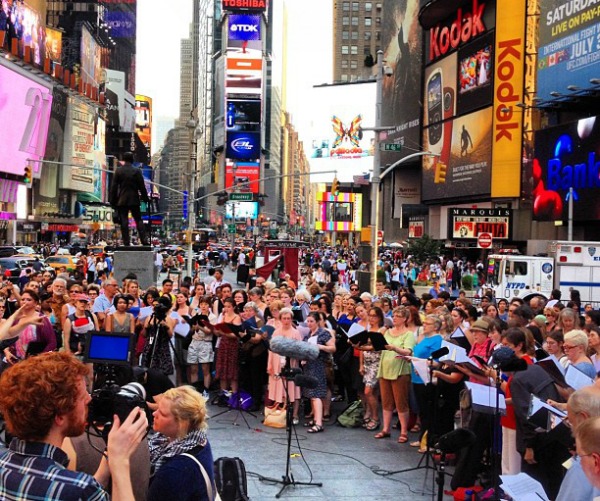 (Photo by Chase Cusack, via Instagram) 
The plan was to do the new Glass arrangement, then a set of choral favorites, and then repeat the Glass - bookending the concert and giving the NPR crew two chances at getting a broadcast-able take. Things started with conductor Kent Tritle bringing the written score into the real world of traffic and horns and passersby. "Please look at your scores. All those mezzo-pianos (literally, "medium soft") are now mezzo-fortes ("medium loud")." He also made sure to warn the singers to be on their toes and watch for all the "repeat" marks in Glass's score - they can easily trip up a musician whose attention wanders for a moment.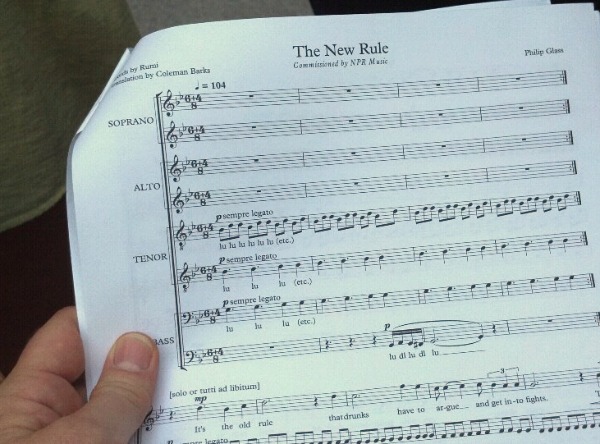 (Photo by Irene Trudel)
Anyway, the Glass was dispatched with and the choir then let loose with Bruckner's "Locus Iste" ("this blessed place") – which might have been the last thing you expected to ring out in Times Square. And then a truly weird, magical moment happened when they launched into Handel's "Hallelujah" chorus from Judas Maccabeus (his other, way more famous "Hallelujah" would soon follow): the big CNN billboard behind the tenors and basses began showing a promo for the Saturday night boxing matches. The combination of the thrilling cries of "Hallelujah" with these huge warrior figures on the screen was accidentally transfixing.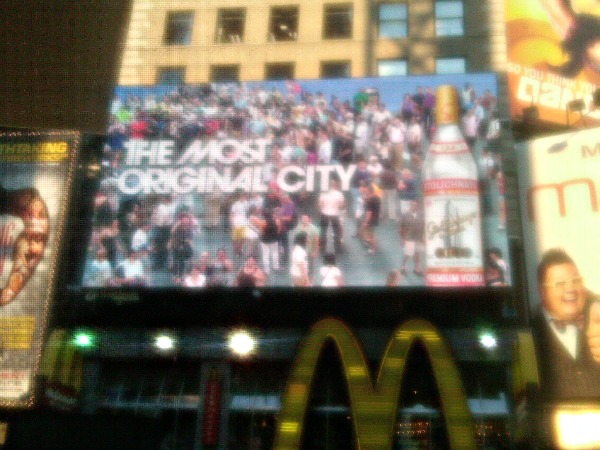 (The choir makes an appearance on a Times Square billboard. Photo by John Schaefer) 
I had gone to make a few opening remarks, and to meet with the Russian composer/pianist Anton Batagov. At this point Anton tapped my arm and nodded to the CNN screen. "Are you seeing this?" he marveled. "It's the greatest multimedia thing I've ever seen."
All of this music was happening while hordes of people walked by, many of them probably unaware of what was happening 20 or 30 feet away. After about 20 minutes, Kent returned the chorus to the new Glass piece. And inevitably, that second performance had to be restarted because someone actually did get tripped up by the repeats. I refuse to reveal his name, or to acknowledge rumors that he was holding a baton and standing at a podium.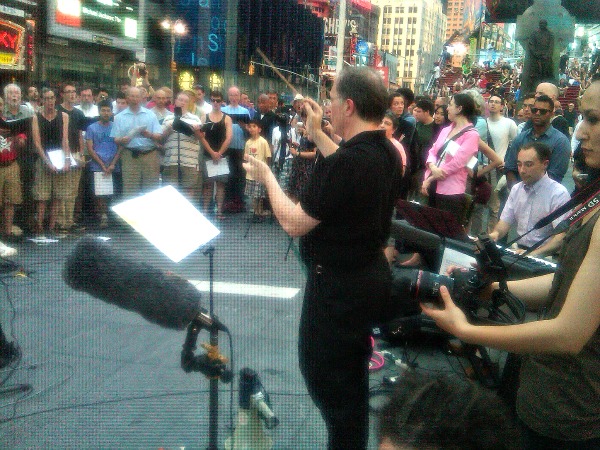 (Conductor Kent Tritle and the choir. Photo by John Schaefer)
As we left, Anton, who is Buddhist, said, "this was the best meditative experience." I looked at him kinda funny and he explained, "it's very easy to meditate in a quiet cave, but here, with all this..." and here he swept his arm at the bright signs and grinding traffic, "to create a place to meditate here is really special."
And that's when I realized just how avant-garde this event had been.