Last Chance Foods: That's One Rad Radicchio
There's a little bit of northeastern Italy growing on a rooftop in Long Island City, Queens. Castelfranco, a type of radicchio native to Veneto, is at the end of its season at Brooklyn Grange's rooftop farm.
The leafy vegetable is easily recognizable in both its green and white forms since its leaves are streaked and speckled with purple. Anastasia Cole Plakias, who is the director of communications for the Brooklyn Grange, says castelfranco tastes bitter and spicy and appeals to farmers and chefs alike.
"It's a really unique bittersweet green and one that you don't see a lot of for sale," she said. 
Because it's relatively rare, Plakias asked Brooklyn Grange's head farmer, Ben Flanner, to grow castelfranco, knowing his preference for chicories. (Radicchio is in the chicory family.) Plakias thought she would also find an audience for the green among chefs who work with Italian ingredients.
She was right, and Flanner plans to plant more of the crop on Brooklyn Grange's new 45,000-square-foot rooftop farm at the Brooklyn Navy Yard. 
"As with many chicories, it's a great spring crop," he said. "They can be planted basically as soon as the soil is workable, after the last frost, or maybe even just before the last frost."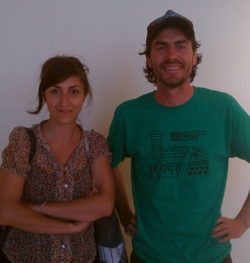 Earlier in the season, castelfranco tends to be sweeter and the leaves are more tender. Later on, the plant exhibits more of its signature purple color. 
(Photo: Anastasia Cole Plakias and Ben Flanner)
"As soon as we start hitting these longer days with a lot hotter temperature — more sun on the plant — the plant undergoes a little bit of stress and then the flavors develop and they get considerably stronger," said Flanner. 
Plakias is a fan of that strong, bitter flavor. 
"I love to do this nice bitter green with something kind of rich in flavor, like a spicy sausage on a pasta with a little garlic and chili flake, or I like it wilted over a fish to give it a little bit more flavor," she said. "It definitely wants a protein." 
This year was Brooklyn Grange's first time growing castelfranco, and Flanner said he still learned some lessons, despite his years of experience farming chicories.
"Typically chicories germinate very easily," he explained. "We found that the germination rate was a little bit lower and even that the plant kind of stayed small for a little bit. But then all of the sudden, it really popped." 
Next year, he added, Brooklyn Grange will likely plant more castelfranco seeds so it grows in a little more thickly.
In addition to unexpectedly low germination rates, the farm also faced challenges well known to many gardeners: the proliferation of weeds. While some weeds, like purslane and lambsquarters, are popular edibles, others are considered pests. 
"[Oak-leaved] goosefoot's my least favorite," declared Plakias with vehemence. "It just pops up so fast and stays so low to the ground, so it... bolts when it's really teeny tiny and you practically need tweezers to pick it out of the soil." 
Flanner notes it's particularly prolific, too.
"Within the matter of a day or two, it can spread thousands and thousands of seeds," he says.
As for other farming challenges that are specific to urban rooftop farms, Flanner said the wind also poses particular difficulties. As a result, he and his fellow farmers create windscreens with stands of bamboo and the like.
The upside, however, is that there is plenty of sunlight six stories up.
Try Plakias' recipe for Orechiette with Castelfranco and Guanciale.
Orechiette with Castelfranco and Guanciale
by Anastasia Cole Plakias, Brooklyn Grange 
1lb good quality orecchiette 
Kosher salt
1 tsp olive oil 
¼ pound guanciale, cut into ¼" by 1" slices*
2 cloves garlic, sliced super thin
1 tspn chili flake 
½ tablespoon unsalted butter
1 large or 2 small head Castelfranco, chiffonaded
1 Tbspn flat-leaf parsley, chopped 
¼ grated pecorino cheese
*Guanciale is cured pork jowl. Often, bacon is subbed for guanciale in Americanized recipes, which is totally bogus. There's no excuse to use overpowering smoked bacon in place of the subtler-flavored face-meat. You can get great guanc here in NYC at the Meat Hook, where they cure theirs in house. Outside of NYC? No excuse! Heritage Foods USA will ship it directly to your door! —Anastasia Cole Plakias
In a large pot, bring 6 quarts of water to boil, salting liberally (2-3 Tbsp) until briny like seawater.  Add the pasta, stirring so it does not stick together.
While the pasta is cooking, heat the oil in a large sauté pan (preferably non-stick, if you're lazy like I am) over medium high heat.  Add the guanciale, cooking till the fat has been rendered and there's a bit of brown crustiness around the edges, about 12 minutes.  Remove with tongs or a slotted spoon and place on paper towels till ready to use.  Add the chili flake and garlic and toast for 1-2 minutes, till the garlic begins to turn golden, but not brown.  Add butter and castelfranco and sauté for about 2 minutes, till the leaves wilt through. Add salt to taste.
When the pasta is almost a perfect al dente, use a spider to transfer to pan.  The idea is to bring a bit of the cooking water with the pasta into the pan.  If you don't have a spider, you should really go get one, they're like a dollar in Chinatown, but for the purposes of this recipe you can reserve a cup of pasta water and drain the pasta in a colander. Turn the heat up to high under the skillet and add the grated cheese, tossing to coat the pasta.  Add pasta-cooking water as necessary to create a nice emulsification and prevent the dish from getting dry.  When all the cheese has been incorporated, toss in the parsley and remove from heat.
Serve immediately with a medium red like a teroldego. 
More recipes for castelfranco: 
Tagliatelle with Radicchio Castelfranco, Pancetta and Carpin by Mario Batali
Radicchio Risotto on The Ingredients blog
Cesare Casella's Three-Radicchio Salad With Anchovy Dressing and Grana Padano in New York Magazine