The Takeaway
Rubio "High Risk, High Reward" as Possible Romney VP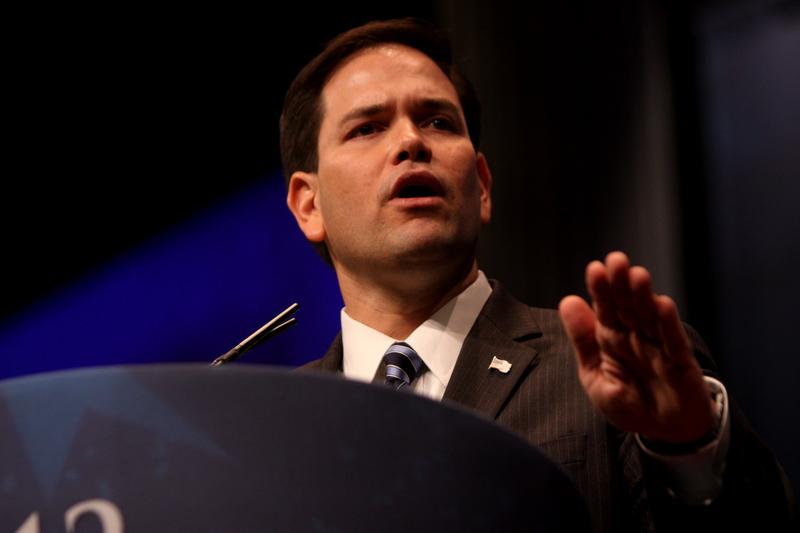 Former Massachusetts governor Mitt Romney is vetting possible vice presidential candidates and one of the most prominent is Florida Senator Marco Rubio. There's no doubt that a charismatic Latino and Tea Party favorite in a battleground state could be attractive to the Romney campaign.
Washington Post reporter Manuel Roig-Franzia recently released "The Rise of Marco Rubio," and he uncovered the controversy surrounding Rubio's statements about when he immigrated to the United States. He says Rubio could be a brilliant pick if he can overcome his self-created obstacles.
"A lot of people don't realize that he's incredibly popular conservative, white Christian evangelical, because religion is a big part of his focus," Roig-Franzia says. Rubio is also bilingual, speaking both English and Spanish equally well, and holds a good deal of popularity with the Latino community in Florida.   
But Rubio also comes with some baggage, including misleading statements about his Cuban parents' immigration to Florida. The Senator has said that his parents came to the United States in the wake of Fidel Castro's seizure of power in 1959. 
While looking up immigration records, Roig-Franzia discovered that Rubio's parents had left Cuba in 1956, three years before Fidel Castro began his revolution that would eventually overthrow longtime president Fulgencio Batista. When they departed for the United States, Castro was still in Mexico. While Rubio maintains that the exact date of his parents' departure is irrelevant, Roig-Franzia has not found the same opinion in interviews with many native Miami residents who fled Cuba after Castro took power. 
"It's relevant because he has a large voice in America right now on immigration policy," Roig-Franzia says, "and his own family history has to be placed in context with the positions he takes in the public arena."
"No one will dispute that people who are of Cuban ancestry and live in Florida or anywhere else in the United States and feel that they cannot return to Cuba, whether they came before or after Castro, are also experiencing the trauma of exile," Roig-Franzia says. "But when we're talking about Senator Rubio's story here, we're talking about telling an accurate story about your family history." 
The reporter outlines two key assumptions that he believes do not quite ring true. The first is that Rubio, who has been called the "crown prince" of the Tea Party, has that organization to thank for his political rise. However, the senator has solid GOP roots. 
"Rubio was an establishment Republican foot soldier from a very, very early age," Roig-Franzia says. The senator's step-by-step rise through the Florida political scene — city commissioner to state legislature and beyond — contradicts the narrative of Rubio's meteoric rise through the Tea Party. 
Another assumption about the senator is that he is a political outsider. However, Roig-Franzia points out that Rubio has had close ties to party leaders such as Jeb Bush, former governor of Florida, for some time. When Rubio earned a place among Time Magazine's 100 Most Influential People of 2012, Gov. Bush wrote about the rising star: "I knew there was something special about Marco Rubio when I first met him as a young Republican city commissioner. Bilingual and bicultural, he represents the best of the emerging second generation of Cuban immigrants. His ascendancy in politics has not surprised me or the people who know him."
"I came to think of him as almost a professional apprentice," Roig-Franzia says of the senator. "Jeb Bush spotted [Rubio] and said, 'This guy's got promise. I'm going to get him on my team.'"
Rubio's approval numbers in Florida have remained constant. Though Rubio might bring much-needed Hispanic votes to Romney, Rubio has still not shown much interest in hopping on the former governor of Massachusetts' presidential ticket.