Artisanal Mayonnaise: You Knew It Was Coming
Walking down Vanderbilt Avenue in Brooklyn one weekend, I did a double take when I saw a little storefront selling mayonnaise.
Just mayo? Does the condiment deserve such a spotlight?
Empire Mayonnaise co-founder, chef and mayo mixologist Sam Mason thinks so.
"There's no better thing to work with than a fat-soluble medium," he said.
Mayonnaise is simple to make -- one of those kitchen staples we could and should be making fresh at home, like frosting, salad dressings and gravy. It's an emulsion of egg yolks, oil, vinegar and salt. But Mason is upping the 'Wow' factor by using oils flavored with black garlic, smoked paprika, wasabi and bacon.
While vinegar can be a flavoring agent, too -- think champagne, red wine, tarragon -- Mason says oil is the workhorse, since it makes up 90 percent of the emulsion.
The 30-year-old, who used to work as a pastry chef in the food lab that is wd-50, talks a lot about percentages. That's how he thinks about his blends. The paprika mayo, for example, "is 15 percent smoked paprika oil." He starts with an oil-to-yolk ratio of 10 percent, then tinkers with the mix from there.  
"Nothing's over 20 percent," he said. "Saffron, which can be overpowering, we have that at 1 percent."
I nod, but I'm way out of my comfort zone. What, no recipes?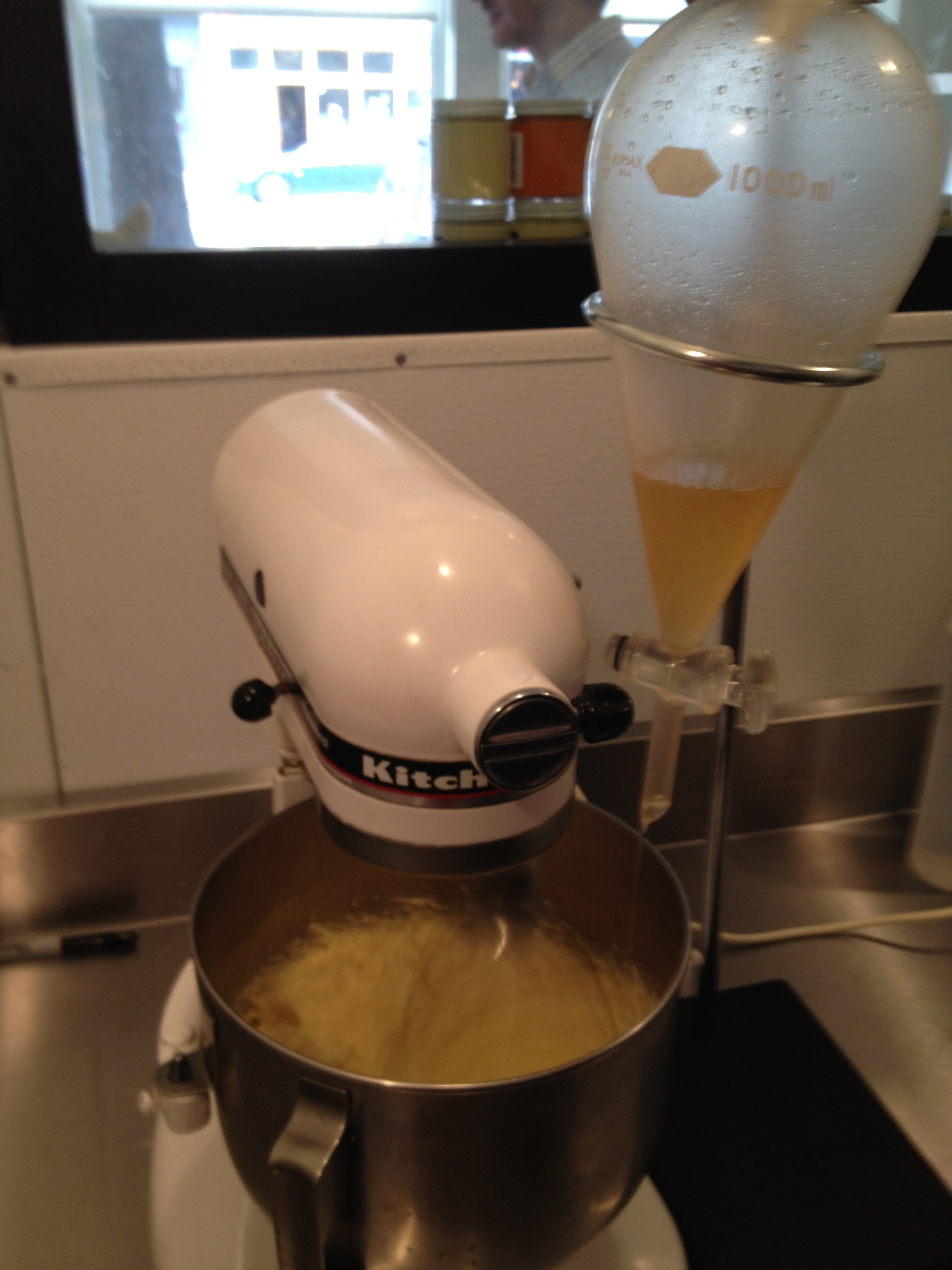 The other factor in making mayo that intimidates me is the process of suspending those droplets of oil in those fat molecules. The emulsification can break. The key is adding the oil in a slow and steady stream. The slower, the better, Mason says.
How slow?
"At first, I used a squeeze bottle," he said. "I'd be standing there like a jerk for 30 minutes."  
Yes, that slow.
He restored his coolness value by rigging up a contraption that's straight out of a chemistry lab. He mounted a separatory funnel to a stand, and placed it next to the mixer. A little valve at the bottom allows Mason to adjust the speed of the oil stream.
The set-up is not likely to last very long. Mason says orders are coming in so fast, he would like to graduate to a 20-quart floor-model mixer: "It would make 10 cases of mayonnaise an hour, instead of 2!"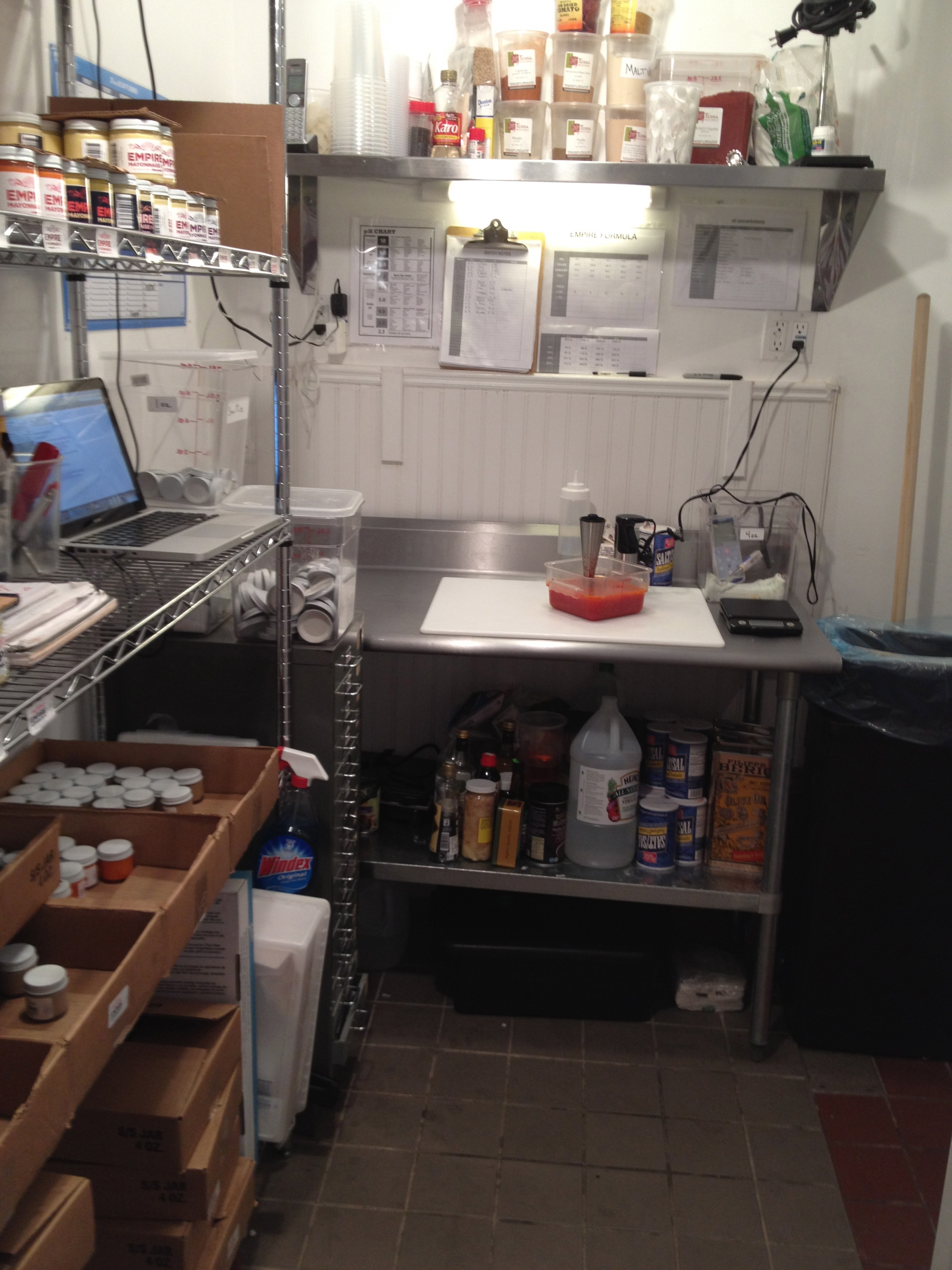 I wondered aloud where he'd put a floor mixer; the walk-in, and the rest of the space, is pretty small. Although Mason and his partners, Elizabeth Valleau and Benjamin Palmer, opened Empire Mayonnaise in April, Mason says they've already outgrown the space.  
"We didn't have a reference point," he said. "There's no 'Opening a Mayonnaise Store for Dummies' book."  
They're churning out 300 jars of mayonnaise a week, mostly through their website and to specialty shops selling his mayo like The Meathook and the Bedford Cheese Shop. About 100 of those jars are also sold at their brick-and-morter store.
"We have one lady who told us she drove all the way from the Bronx," said Mason. Orders have also come in from as far away as Poland.
And what are people to do with mayonnaise, beyond slathering it on sandwiches and mixing it into potato salad? Put it on grilled meats.
"The Nitehawk Cinema in Williamsburg uses our lime pickle mayo on their burgers," said Mason. "The heat turns it into oil, and it totally changes the hamburger." Or how about a coffee mayo on roast pork?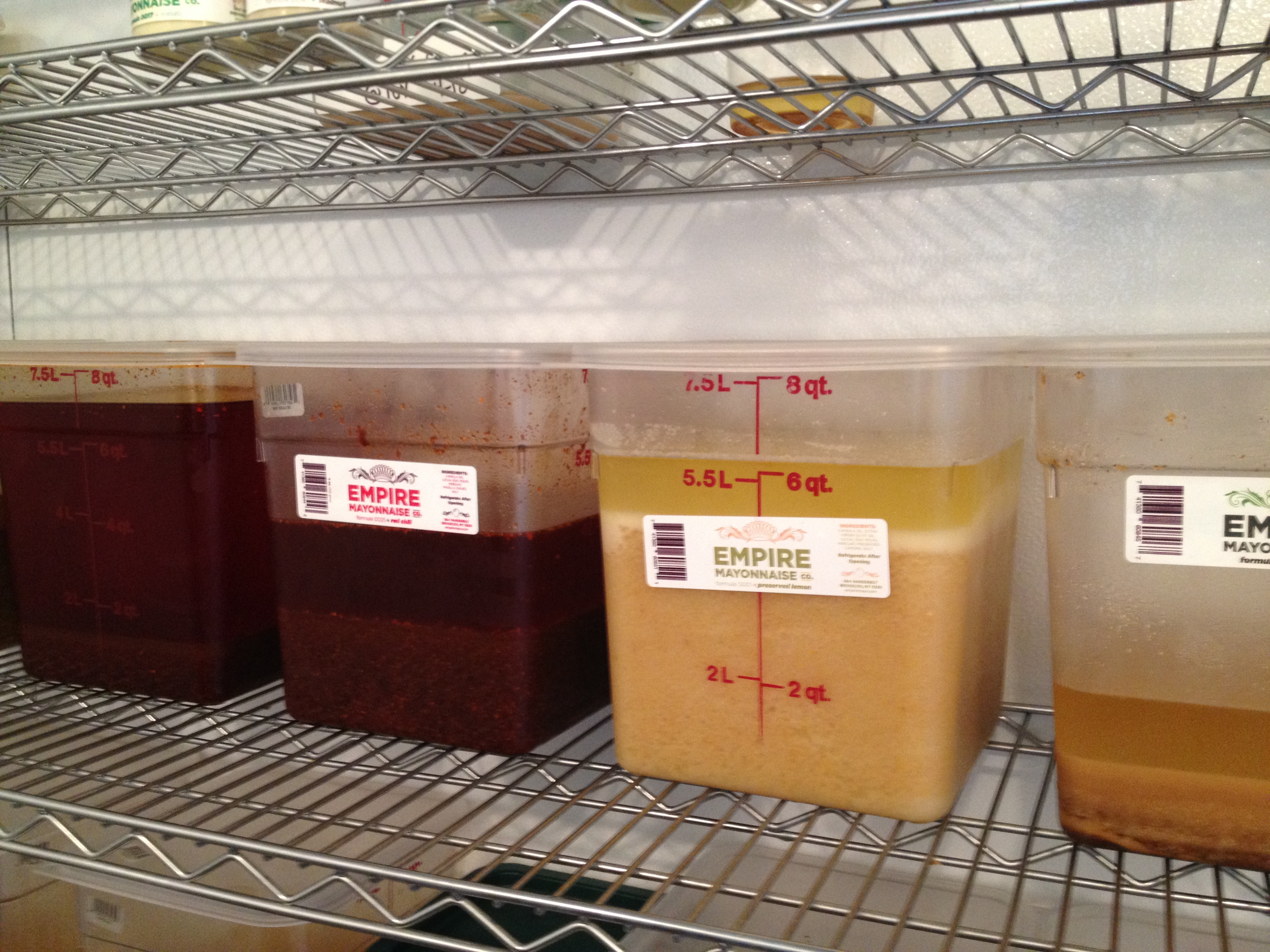 He also said coffee mayo is good on donuts.
Fat-soluble meets fat-fried?! It makes sense. Germans, Danes and Belgians are known to dip their French fries, or pommes frites, in mayonnaise. Why not fried, sweet dough?  
Mason urged me to make my own coffee mayo and try the donut-dipping experience.
"Use decaf freeze-dried coffee as the flavoring, and use canola oil," he said, "at a ratio of 10 percent."
Readers, I'll report back when I figure that out.