Luxe Hotel Slated for Brooklyn Bridge Park
A 10-story luxury hotel and residential complex will be built at Brooklyn Bridge Park.
Mayor Michael Bloomberg announced Tuesday that Toll Brothers City Living and Starwood Capital Group have been tapped to build the project on the Brooklyn waterfront south of the Brooklyn Bridge.
The plan calls for a five-story residential building, and public restrooms, restaurant and retail space, according to Park President Regina Myer.
"We were very careful to make sure the project did two things," she said. "That it really activated our entrance, and provided amenities for park users."
She said project organizers took a close look at the neighborhood's density, making sure to keep the development within the neighborhood's parameters, and ensure views of the waterfront remain open and accessible to park visitors.
Meyer said rent payments and payments in lieu of taxes on the site will fund park operations and upkeep.
She said the ground breaking could take place next summer.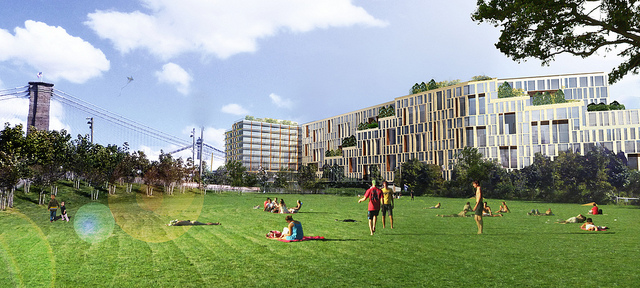 (Rendering courtesy of nycmayorsoffice/flickr)