Niche Market | Mandolins and Their Brothers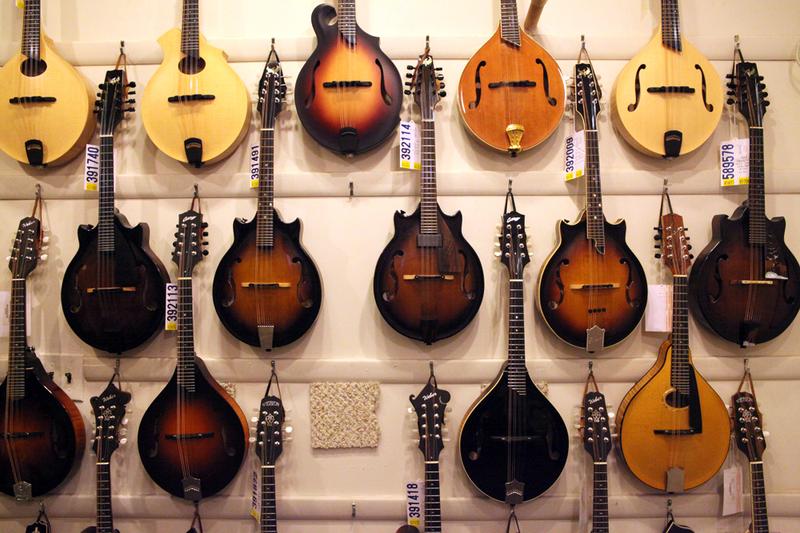 New York is a city of specialists from foodies to academics, laborers to shopkeepers. Every Wednesday, Niche Market will take a peek inside a different specialty store and showcase the city's purists who have made an art out of selling one commodity. Slideshow below.
Mandolin Brothers
629 Forest Avenue
Staten Island, New York 10310-2576
It started with ads in the the Staten Island Advance newspaper.
One musician placed an ad in search of an acoustic guitar. Another second was looking for an electric. The pair, both in their 20s, had never met. But in December 1971, Hap Kuffner, the electric enthusiast, dialed the number listed in Stan Jay's advertisement and invited him on a road trip to New Jersey to look at a collection of old Gibson banjos for sale.
Jay agreed. The new friends purchased two bags of disassembled tenor banjo parts from the dealer and split the cost down the middle, paying $112.50 each.
With that initial exchange of cash, Mandolin Brothers on Staten Island was born.
Even though their shop was far from the folk center of Greenwich Village, it quickly became a music Mecca. The partners sold guitars to Bob Dylan and Joni Mitchell, who even references the shop in "Song for Sharon" ("I went to Staten Island to buy myself a mandolin").
To this day, musicians make the journey by boat or bridge to reach the unassuming stucco building that Jay, now 68, calls the "Dream Fulfillment Center."
"If you can play music, life somehow takes on a new meaning and a new color and you become expressive in ways you never knew you could be -- and that is why we're here," said Jay, sporting a buttoned shirt pattered with guitars.
The stock is uniformly high-end. The cheapest guitars start around $400. But even if customers can't afford to purchase the instruments, they're welcome to play them, so there's always a tune in the background.
"There's lots of music stores in Manhattan but there's no store that has as deep an appreciation or knowledge of acoustic instruments as this one in New York City," said Tim Morehouse, who brought his guitar in for a repair and to shop on Monday. "My brother in law is with us and he came from Minnesota so it's a bit of a pilgrimage."
The layout of the shop is more like a house than a retail outlet, room after room with guitars, mandolins, ukuleles, banjos and hybrids on the wall, and comfortable chairs to sit on and strum away for hours. Some customers fly across the world just to drool in the presence of famed models.
Jay, who bought his partner out in 1983, says Staten Island is the perfect borough for Mandolin Brothers, because it's a place where instruments valued up to $100,000 can sit out in the open.
"You couldn't do that in Manhattan, everything would have to be behind glass," he said. "I never wanted a buffer between us and the customer. I wanted a retail environment in which there was no tension."
And for the residents of Staten Island, it's simply the corner music store.
"I know it has a worldwide reputation, but to me it's a neighborhood store, to everybody around here," said Dag Dorph, who grew up in Staten Island.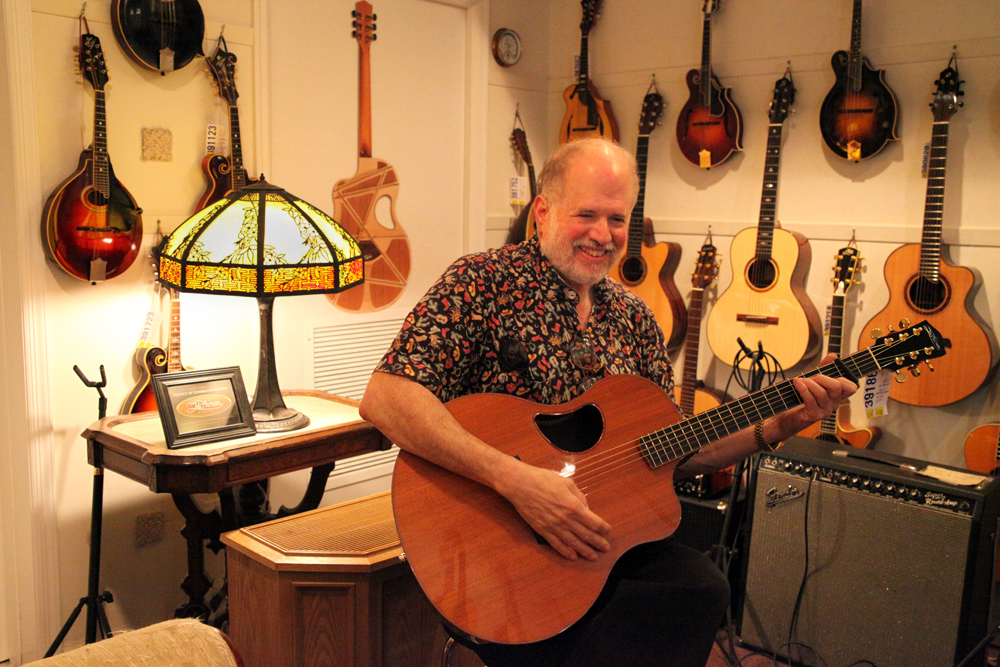 (Stan Jay, owner of Mandolin Brothers. Photo: Sarah Kate Kramer/WNYC)
Interview with Stan Jay, owner of Mandolin Brothers.
What's the most popular instrument here?
Acoustic guitar by far. Then electric guitar. Then arch-top guitar. Then ukulele -- equal to mandolin and open back and resonator back banjo. But guitars are about 80 percent of what we do.

How do you counsel customers on buying an instrument?
If you love it, if it makes you sound good, if it makes you want to play it more, if you think about it when you wake up in the morning and when you come home from work, that's the right one.

Do you get beginners here at the shop?
We do get beginners, and we explain to them, 'If you start with a great guitar, you will a) learn faster, b) want to practice more, c) enjoy owning something fine' ... So often you hear about people who say, 'Oh, I couldn't learn to play guitar. I gave it up. I tried. A) it hurt my fingers … or b) I just couldn't deal with it,' which means they weren't playing an instrument that was providing them the pleasure that they should have had when they picked it up to play it. I attribute this to insufficient quality in the instrument, so we do not sell any instruments that are not set up perfectly...We frankly believe that you can never be better than your guitar allows you to be, and having a fine instrument that you love, that whenever you open the case you sigh and you say, 'Oh boy, am I glad I have this.' That makes you want to play more.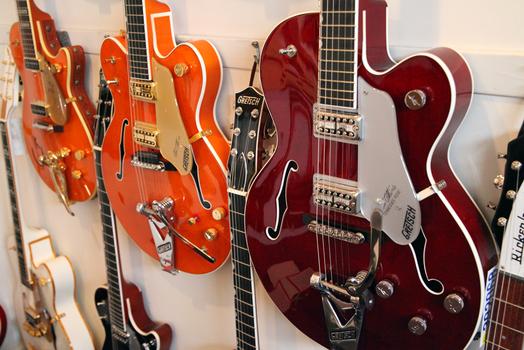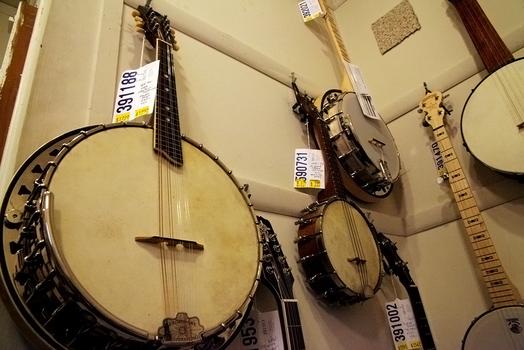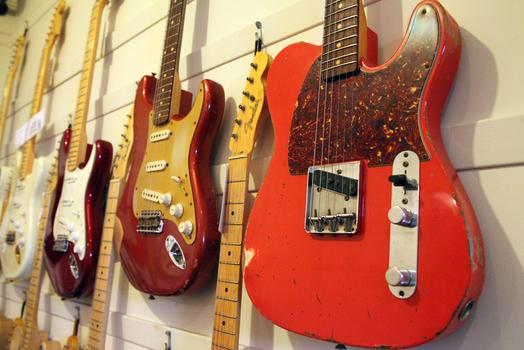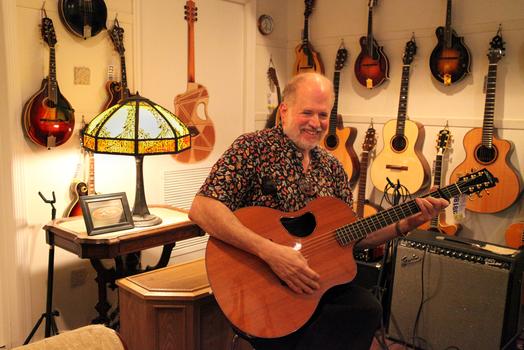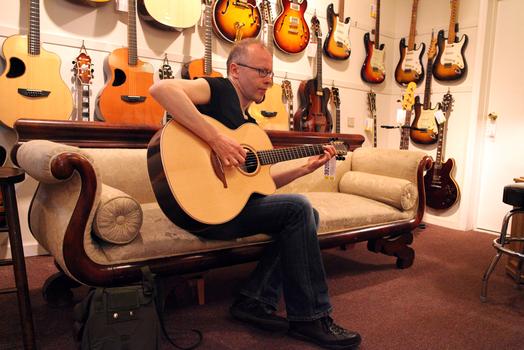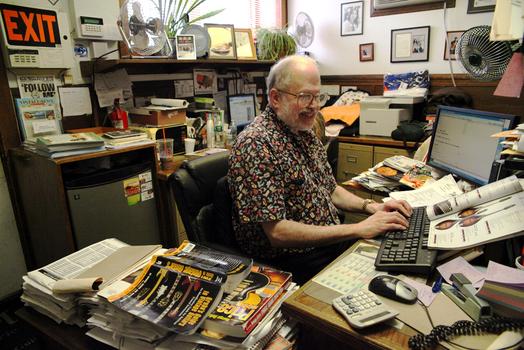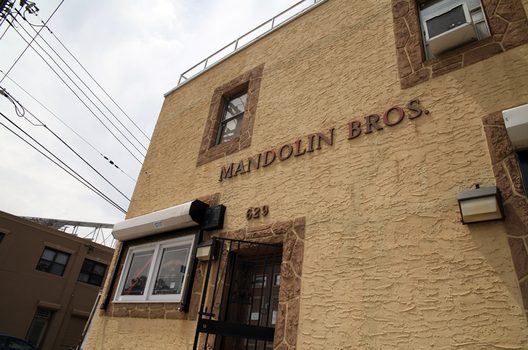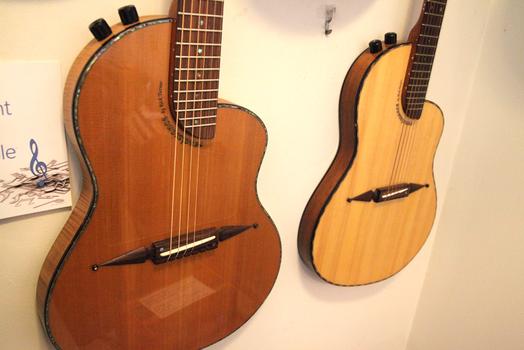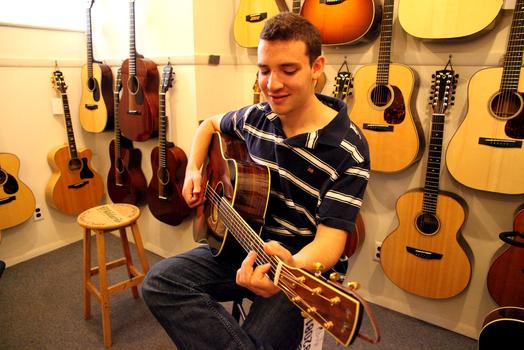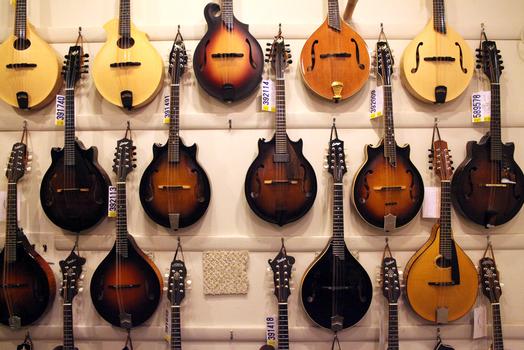 of