Ferdinand Marcos and John Lindsay Foster U.S.-Philippines Ties, 1966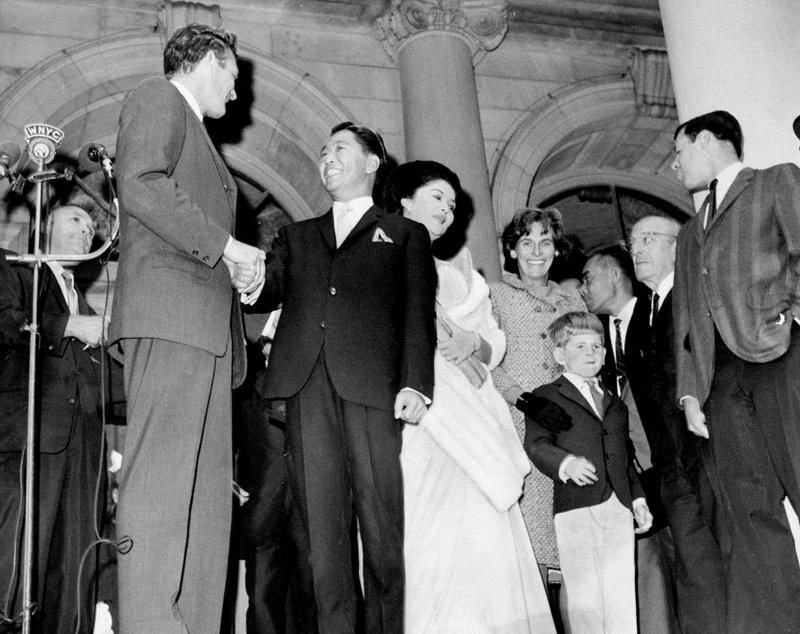 Ferdinand Marcos, the newly elected president of the Philippines, and his wife, Imelda, are welcomed to New York by Mayor John  Lindsay in a ceremony at City Hall. 
The mayor lauds Marcos as "a fighter for freedom" and notes that many of his countrymen reside in New York, where they add "strength, production, and luster" to the city. Then Marcos provides a brief historical sketch of the Philippines, noting that it was the first country to mount an anti-colonial revolution, and points out that English is the language of instruction, so that "everywhere you go, you will feel at home." He thanks the schoolchildren who have serenaded him and calls New York "a city that has a heart."
Although this recording is brief and features fairly "boilerplate" speeches from both Lindsay and Marcos, there are touching (if off-key) renditions of "Lupang Hinirang," the Philippine national anthem, "The Star-Spangled Banner," and Rodgers & Hart's "Manhattan," performed by the students of "a Jesuit high school," as well as a halting introduction by an unnamed student pointing out the "close relationship" the Jesuit Fathers have had with the Philippine people.  
Marcos was born in 1917. As a child, he was known for possessing an extraordinary memory as well as a fascination with firearms. In 1933 it is generally believed he assassinated a political opponent of his father, a crime for which he was found guilty. Using his law school training, he was able to compose an appeal from his jail cell, eventually arguing and winning his case before the Philippine Supreme Court. (There is some evidence that a wealthy and powerful judge, rumored to be his true biological father, fixed the case.) During World War II, Marcos's conduct was, at best, dubious. As the Gale Encyclopedia of Biography recounts:
Marcos emerged from World War II with the reputation of being the greatest Filipino resistance leader of the war and the most decorated soldier in the U.S. Armed forces. (Marcos served in the U.S. Army at the beginning and the end of the war as a "third lieutenant" on clerical duty; for a time in 1944 he was a U.S. prisoner of war under a death sentence.) The Army investigated these claims after the war and found them to be false and "criminal." In fact, Marcos seems to have spent the war on both sides, and at various times, was in hospitals with fevers and stomach pains, possibly from the onset of lupus, the degenerative disease that ultimately ruined his health. In early 1943 in Manila, Marcos concocted a "secret" resistance organization called Ang Mga Maharlika ("Noble Studs") which he claimed consisted of spies, saboteurs, and assassins, but in fact consisted of many forgers, pickpockets, gunmen, and racketeers, united by an interest in black market operations.
Nevertheless, after the war Marcos rose quickly. In 1965 he was elected president and in 1969 became the first president in the history of the Republic of the Philippines to be re-elected. His administration, while credited with making investments in infrastructure and the tourism industry, was widely viewed as corrupt. Claiming that insurgent campaigns threatened the country's stability, Marcos declared martial law in 1972, effectively destroying the country's democratic institutions. Opposition politicians, the Encyclopedia Britannica reports:
…were jailed, and the armed forces became an arm of the regime. Opposed by political leaders -- notably Benigno Aquino Jr., who was jailed and held in detention for almost eight years -- Marcos was also criticized by church leaders and others. In the provinces Maoist communists (New People's Army) and Muslim separatists undertook guerrilla activities intended to bring down the central government. Under martial law the president assumed extraordinary powers, including the ability to suspend the writ of habeas corpus. Marcos announced the end of martial law in January 1981 but continued to rule in an authoritarian fashion under various constitutional formats. He won election to the newly created post of president against token opposition in June 1981.
Marcos propped up his position by remaining a staunch ally of the United States during a time when Southeast Asia was a "hot spot." His country received considerable financial aid and allowed the U.S. military to maintain its strategically important Clark Air Base on Luzon Island. But as the Philippines economy continued to weaken and the Vietnam War ended, his position grew untenable. The Columbia Encyclopedia describes how:
…his regime's increasing isolation, fed by widespread corruption and the extravagance of his wife, Imelda, culminated with the assassination of Benigno Aquino (1983) on his return to the country. The opposition united behind Aquino's widow, Corazon Aquino, who ran against Marcos in the 1986 election. Marcos was declared the winner but was widely suspected of electoral fraud. Protests drove Marcos into exile, and Aquino became president.
Marcos lived up to his reputation as a "kleptocrat" by having looted the Philippines treasury of an estimated $10 billion. In poor health, he spent the remaining years of his life in Hawaii.
Marcos died in 1989, at age 72.
Audio courtesy of the NYC Municipal Archives WNYC Collection.