In Hudson Valley, Dems Crowd Primary to Challenge Freshman Hayworth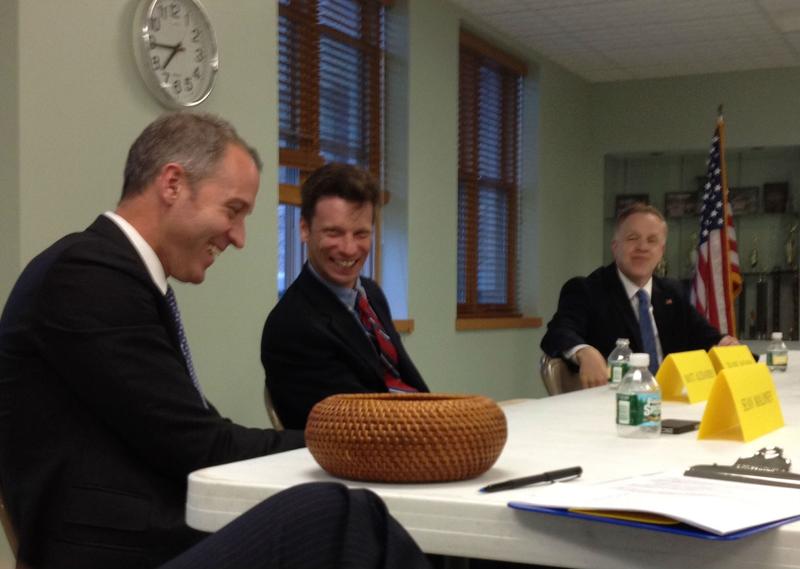 The Hudson Valley's redrawn 18th Congressional District stretches across farms, tony vacation communities, and struggling post-industrial cities. Its new lines wrap around the city's inner-ring suburbs like a horseshoe, lending its politics a mix of small town provincialism and bold-faced names. Supporting players in this primary contest, for example, include President Bill Clinton, Fox News Chief Roger Ailes, and the street vendor who spotted the would-be Times Square bomber. 
Moderate Republican politics have reigned here historically. Republicans represented this district for generations: First Hamilton Fish for 26 years, then Sue Kelly for 12 years after that. In 2006, though, voters elected rockstar John Hall – most famous for the Orleans ballad "Still the One" – as Democrats took control of the House.
The district was in synch with the national trends fours years later. Voters sent Republican Nan Hayworth to Washington, Hall into political retirement, and John Boehner to the Speakership.
Political watchers have deemed this district a "toss-up" this year, and Democrats are hoping another national mood swing will buoy their slight registration edge in the redrawn district. That has led to a crowded, five-way primary to be the guy to take on Hayworth.
"Yeah, it's like America," candidate Sean Patrick Maloney said. "It's balanced politically. It's part rural. It's part suburban. There are people who commute everyday into the city. There are people who farm for a living."
Until recently, Maloney fell into a different category: A weekender. He has a house here, but he has mostly lived in New York City with his kids and partner. Maloney is gay, and last week he nabbed top billing as a co-host of a pride fundraiser with Nancy Pelosi. To primary voters, he emphasizes his access to cash.
"We are up against someone who has a pile of money, and unless you can go toe-to-toe with these Republicans in Congress, it's going to be really hard to take back this seat and make it work for working people," he said.
Maloney worked in the administrations of Govs. Eliot Spitzer and David Paterson, but his campaign is all about his boss in the late 90s - former President Clinton. Voters get reminded about Maloney's Clinton connection often. 
There have been at least six Maloney mailers featuring Clinton so far. Three show pictures of him with the president in the Oval office. Another one shows Clinton whispering in Maloney's ear. In this race, Maloney has the obvious advantages: The Clinton endorsement, highest fundraising, major labor backing.
The other Democrats in the race are taking a different tack.
One is building his candidacy on his own fame. Two years ago, Duane Jackson was selling I Love New York souvenirs when he spotted a smoking SUV in Times Square. Now Jackson, who lives in the district, says he wants to save Washington next. He is running a low-profile campaign.
The three other Democratic candidates in the eighteenth Congressional district are local politicians, busy introducing themselves across the district. 
Among them is cardiologist Richard Becker. As a Westchester councilman, Becker led an effort to lower heating oil costs in his town. He's been endorsed by the New York Times, and the Democratic committee in Orange County, which is now entirely in the 18th. That added the struggling city of Newburgh to the district's mix of wealthy suburbs and farms.
Becker's working to break through here, and spent a recent weekday afternoon knocked on doors in a Newburgh neighborhood. The homes here were sturdy but worn, with faded siding and multiple buzzers at frontdoors.
He gave voters a quick redistricting primer, telling them they were no longer in a Democratic district and that they need to vote the Republican Congresswoman because she opposes earmarks that bring federal money to the district. His approach, he described with sweeping promises, will be different.
"Main things will be creating jobs, not hourly Walmart. Good jobs," he said an older woman's doorstep. "Not 20 hours. Full-time jobs."
A Becker canvasser underscored the point, going off-script to tout the jobs Becker's already created - for the young staffers door-knocking for $10 an hour.
"We got about 11 kids out here, he's hired about 15 altogether. Jobs!" she shouted. "And we're living real good right now!"
But right now, with new district lines and a primary election two months earlier than usual, most of the campaigning is focused on voters that are already paying attention.
Like the crowd that gathered in Philipstown for a candidates forum. It was almost exclusively white, mostly older, but Chris Hughes, the young Facebook co-founder and publisher of The New Republic, was there. He lives nearby.
The debate was cordial, with all the fire aimed on incumbent Nan Hayworth.
"Whoever wins this primary will be able to raise a ton of money because Nan Hayworth has a target on her back. There's a reason there's five people in this primary," Wappingers Falls Mayor Matt Alexander said to laughs. "Because we know that this primary June 26 is the election."
That's a stretch. You only have to look at the local media to see the politics here are far from settled.
The chairman of Fox News, Roger Ailes, bought the local paper four years ago. That prompted Gordon Stewart, a former speechwriter for Jimmy Carter, to start his own paper.
"We are somewhat flattered and largely bemused that such very significant figures in American political life come and go here," Stewart mused while Cold Spring's Main Street. But people don't notice it much, he said.
There are more pressing concerns, like "whether the fireworks will be held on Wednesday or on Sunday" for fourth of July.
For the record, those fireworks will be on Wednesday – a week after the district Democrats pick their candidate, and face the real work of proving their rockstar congressman wasn't just a fluke. 
Update: Also in the running is Tuxedo Park Mayor Tom Wilson of Orange County. In the final days of campaigning, spokeswoman Jahneille Edwards said the campaign is targeting most of its turnout efforts in Poughkeepsie and Newburgh. His campaign had more than $58,000 in cash at the end of March, but no more recent data is available. The Federal Election Commission filed a failure to file notice on June 15, and the Wilson campaign has not yet responded to a request for comment about the missing disclosure document.