Teddy Wilson Contemplates the Future of Jazz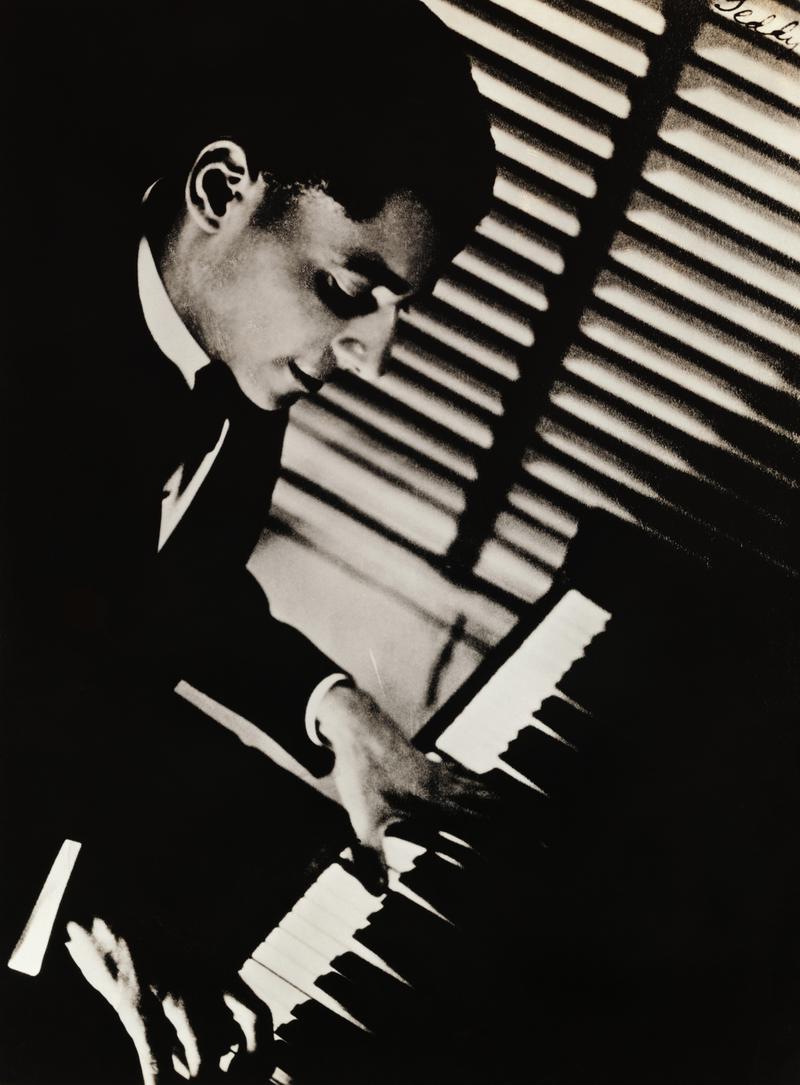 Pianist Teddy Wilson discusses his career and speculates on the future of jazz in this 1950 interview.
Growing up in Tuskegee, Alabama, Wilson only heard classical and spiritual music for the first few years of his musical life. He cites the records of Fats Waller and Earl Hines as early influences, then the live performances of the great Art Tatum. Asked what "jazz's next move" will be, he sees "a general trend to the combining of European influences and jazz." He mentions Lenny Tristano and Duke Ellington as examples. But he recoils at the notion of losing the music's essential rhythm. "It would be fatal for jazz to get away from that beat." He does see jazz evolving into concert music. Returning to his own career, he credits John Hammond with "discovering" him once he came to New York. Through Hammond, Wilson met Benny Goodman. He talks a little bit about the famous trio Goodman formed with himself and Gene Krupa, which was later expanded to a quartet with the addition of Lionel Hampton. This brief interview (which introduces but does not include musical interludes) is very similar to Wilson's playing style, reserved, intelligent, quietly swinging, with no unnecessary verbiage.   
Teddy Wilson was born in 1912. At the Tuskegee Institute he studied both piano and violin. By the 1930's he was already a recognized talent on the piano, playing with Louis Armstrong and Benny Carter. But it was his part in the Benny Goodman Trio that cemented his reputation, both for the music he produced and because the Goodman group was, if not the first, certainly the most visible racially integrated jazz combo of its time. Goodman's decision to hire a black man made headlines, but no one in the music world disputed that Wilson's true importance lay in his redefining of the piano's place in swing. As The New Grove Dictionary of Jazz puts it:
Wilson was the most important pianist of the swing period. His early recordings reveal a percussive style, with single-note lines and bold       staccatos, that was indebted to Earl Hines; but by the time of his first performances with Goodman he had fashioned a distinctive legato idiom that served him for the rest of his career. Wilson's style was based on the use of conjunct 10ths in the left hand; by emphasizing the tenor voice and frequently omitting the root of the chord until the end of the phrase he created great harmonic refinement and contrapuntal interest. For the right hand he adapted Hines' "trumpet" style, playing short melodic fragments in octaves, frequently separated by rests and varied with fleet, broken-chord passage work. He used the full range of the piano, often changing register or texture to underscore formal divisions. His poised, restrained manner and transparent textures are especially evident on his solo recordings from the late 1930s, which served as models for countless pianists in the late Swing period.
In addition to his playing with Goodman, Wilson also led a very active career as a sideman, as well establishing himself as the quintessential accompanist to many top singers of the day. The same qualities, however, that endeared him to the (largely white) swing audiences, proved less attractive as the direction in jazz shifted towards bebop and cool. James Nadal, on the website allaboutjazz.com, traces this arc, writing how Wilson:
…during his time with Goodman, put together several small groups for recording sessions, and began a long career as a freelance recording artist that culminated in his marvelous series of discs with Billie Holiday. Other sessions featured such artists as Lester Young, Roy Eldridge, Lena Horne, Ella Fitzgerald, Helen Ward, and Harry James. Wilson left Goodman in 1939 to form his own big band, which included such top musicians as Doc Cheatham, Ben Webster, Rudy Powell, and Hal Baker. Thelma Carpenter was vocalist. Wilson's subtle style failed to win over audiences, however, who often complained that his orchestra sounded "too white." He disbanded the group after only a year and formed a sextet that played regularly at the Cafe Society in New York from 1940 to 1946. 
Wilson's reserved, "pointillist" style still had its adherents, though, and he spent the rest of his life performing both in small groups and as a solo artist. He also taught at Juilliard. Wilson's observation in this talk that jazz was naturally evolving toward the concert hall seems more in line with today's "Lincoln Center" attitude toward the music. But as is so often the case, what seemed then one more step in a natural and inevitable progression proved instead to be the culmination of a movement in a particular direction, to be followed by a reaction, leaving Wilson's elegant, reticent style stranded in almost museum-like perfection. Perhaps some of this can also be related to racial politics of the time. The very qualities that made Wilson the ideal "Jackie Robinson" of the swing concert served him less well as jazz became interested in declaring its black identity. But as Jon Pareles, writing in The New York Times, points out:
Teddy Wilson's nonmusical contribution to jazz should also be remembered -- his place, as a black musician, in Benny Goodman's integrated, all-star trio and quartet, breaking the jazz color line in public performances (he had already recorded with integrated groups) at the end of the 1930s. Segregation was the rule in the Swing Era. Today, the color line in popular music is slightly more permeable, but not entirely so.
Teddy Wilson died in 1986, at  age 73. 
Audio courtesy of the NYC Municipal Archives WNYC Collection.
Note: Some poor audio quality due to condition of original recording.