When Worlds Collide: Tennis, Cake & WNYC
Love, loss and how I swore — that's one of the ways I like to describe my tennis blog. Yes, dear readers, there's more to me than just radio and eating. I've got to work off the stress and calories somehow. 
But calories were not on the top of mind when I decided to create a blog bracket contest for the men's and women's draws of the French Open in Paris earlier this month.  I decided to offer a cake, baked by me, to the winner.
I used to bake cakes all the time for the newsroom.  So often, in fact, colleague Fred Mogul famously urged me in a newsroom-wide e-mail to cease and desist, because he was gaining weight. It prompted swift recriminations from others, who argued, if you don't have the willpower, stay away from the newsroom's centralized staging area for community food offerings, the aptly-named "Shelf of Gluttony."
So it was with great relish that I delivered, to that shelf a contest cake for WNYC colleague Caitlin Thompson.  Thompson won the women's bracket with her deft selection of Maria Sharapova as a finalist.  Sharapova not only reached the finals, she soundly beat Sara Errani and won the championship, completing a career Grand Slam (She's already won Wimbledon, the US Open, and the Australian Open).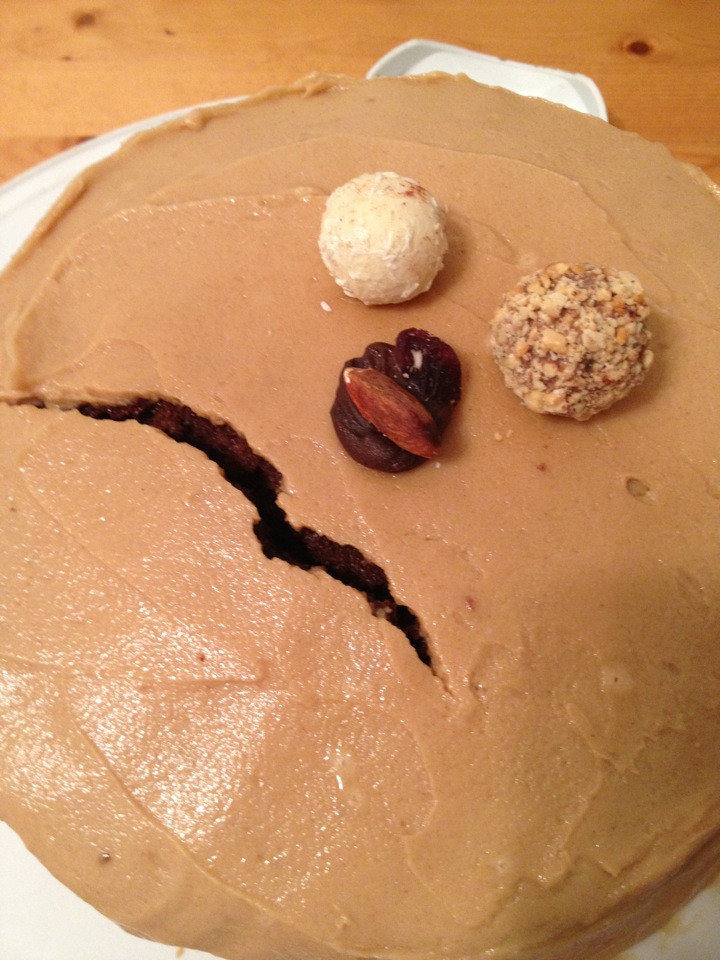 Thompson told me she wanted something "unconventional," so I decided to bake a Coca-Cola cake.  It is typically glazed with a Coca-Cola syrup, but I had read somewhere about Southerners putting salted peanuts in their bottles or cans of Coke, so I went with a peanut butter/cream cheese frosting.
Whew.  The cake was super moist and heavy.  Like Andy Murray in a Slam final, it slumped.  A crack emerged.  It made me think of some of the courts I've played on in the city's parks.  I decided to employ some chocolate truffles I had in my cupboard, and truly turn it into a cake worthy of my blog's name, I Hate Tennis.
The cake was a hit, but — true to form — I'm not satisfied.  I think it could be more chocolatey and less sweet.  There are 2 cups of sugar, 1 1/2 cups of mini marshmallows and 1 cup of Coke in the batter.  It reads more "sweet" than "caramel," or whatever Coke-a-Cola-y notes should come from a cake made with the stuff. 
The frosting? I could eat it all day with a spoon.
Have you made Coca-Cola cake?  There's a host of recipes online for it; which one do you use?  And have you tried salted peanuts in Coke?  Do it, and make it a Coke that's under 16 ounces.  Mayor Bloomberg may be watching.