Herman Wouk Bucks Literary Trends to Produce Best-Selling Novels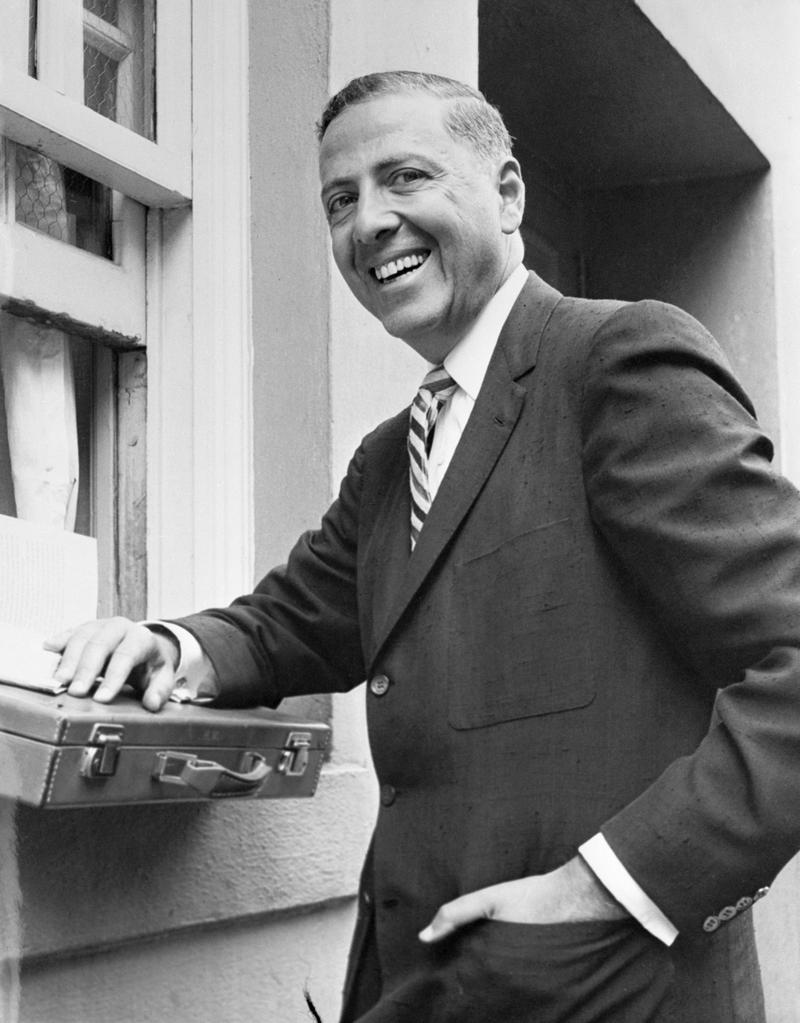 Herman Wouk, appearing in this 1955  Books and Authors Luncheon, contests what he perceives as the common view of his being "a conformist." 
Smarting, perhaps, from the highbrow literary world's disdain for his current best-seller, Marjorie Morningstar (1955), Wouk methodically lists the ways in which he swims against the current of the contemporary cultural scene. He is, for starters, "the only Jew in the literary field who lives an Orthodox Jewish life." In The Caine Mutiny, his blockbuster of 1952, he scrupulously avoided all obscenities, breaking "a convention in war novels that had become almost as rigid as the sonnet form." More seriously, he expressed in that book an unfashionable admiration for the men, however brutal and flawed they may have been, who "won the war." And now, in Marjorie Morningstar, he has fearlessly bucked trends yet again, by insisting that a young girl's "virginity was precious to her; that her first experience was a catastrophe or a revelation, but at any rate a key turn in her life." 
In this counterblast to the prevailing Modernist creed of the day, Wouk explicitly aligns himself with Shakespeare and Dickens. Yes, he admits, during the 1920s, when H.L. Mencken and other critics "smashed idols," they were justified, because the mindless optimism they attacked was false and needed debunking. But now, in the face of "a dynamic and vigorous system diametrically opposed to it," he finds himself, when he sits down to write, "telling good things about the United States. And I am not ashamed of that." 
Wouk was born in New York City in 1915. The son of immigrant parents, he worked for several years in radio, eventually becoming a writer for the famous comedian Fred Allen. After the Japanese attack on Pearl Harbor, Wouk served with distinction in the U.S. Navy. During his off-duty hours he began to write what would become his first published novel, Aurora Dawn (1947). Its success encouraged him to devote himself to fiction full-time. Among his early successes were The Caine Mutiny (1952), which presented a more complex and nuanced view of war and command than most novels dealing with the recent conflict, and Marjorie Morningstar, about a young Jewish girl who rebels against her family's middle-class values. The Caine Mutiny was awarded the Pulitzer Prize, adapted for the stage, and then turned into a film starring Humphrey Bogart. Marjorie Morningstar was also filmed, with Natalie Wood in the title role. 
Wouk had led a secular life until his early 20s. Earlier, though, he had been influenced by the religious beliefs of his grandfather, Mendel Leib Levine, who had been a rabbi in Minsk. This led to his eventual adoption of more Orthodox practices. In 1959 he published This Is My God, an explanation of the Orthodox Jewish life. 
Wouk's next major project was an overarching all-encompassing retelling of World War II and the Holocaust. This necessitated his moving to Washington and immersing himself in research at the Library of Congress and the National Archives as well as traveling extensively throughout Europe and Israel. The result was The Winds of War (1971), followed by War and Remembrance (1978). Both of these books, in addition to being best-sellers, were made into TV mini-series, at that time a relatively new concept in television. Of The Winds of War, The New York Times reported:
At about $40 million, it was the single most expensive television event up to that time. Filmed over a period of 13 months in over 400 locations, this TV saga captured a massive audience…
Although rarely receiving the imprimatur of the literary establishment, Wouk's novels have had a major influence both in the United States and abroad. Covering a symposium on his work hosted by the Library of Congress, The Daily Beast pointed out:
Henry Kissinger once called the novels [The Winds of War, War and Remembrance] "the war itself" …Robert Caro described the impact of reading Wouk's Pulitzer Prize–winning The Caine Mutiny on the subway as a teenager. William Safire marveled that Wouk's depiction of U.S.-Israeli relations during the early 1970s in his novel The Glory was so eerily accurate that Wouk had understood what most historians had not — not only events, but motivations.
In recent years, Wouk has returned to what he calls his "avocation, Judaic studies," with The Will to Live On (2000), and a study of physics and faith inspired by his friendship with the physicist Richard Feynman, The Language God Talks (2010).
Audio courtesy of the NYC Municipal Archives WNYC Collection.
Note: Some poor audio quality due to condition of original recording.