Van Cliburn's Musical Diplomacy Eases Tense U.S.-Soviet Relationship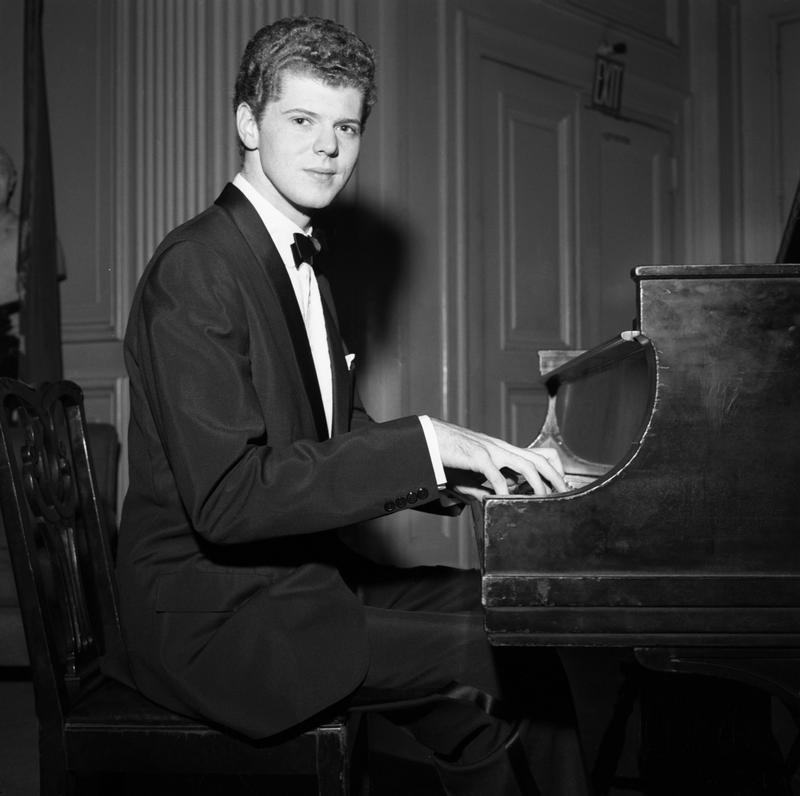 Texas, Moscow, and New York meet in this extended coverage of Van Cliburn Day, May 20, 1958, after Cliburn's unexpected victory at the Tchaikovsky Competition.
With tensions running high between the United States and the Soviet Union, there was much talk of "the arts" providing an opportunity for dialogue and understanding between the two superpowers. One has to admire the young Texan's poise (he was 23 at the time) in handling such a potentially dangerous, pressure-packed situation. 
In this recording, the reporter breathlessly describes the young pianist, fresh off his triumph in Russia, "making his confetti-strewn way" through the Canyon of Heroes. With a high school marching band in background, he paints a picture of the scene at City Hall where schoolchildren and dignitaries await the arrival of the motorcade. Finally, after a performance by the U.N. Singers and speeches by several dignitaries including Mayor Robert F. Wagner, Cliburn himself modestly thanks the crowd, then sits down at the piano. 
His speech, with its great appreciation for his Russian friends and hosts, is remarkably humble. He says the success he has experienced "could have easily happened to someone else" and asks the assembled multitude to say an occasional prayer for him, that he will "never fail to live up to what has happened to him."  He then plays Liszt's arrangement of Robert Schumann's "Widmung."
Van Cliburn was born in 1934. He grew up in Texas, where he was quickly recognized as a musical prodigy. Taught by his mother, Rildia, he debuted with the Houston Symphony orchestra at 12 and entered the Julliard School of Music at 17. The young pianist embarked on a solid, if unspectacular, performing career and at the time of the 1958 Tchaikovsky Competition was hardly considered one of the favorites to win the prize. That made his performance in Moscow all the more surprising. WNYC's Sarah Fishko, in her Fishko Files, tells how:
…A group of 50 pianists from 19 countries went to Moscow, including a few Americans. One was Van Cliburn. He had won an American competition, the Leventritt Award, at age 20, only to drift into an unremarkable career. But his prodigious talent had not gone unrecognized by the jury — this being no ordinary jury. Among them: Russian pianists Emil Gilels and Sviatoslav Richter, composers Dmitri Kabalevsky, Sir Arthur Bliss, and Dmitri Shostakovich, chairman of the competition. Cliburn famously tore into Tchaikovsky's first piano concerto, awing the Soviet judges. But they remained unsure whether they could give the prize to an American. As the popularly recounted story goes, the judges sought Soviet Premier Nikita Khrushchev's approval. "Is he the best?" Khrushchev asked. The judges replied yes. "Then give him the prize," Khrushchev said.
As is heard here, Cliburn returned to a most unlikely hero's welcome. He is still the only musician to be honored with a New York City ticker tape parade. He signed what was then the most lucrative recording deal ever offered to a classical musician and subsequently toured to packed houses for many years. In time, a reaction set in. As Gale Musician Profiles recounts:
Rapid fame and an exhausting schedule of touring, which often had Cliburn playing three days out of four during subsequent years, took their toll on the performer. Partly due to the demands of audiences to hear him play his prize-winning Tchaikovsky piece, he did not broaden his range as critics hoped he would. He was accused of lacking the intellectual curiosity that was necessary to fully develop his talent. Cliburn became inconsistent in his recitals, and his sound became rougher and trivialized by affectations. …Gradually Cliburn reduced his appearances until, after two decades of performing in almost 100 concerts a year, he withdrew completely from the concert circuit in 1978.
This view of Cliburn's musical decline was contested by the New York Times' Michael Kimmelman who, in a 2000 profile, argued:
…he was from the start a phenomenal, natural musician, as every other pianist recognized. And prolific enough in the standard repertory. He played or recorded Beethoven's Third, Fourth, and Fifth Piano Concertos, Rachmaninoff's Second and Third Concertos and Rhapsody on a Theme of Paganini, both Brahms concertos, both Liszt concertos, Chopin's First, MacDowell's Second, the Schumann, the Grieg, Mozart's C major (K. 503), Prokofiev's Third. … And Mr. Cliburn always was the opposite of a shallow showboat. When other young American pianists of his generation were perfecting a midcentury style of bloodless technique, he was an instinctive, honest, ardent player of absolute control, the model of modern musicianship.
In 1988 Cliburn reprised his role as an artist bridging political differences when he played at the White House after a state dinner for Soviet leader Mikhail Gorbachev. At a time when relations between the two superpowers were once again at low ebb, his playing of the Russian song "Moscow Nights," with Gorbachev and his wife Raisa tearfully joining in, provided a memorable, humanizing glimpse of the Soviet leader.
Cliburn is the founder of the Van Cliburn Foundation, which administers a quadrennial piano competition not unlike the one that launched him to fame over a half century ago. It is held in Fort Worth, Texas, where he has lived for many years.
Van Cliburn died February 27, 2013.
Audio courtesy of the NYC Municipal Archives WNYC Collection.