Vets Find Camaraderie in the Written Word
Iraq war veteran Paul Wasserman was the first of his fellow servicemen to step up to the podium, facing an intimate audience of friends, family and veterans. He began reading his short story, "Fragment," with the ease of familiarity:
Once the door is shut in the briefing room, the four acts commence. First on is the weather guesser, borrowed from the Air Force. Four months with us gets him choice of station. Being from an outside service and always on the ground, he's made no friends. — excerpt from "Fragment," from Afterwords: The Way Home
It's about the daily briefings soldiers would receive before heading out on their missions. For Wasserman, who served on a specialized air crew during the troop surge in 2007, those briefings became a sort of act of theatre, and recalling them, a character study.

Wasserman and the other men reading their personal work were from the most recent class of a free writing workshop for military men and women at Fordham University's Lincoln Center campus. The stories are from the group's new collection of prose. The anthology includes stories about war, like leaving for Vietnam and life abroad in the military, as well as tales of the hardships and struggles of civilian life, like the dissolution of a marriage and the memories of teetering on the brink of adulthood.


The authors from this workshop include combat veterans, a military public affairs specialist, and, for the first time since the workshop began in 2010, writers who've served in Afghanistan and Iraq.

For many, working with the group gave a sense of familiarity and camaraderie, regardless of the era of service. Wasserman said writing and working among fellow servicemen eliminated some of the concerns he may have had with other groups, because participants found common ground on things like military terminology and inside jokes.

It was a process that also helped Wasserman to articulate his experience more clearly.

"Writing about war is less cathartic than it is a method of remembering," he explained. "It's how you can remember that full experience, and makes the experience more well-rounded than it actually can be remembered. It can be remembered in a very fragmentary way."

The idea for the Veterans Writing Workshop originated with The Big Read, a National Endowment for the Arts program to encourage and support reading. David Surface, the workshop's instructor and founder, said he was asked to run a workshop for veterans around the time NEA chose Tim O'Brien's "The Things They Carried," about the Vietnam War, as one of their featured novels.

The workshop's managed to attract veterans from several eras, and those with some writing experience, to none at all. Wasserman, who's written and even read his poetry before, joined the group to work on his prose, and help along his plans to spend the summer writing a war novel.

But for others, the reception marked the first time they were reading their own personal writing in public. Randy Clinton is an active duty Marine who served in Garmsir in Afghanistan's Helmand Province, near the border with Pakistan, in early 2008. He was one of just 3,000 marines sent back to Afghanistan during that time.

He wrote two stories for the workshop's anthology: one, about everyday life serving in Afghanistan, and the other, about recent Medal of Honor recipient Dakota Meyer.

Clinton took to the microphone with confidence to read his personal reflections.
The Medal of Honor citation credits Meyer for saving the lives of 38 troops. But that seems to matter little to him. Mors tua vita mea is inked across his chest: Your death is my life. A marine grunt with a tattoo isn't unique. But rarely does the art so precisely reflect the realities of the wearer's life. — excerpt from "The Weight," from Afterwords: The Way Home
The audience applauded when he finished. Among those in attendance were Clinton's family: his wife, Astrid, and their two children, Angelica, 7, and Adrian, 5.

Astrid believes the workshop's been a great opportunity for her husband.

"Every time he gets home, he would tell me about how he could share stories, and how other people can relate to the stories," she said. "He loved that aspect of it."

Randy said it was an amazing feeling to have his family watching him read.
"One of the, really, things I hope is they see Dad, you know, reading, they see Dad writing books, they see Dad speaking, and that rubs off on them….that they're not scared to speak in front of a group, that they're not scared to, you know, express their thoughts, those kinds of things, because they see Dad in front of a room of a bunch of strangers doing the same thing," he said.

Other audience members, including current or recent veteran students at Fordham University, expressed pride, and said they were inspired by hearing the stories.

Fourteen-year army veteran Chad Johnson was moved to sign up for the next workshop. Having served in Iraq, Afghanistan, Kosovo and Macedonia, he expects he'll have much to write about, and plans to see how he feels about it after the first few meetings.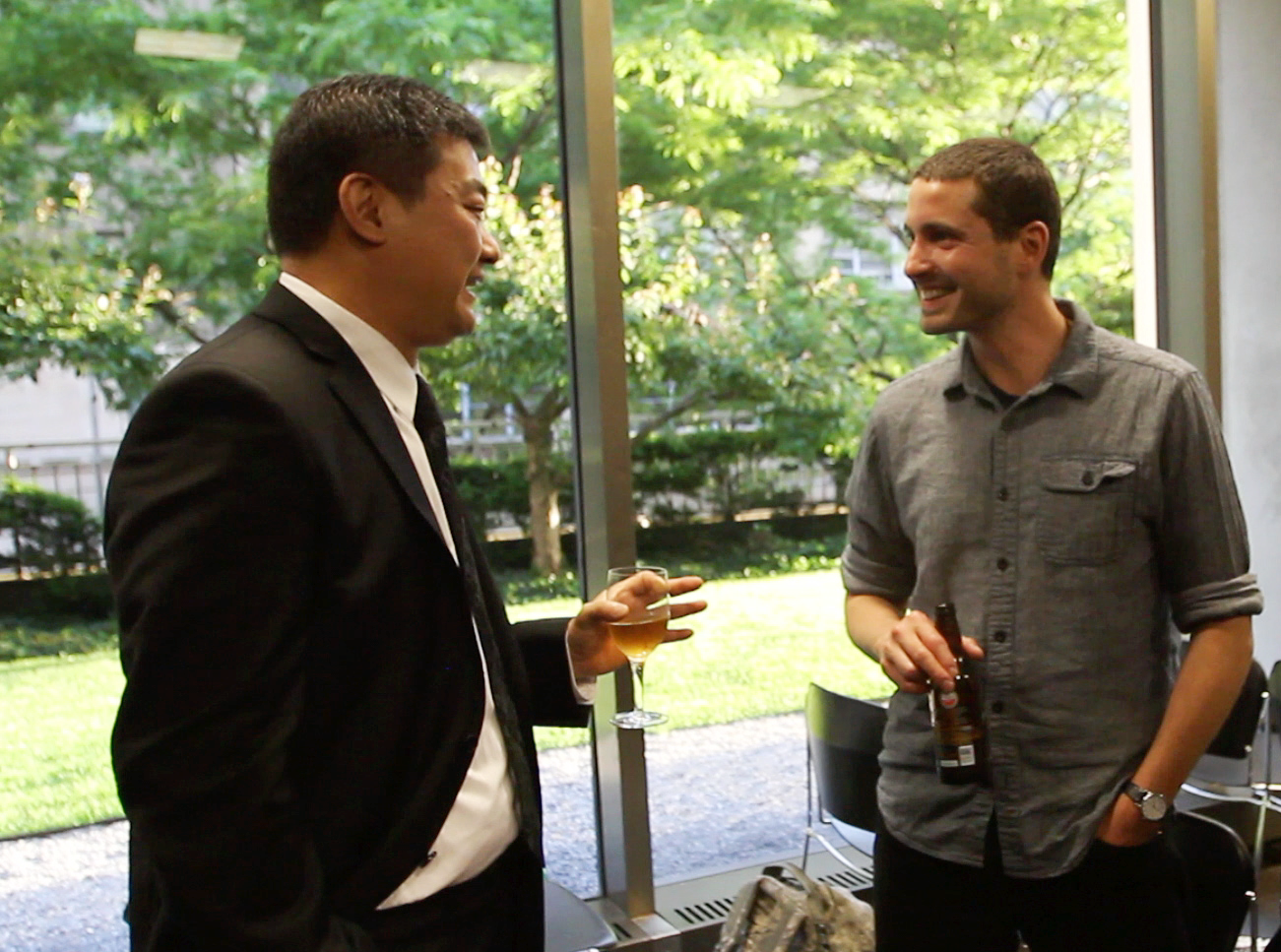 (Photo: Army Veteran Chad Johnson, left, talks with writer Paul Wasserman, right, at a post-reception reading. Jen Hsu/WNYC)
Not every veteran who signed up for the most recent workshop expected — or even wanted to — write about the battlefield. Ralph DeMatthews, a Vietnam veteran, said one of his first questions to instructor Surface was whether he'd have to write about the war (it's not a requirement).

But despite his initial reservations, he said he was moved by the stories he heard from fellow vets, and decided soon after to write about leaving for Vietnam.

"Those moments which I read up there are emblazoned in my mind," he said, after reading his story at the reception. "They're so emblazoned, it's amazing from 42 years ago."

He said working on his story, "Disruptions," brought up the past, including things he didn't quite remember right away. He now plans to expand the story.

"As you dig into that, you remember the weather, and the feelings, and the sweat and the heat and the fear," he explained. "That's what was interesting about it, and I like it."

The workshop's also afforded him with new military contacts.

"It'll be good to talk to them. And they're younger than me, so, you know, we'll talk about our war stories or whatever."
It's those kinds of experiences that motivate Surface to keep the program going, and expand it to even more venues in the future.

"People say, 'Why do you do this? Why teach veterans?' And the answer is, I love to teach writing to people to whom writing really matters. And once these workshops get going, the writing, you can tell how much it matters to these guys," he said. "It's very inspiring for a teacher to work with."

The latest workshops, both free, have just begun at Fordham's Westchester and Lincoln Center campuses.
To find out more about the free workshops, click here.