Last Chance Foods: A Brooklyn Take on Soda
A few weeks ago, Mayor Michael Bloomberg proposed a new plan to ban super-sized sodas from being sold in places where the city performs inspections — from restaurants to movie theaters. For certain self-policing, food-conscious subsections of Brooklyn — for instance, those neighborhoods where ice cream vendors nearly get chased off public playgrounds — huge, artifically sweetened colas are arguably less of an issue.
That's in part because of small companies like Brooklyn Soda Works. Started by visual artist Caroline Mak and research chemist Antonio Ramos, the company makes artisanal and seasonal sodas with little to no added sugar. (Quick, someone tell Brian Williams.) 
"While soda is in our name, we carbonate fresh fruit juice directly, so a lot of our sodas actually don't have added sugar," explained Mak. 
The story of how the two got started making soda begins with a bout of the flu and the couple's DIY sensibility. They were bored after being homebound for several days and decided to make the best ginger beer possible. Mak and Ramos did so by flagrantly disregarding the warning on their home soda maker to not carbonate anything other than water. 
Now, thanks in part to the encouragement of friends and a campaign on Kickstarter, Brooklyn Soda Works is entering its third year of production. They sell soda every Saturday at the Brooklyn Flea. 
The company's use of fresh fruit juice means their products have a shelf life of about three-and-a-half weeks. Also, Mayor Bloomberg and concerned parents can rest easy knowing that the typical Brooklyn Soda Works serving is only 12 ounces. "We're definitely on the small end of things," said Mak.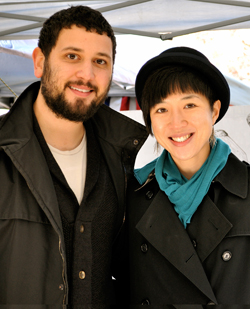 In addition, the soda has a distinctly adult spin: Mak admits that many of their flavors are designed to pair well with liquor. The "Apple and Ginger" was designed to go with the rum in their cabinet for a Dark 'n' Stormy. "Grapefruit, Jalapeno and Honey" can benefit from a splash of tequila, and "Cucumber, Lime and Sea Salt" works well with gin. 
(Photo: Antonio Ramos and Caroline Mak/Photo by Chantal Martineau)
Some bars and restaurants, like Palo Santo in Park Slope, have caught on to using the beverages as cocktail mixers and carry the soda on draft.
In total, Mak estimates that Brooklyn Soda Works has about 40 different flavors that rotate depending on the season.
"For example, in spring, 'Lemon, Thyme and Green Peppercorn' is a favorite, and then by the time, you know, you're in the middle of summer, 'Cucumber, Lime and Sea Salt's another big one," she said.
Brooklyn Soda Works has even gotten in on the foraging trend and have partnered with forager Evan Strusinski to create a line of sodas flavored by wild edibles. Ramos explains one soda uses angelica, for instance.
"The root and the plant are used in chartreuse, gin," he said. "It's a very herbal, almost medicinal bitter type of flavoring, but it's been used in a lot of alcohols before." Also in the works are root beer–like sodas made with foraged roots, and one made with spruce shoots.
The foraged soda line is new for Brooklyn Soda Works, which continues to grow as a small business. Mak notes that entering their third year is meaningful for the small company since they're now seeking larger loans and employing other workers. 
While the couple recognize that the word "artisanal" currently has a very distinct meaning attached to it, particularly for Brooklyn foodies, they are circumspect when it comes to the future of artisanal food. 
"[For us,] it's about the process, about trying to do something the absolute best you can and just focusing on quality," explained Ramos. "And just doing one thing and doing it well, like the traditional artisan."
Ultimately, Ramos says the desire for high-quality food is here to stay. 
"You can call it what you want — maybe those things change and are trendy," he said, "but I think the desire to eat good food and the desire to make good food is always going to be there."
Below, try the Brooklyn Soda Works recipe for an Apple & Ginger Dark 'n' Stormy, a boozy, sugar-free drink ideal for summer.
The Apple & Ginger Dark 'n' Stormy 
by Brooklyn Soda Works 
2 oz rum
4 oz apple & ginger soda
about 1/2 oz lime juice
Combine in tall glass with ice. Stir. Garnish with wedge of lime.