Obama Won't Seek to Deport Young Immigrants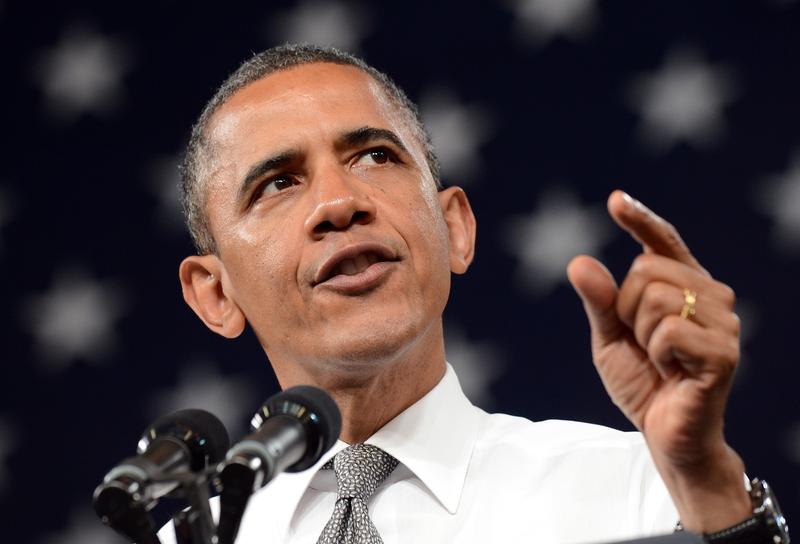 President Barack Obama said the nation would stop deporting younger undocumented immigrants who came to the U.S. as children and will grant them work permits – offering hundreds of thousands of illegal immigrants to stay in the country.
Obama said the change would become effective immediately to "lift the shadow of deportation from these young people."
"Let's be clear, this is not amnesty, this is not immunity, this is not a path to citizenship, this is not a permanent fix," Obama said from the White House Rose Garden. "This is the right thing to do."
Those who came to the United States under the age of 16, have been in the country continuously for at least five years, have obtained a high school diploma or GED, have clean criminal records and are not older than 30 will not face removal from the U.S. and are eligible to apply for two-year work permits.
Mitt Romney, Obama's GOP election foe, criticized the step but did not say he would try to overturn it if elected.
Meanwhile, students in New York were thrilled to hear about the president's announcement.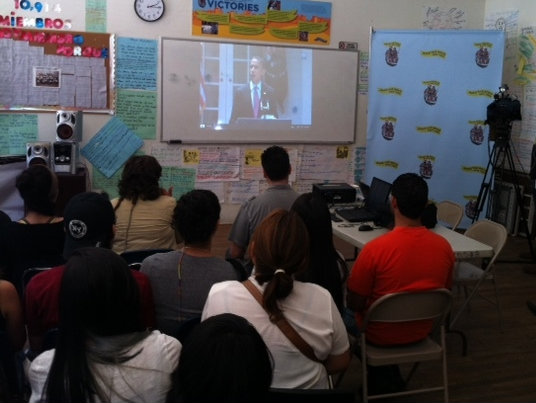 "This is a great step, and we're very excited," said Lucia Allain, 20, a student at Queens Borough Community College, who came to the U.S. from Peru when she was 10 and will benefit from this change in the policy. "I'm going to be able to work … give back somewhat to my community. It's still not exactly a path to citizenship, but it is a step."
Twenty-four-year old Miguel Calixto said he is eager to leave the grunt work that is typical of off-the-books jobs and furthering his education.
"This has given me more hope because I don't have to worry about working long hours anymore," Calixto said. "I can apply for financial aid, which will help me go to school."
(Photo: Undocumented teens gathered in Queens to watch Obama's immigration announcement. Jorteh Senah for WNYC)
Immigration experts say the new policy could have a positive impact on the national economy, but cautioned it will not translate into an exit form the black labor market for undocumented immigrants.
Michael Wishnie, professor at Yale Law School, said the policy is "likely to have very positive effect in our national economy" by allowing young undocumented immigrants to contribute by using their education.
"[They] ended up frequently in the informal sector, taking low wage jobs, working for cash wages under the table in low wage, low skill jobs," Wishnie said. "It's going to create an opportunity for those young people to move out of the informal sector into the formal sector in the areas of their training."
David Dyssegaard Kallick, fellow at the Fiscal Policy Institute, agreed, saying the policy will have a positive impact by allowing some undocumented immigrants to join the legal labor force, but that it will not significantly weaken the black market.
"That's a much bigger problem partly because you have a lot of undocumented immigrants who are not going to qualify for this," said Kallick, "and also because there are plenty of U.S.-born workers and legal immigrants who are also misclassified workers or who are not part of the system."
The announcement is the continuation of the administration's policy, which allowed some undocumented immigrants with clean records and strong ties to the country to avoid deportation. It has been previously criticized as backdoor amnesty by the GOP.
Obama also urged Congress to pass the DREAM Act, which would grant legal status to young immigrants who attend college or serve in the military. The initiative does not grant legal status to young immigrants, as the DREAM Act would have.
But advocates who have been at the forefront of pushing for the passage of the DREAM Act said they were very pleased with the announcement.

"I was just speechless," said Chung-Wha Hong, executive director of the New York Immigration Coalition. "I was so happy that something real, something positive was happening to our immigration debate."
The change swiftly drew an outcry from Republicans accusing Obama of circumventing Congress in an effort to boost his political standing.

"President Obama and his administration once again have put partisan politics and illegal immigrants ahead of the rule of law and the American people," Rep. Lamar Smith of Texas, GOP chairman of the House Judiciary Committee, said in a statement.
There were 450,000 unauthorized immigrants in the labor force in New York State in 2010, according to the Pew Hispanic Center.
Jorteh Senah and the Associated Press contributed reporting