What's at Stake Locally in the Healthcare Ruling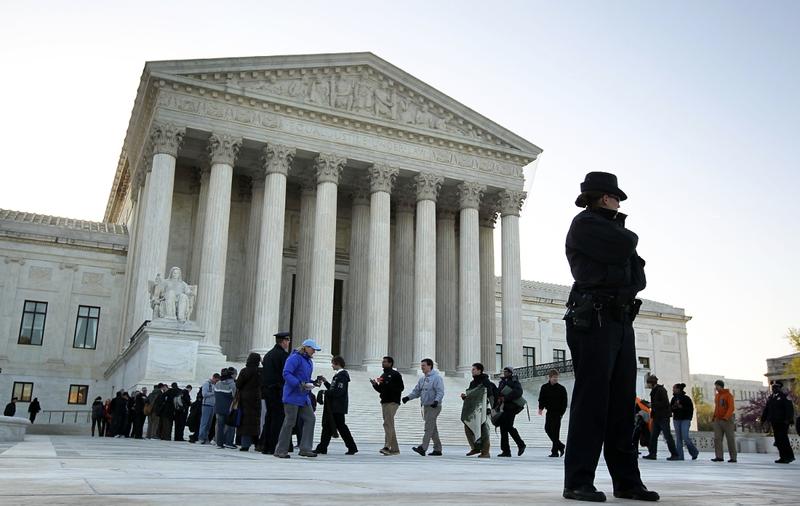 Win, lose or draw, the forthcoming U.S. Supreme Court Ruling on the federal healthcare overhaul will affect states differently.  The justices are considering whether it's constitutional to require people to purchase health insurance — the so-called individual mandate — and, if it isn't, whether the rest of President Barack Obama's Affordable Care Act can survive.
The individual mandate has gotten most of the attention, but it's just a small part of the massive healthcare law. It's a complicated package of requirements and incentives whose main goals are to reduce the number of uninsured, make private insurance more affordable, lower overall healthcare costs, improve healthcare and make various players more accountable, especially hospitals and insurance companies.
There are countless ways the ruling could play out — from the law being left alone to it being struck down in its entirety.  WNYC looks at what's at stake for the metropolitan area.
The Uninsured
The Affordable Care Act extends coverage to the uninsured in two ways.
First, it  makes more people eligible for Medicaid — not just people below the federal poverty line, but people who make 133 percent of that, or about $31,000 for a family of four.
New York is relatively generous, though, so expanding eligibility would not give coverage to many people, according to James Knickman, president and CEO of the New York State Health Foundation.
"The real challenge for us in New York is to get people who are eligible for Medicaid to enroll in the program and maintain their coverage," Knickman said.
But there is something else to be gained by the Medicaid expansion, according to Elisabeth Benjamin of the Community Service Society.  "New York State would receive $2.3 billion in federal matching funds," Benjamin said. 
The policy expert went on to explain that the Medicaid expansion is expected to increase matching funds from 50 to 90 percent for those New Yorkers whose incomes fall above the poverty line.
The second way New York expects to increase its coverage of the uninsured is through health care exchanges. People who earn too much to qualify for Medicaid, but don't get insurance through their workplace or can't afford to buy it on their own would get help from an exchange – and online marketplace. The idea is to pool buying power, so that the high-priced policies for individuals and small businesses are no longer prohibitively expensive – and if the costs still aren't low enough, the federal government will provide subsidies to help out.
Estimates vary, but an exchange could provide new coverage for more than a million New Yorkers.
Governor Andrew Cuomo has vowed to create an exchange, even without the ACA, but it's not clear what form it would take and what subsidies would be available for individuals and small businesses, said James Tallon, president of the United Hospital Fund.
"The exchange looks very different, without subsidies," he said, citing one estimate that $2 billion for New Yorkers from Washington is at stake. "That makes insurance more affordable and the individual and small-group market much more vibrant."
In New Jersey, Gov. Chris Christie has vetoed efforts to initiate an exchange. Much more is at stake for a Medicaid expansion, because New Jersey is currently much more stringent than New York and would continue to be so. ACA would add an estimated 234,000 New Jerseyans to Medicaid, compared with only about 100,000 New Yorkers. An exchange in the Garden State would cover another 600,000 residents.
The Insured
If you already have insurance in New York or New Jersey, it may be expensive, but you have many protections that people in the rest of the country are only guaranteed through the Affordable Care Act. For example, if you have a preexisting condition like cancer or diabetes, insurers can't drop you, and they can't charge you more for coverage than a healthy person in your age bracket. Only a handful of states before the ACA had this "guaranteed issue" and "community rating," and it's not clear if they would retain that coverage without the ACA or the individual mandate.
The ACA also requires insurers to offer family coverage for young adults up to age 26. Some insurers have said they would keep that policy even without the requirement. In New York and New Jersey, the mandate pre-dates ACA and is required by state law. In New York, the mandate goes up to age 29, and in New Jersey, to age 31.
Another group, currently insured through provisions in the ACA, is people unable to get health insurance in the private market because of pre-existing conditions. The ACA created federally funded state pools to cover them. Some 3,400 people are enrolled in what's called the Bridge Program in New York. "They are some of the sickest people," Benjamin explained, adding that if the law is struck down the program would end.
The Healthcare Providers
The Affordable Care Act imposes many cuts on hospitals to reduce healthcare costs. Lower reimbursements and less money for "charity care" for the uninsured would cost hospitals nationwide $155 billion over 10 years. Ken Raske, head of the Greater New York Hospital Association, said hospitals agreed to the cuts because they expected more people to have insurance coverage, so hospitals would lose less money providing services to the uninsured.
"I'm worried that the cuts will continue, but if the mandate is tossed, we won't get that added [insurance] revenue to offset the cuts," Raske said. "If that happens, we'll have to sit down with the governor's office and state legislators and figure out where we go from there."
But state funds are increasingly tight. Raske said more hospitals could close.
Another major push from the Obama administration is to expand primary care clinics, which emphasize preventive medicine and which are a cheaper place to treat people than in hospitals. Judy Wessler, director of the Commission for the Public's Health System, said the demise of ACA would undercut the primary care infrastructure.
"At the moment, there's money for prevention — to train new providers and to support federally qualified health centers," she said. "Will this all be defunded?"