Remembering Sendak at the Met
The life of artist and children's book author Maurice Sendak was celebrated at a memorial service at the Grace Rainey Rogers Auditorium at the Metropolitan Museum on Tuesday. He died last month at the age of 83.
The creator of more than 100 books, including the classic Where the Wild Things Are, was remembered as complicated, kind, occasionally cranky and, above all, a man driven by his need to create.
"People think of him as a beloved, kiddie book author," said Derick Dreher, director of Philadelphia's Rosenback Museum, which has 10,000 pieces of Sendak's work in their collection. "He hated that. He didn't want to be beloved, he didn't want to be a kiddie, book author. He wanted to be an artist."
Tony Kushner, who helped organize the event, said when Sendak worked he had the ability to transform whatever he was facing or feeling. "He made — out of suffering —, sublime works of art." But it was the sheer fun of just being with Sendak that Kushner said he missed most.
A wicked sense of humor was one of the many layers of Sendak's personality highlighted by the array of speakers. It was also on display when the lights dimmed for a slideshow of Sendak's soulful illustrations.
"What I found was not someone rigid, but deep with a sense of humor, who was willing to switch from his Mozart music to whatever '20s jazz I was listening to," Art Spiegelman said.
The Pulitzer Prize winning cartoonist spoke about his collaboration with Sendak for a 1993 New Yorker illustration. He said it came as a surprise to learn they could both work on the same piece of paper without knocking into each other.
When their illustration, called "In the Dumps," was projected on the auditorium's screen, Spiegelman read the text aloud. In one passage he quoted his friend: "People say, 'Oh Mr Sendak — I wish I were in touch with my childhood self like you!' As if I were all quaint and succulent like Peter Pan….childhood is cannibals and psychotics vomiting in your mouth!"
Actress Catherine Keener helped to close the memorial by reading from Sendak's last book, No-Nose¸ a story about a guy whose nose is stolen by his mother.
In the end, it was not just Sendak's illustrations, but the essence of his stories that lingered. As John Mason, who works in children's publishing at Scholastic, said, "They get under the skin of what it is to be a kid, right down to where the spirit meets the bone."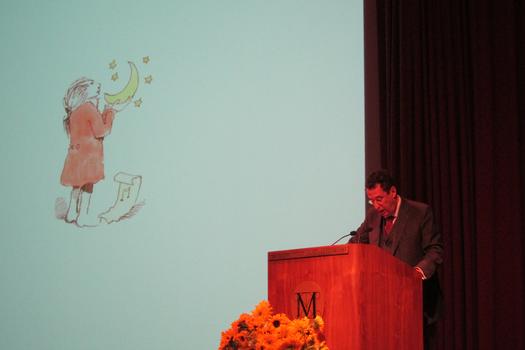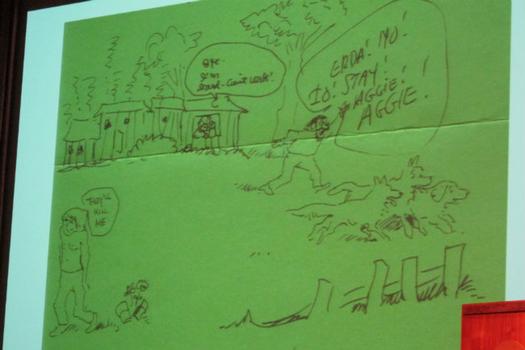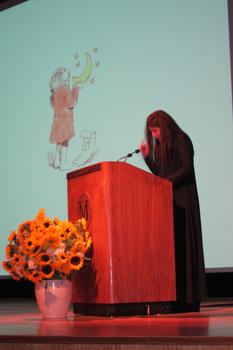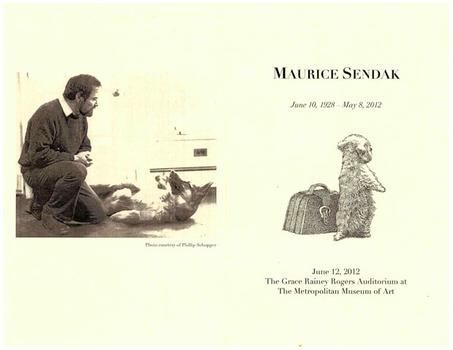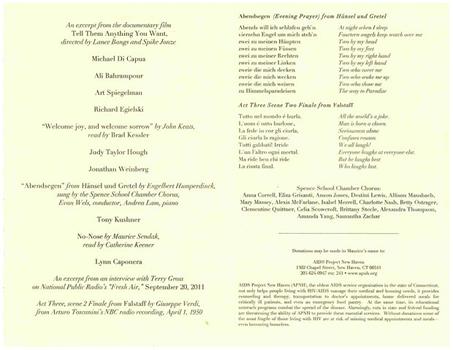 of