Officer Pleads Not Guilty to Manslaughter: 'I Thought He Was Going to Shoot Me So I Shot Him'
An NYPD officer has pleaded not guilty to manslaughter charges in the shooting earlier this year of an unarmed suspect in his Bronx home.
Officer Richard Haste was arraigned Wednesday in the death of 18-year-old Ramarley Graham. He was charged with two counts of manslaughter.
The courtroom was filled with fellow officers, relatives of the teen and their supporters. In a statement read by his lawyer, Haste said: "I thought he was going to shoot me so I shot him."
He posted $50,000 bail.
Haste, 31, was charged in the Feb. 2 death of 18-year-old Graham, who was shot dead in the bathroom of his Bronx home by police who said they followed him into the apartment because they believed he had a gun.
No weapon was found.
Outside the courtroom, supporters of Graham said they were pleased with the grand jury's decision to indict the officer, and Graham's parents wept as they spoke to reporters. 
"Ramarley is not coming home to us. We won't have him for father's day Ramarley's father Franclot Graham said as he began to cry. "Haste is going home to his family but when we leave here we're going to the cemetery."
Rev. Al Sharpton also spoke outside the courtroom. "This case is a real example of policy that becomes unjustifiable at the end," he said. "No one can deny that. There are no winners here."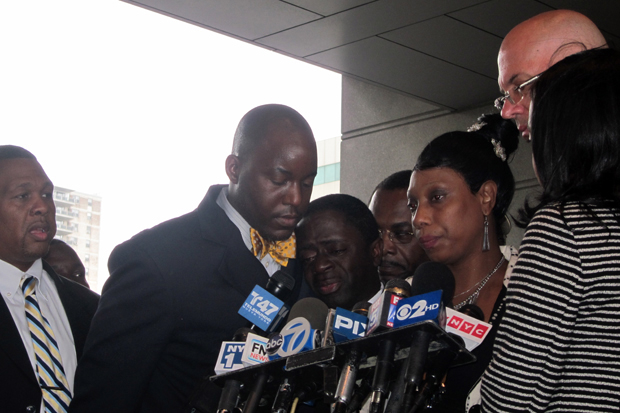 The parents of 18-year-old Ramarley Graham spoke tearfully outside the Bronx courtroom. Franclot Graham, his father (center) and Constance Malcom, his mother (right), flanked by their attorney and supporters. (Kathleen Horan/WNYC)
Patrolmen's Benevolent Association president Pat Lynch said Graham refused to raise his hands when police identified themselves. The officer thought he was going to be shot, he said.
"The information was there was a gun," he said. "It's also at a time when we've had a number of police officers shot and killed."
He described Haste as an officer with an "exemplary" record who worked in the military.
Haste, who has been on the force for three years, was part of a street-level narcotics enforcement (SNEU) team, but had not yet received SNEU training or plainclothes training before the shooting.
Bronx D.A. Robert Johnson said while New York State law allows for the use of deadly physical force to protect oneself from violence, that cannot be argued in this case. "Not matter what transpired previously it is our position that one could not form a reasonably belief that they were in jeopardy of deadly physical force being used against them, at least not from Ramarly Graham," Johnson said.
"I take no pleasure in indicting police officers," he said. "We took pains to get every possible piece of evidence that we could and put it forward to the grand jury and let them make the decision."
If found guilty, Haste could face 25 years in prison for the first manslaughter charge, and 15 years for the second, lesser count.
Police Commissioner Ray Kelly said Tuesday that changes have been implemented to the application process for the NYPD's street-level narcotics teams in the months following Graham's death.
"We did do an analysis of the special narcotics enforcement unit, the street narcotics enforcement unit, and we have made some adjustments," Kelly said, after he attended the NYPD's annual Medal Day ceremony. "We put out a new order that quantifies the requirements that people need to meet before they go into this unit."
The incident sparked outrage among loved ones, neighbors and activists. The family holds a weekly vigil for Graham. The shooting comes at time of increased police scrutiny for their use of controversial stop and frisk policies.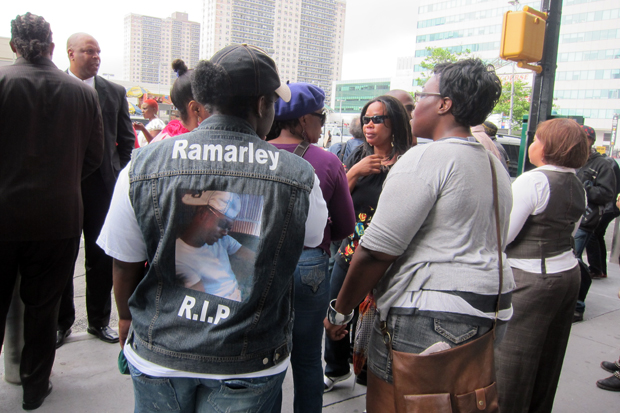 Protesters outside of the Bronx courtroom (Kathleen Horan/WNYC).
Law Professor Jim Cohen, who teaches at Fordham University School of Law, told WNYC earlier this year that the location of the shooting — a detail that drew the ire of the community — was a big factor in the incident.
Cohen said in certain cases when police believe a dangerous crime is being committed, officers in "hot pursuit" may enter someone's house but they must have strong circumstances to enter.

"It is not routine at all for the police to invade a home absent legitimate cause. That said, it's also not unheard of. So I think the community has a legitimate fear for their families," Cohen said.
Graham, known as Marley or Elmo to his friends, was known to loved ones as a jokester who adored music, animals and video games. His cousin, described him as a romantic who met his girlfriend, Jasmine, on Valentine's Day in 2008, and often walked her to school.
With the Associated Press