Fighting American Anti-Semitism After the Holocaust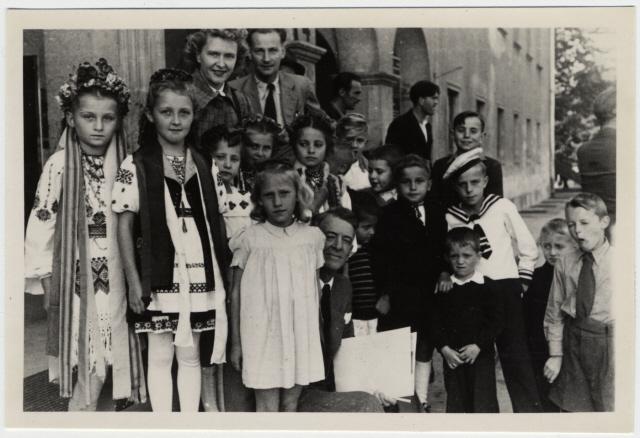 Beginning in 1947, Jewish and secular civic groups formed the Citizens Committee on Displaced Persons in a public campaign to liberalize U.S. immigration quotas, with the hope that many more Holocaust survivors would be permitted to settle in America.
With this goal in mind, radio programs were produced that addressed not only general public attitudes about immigration, but also, indirectly, postwar anti-Semitism. These programs were primarily aired over New York area radio stations, but were also disseminated to local radio stations throughout the United States. 
Three years after the end of World War II, there were still over a million refugees (Displaced Persons, or DPs) in Germany, Austria, and Italy. Most of them resided in camps and assembly centers administered initially by the U.N. Relief and Rehabilitation Administration, and later by the International Refugee Organization in cooperation with the U.S. Army, and were unwilling to return to their countries of origin, where they still faced persecution or which were then under the dominion of the Soviets. Restrictive immigration quotas made only a few of them eligible for U.S. visas, and Jewish organizations felt that immigration laws particularly discriminated against Jews.
This half-hour program from about 1948, "The Arrival of Delayed Pilgrims," produced by the Citizens Committee on Displaced Persons or one of its affiliate organizations, United Service for New Americans, is an example of the type of rhetoric DP advocates were prepared to use to create public pressure for the liberalization of immigration policy. "DP," someone decided, could really stand for "delayed pilgrims" rather than "displaced persons." This new label placed Jews and other foreigners languishing in refugee camps firmly in the context of American immigration history: on the same continuum with the Mayflower pilgrims, who -- as advocates were quick to point out -- were also refugees from oppression. This particular program combines two genres favored by DP radio programs: interviews with arriving immigrants as their ships dock in New York Harbor, in which they are sometimes coached to express patriotic sentiments (e.g., "America is a land of freedom for everyone"); and dramatizations, which were used to humanize an abstract political issue by making it easier for audiences to identify with individual DPs.
Here, the dramatizations also include a Senate debate about DP immigration policy.  An actor playing Florida Sen. Claude Pepper appeals to the humanitarian sentiments of his listeners by pointing out that sections of the proposed Wiley-Revercomb bill favoring the immigration of agricultural workers discriminate against "the most persecuted of the DPs," the Jews. He goes on to ask if the bill's purpose was to recruit farmers or to provide "sanctuary for a persecuted, a miserable, a wretched, a homeless people?" Another actor playing New Mexico Sen. Dennis Chavez affirms that taking in the DPs is in America's best interests, arguing that  "America would not have been the America we have today if it had not been for the immigrants who poured across our borders and took upon their strong shoulders the work of building America."
At the heart of the program is the story of "Mr. Lind," a Holocaust survivor from Poland whose heartrending wartime experiences are dramatized in flashback as he is questioned by a U.S. immigration official. Over and over, it is stressed that Mr. Lind is a "big man," in order to dispel public fears that all Holocaust survivors were sickly and would be incapable of supporting themselves. This particular program is notable in that it is open about the fact that Jewish DPs were considered to be specifically discriminated against by U.S. immigration policy.  Many other DP radio programs skirted this fact, eager not to emphasize the Jewishness of their characters at a time when polls indicated that anti-Semitism was at an all-time high in the United States.
Audio courtesy of the NYC Municipal Archives WNYC Collection.
Note: Some poor audio quality due to condition of original recording.