Diplomatic Impunity: Dean Acheson Counsels Audiences on Disarmament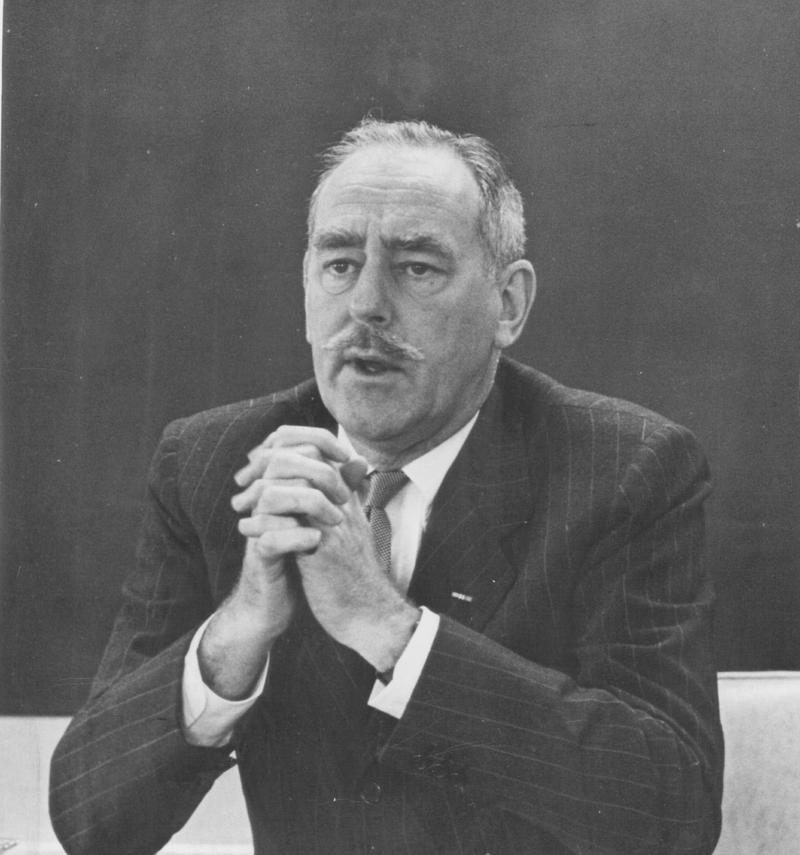 In 1958, former Secretary of State Dean Acheson was out of power but not out of opinions. At this Book and Authors Luncheon the influential statesman weighs in on the pressing foreign policy question of the day: our relations with the Soviet Union.
After a few opening remarks about the previous speakers, in which he excoriates the American educational system and refers to "the essential vulgarity of American life," he summarizes the argument of his just-published book, Power and Diplomacy. Acheson addresses a global situation which he feels has turned against America. The Soviet Union has just launched Sputnik. The specter of unmanned rockets delivering nuclear weapons was a not-too-distant danger. At the same time, the Russians were scoring great propaganda victories by clambering for talks on nuclear disarmament. Acheson links these two issues. He argues that since the Soviet Union's "state of the art [in rocketry] is so much more advanced…the balance of terror has swung to one side." Therefore, why should we negotiate? All the United States would be able to do is agree to concessions. He ticks off various trouble spots around the world and finds the issues to be local, calling for good policy on our part, not negotiation. He is particularly concerned about the fate of Europe. He fears any agreement with the Russians would allow it to "sink under Soviet hegemony." In his increasingly harsh assessment, he claims "our present leaders are ill-equipped for this kind of exercise," and that our allies, who are in "grave difficulties" of their own, could be pried loose from us by enticing offers. In conclusion, he counsels the  audience not to be afraid, but to be "sensible."
Born in 1893,  Acheson acquired impeccable educational credentials before entering government. After Groton, Yale, and Harvard Law, followed by two terms clerking for U.S. Supreme Court Justice Louis Brandeis, he worked for a law firm in Washington, D.C., before moving first into the Department of Treasury and finally, in 1941, the Department of State. There, he rose to become secretary in 1949. His influence was far-reaching, both in terms of general policy and specific legislation. He was also the very visible face of U.S. foreign policy, as this citation accompanying his portrait in the National Portrait Gallery notes:
Dean Acheson was the consummate statesman of his time; he looked and played the role to perfection. In 1946, from his State Department office in Washington, he facilitated George Marshall's negotiations in China. The following year, when Marshall became secretary, Acheson, as undersecretary, administered the department and implemented its reorganization…Acheson proved to be one of the Marshall Plan's staunchest supporters.
Acheson, who initially favored peaceful coexistence with the Soviet Union, changed his mind after Stalin's brutal repression of Eastern Europe. Historians consider him to be one of the founders and architects of the ensuing Cold War. In detailing his achievements, The New York Times lists:
The Bretton Woods agreement, which led to the establishment of the World Bank.
The Truman Doctrine of assistance to Greece and Turkey.
Spade work for the Marshall Plan of bolstering Europe.
Shaping atomic policy.
The North Atlantic Treaty Organization agreement.
The Japanese peace treaty.
The diplomacy of the Korean conflict.
Non-recognition of Communist China and aid to Chiang Kai-shek in Taiwan.
Creating and rearming West Germany.
Bipartisanship in foreign policy.
Despite holding what seem now to be hawkish views, Acheson came under intense criticism from the right. He was blamed for "losing China" to the Communists and for defending Alger Hiss and other State Department employees accused of having links to socialist or communist organizations. His East Coast elite manner and what some perceived as arrogance made him a popular target for Senator Joe McCarthy and others.
After leaving office in 1953, he became an influential adviser to subsequent Democratic administrations, notably being one of the group of "wise men" upon whom Lyndon B. Johnson relied for guidance relating to the war in Vietnam. At first, Acheson supported the war, drawing this rebuke from W. Averell Harriman: "Some people's minds freeze. Acheson's hasn't changed since 1952."
In 1968, however, he changed his mind, urging Johnson to get America out. By then, however, the damage, both in terms of prestige and loss of life, was done.
Acheson also became an author, writing six books, most notably Present at the Creation (1970), about his years at the State Department, which won the Pulitzer Prize. The same qualities that so enraged his critics -- the cultured, elitist, grand, or perhaps grandiose world view -- endeared him to historians. As the Yale Professor Gaddis Smith wrote:
The passing decades confirm Dean Acheson's place as the clearest-thinking, most effective secretary of state of the 20th century. As a writer he has no equal since Thomas Jefferson first occupied the office in the 18th century.
Dean Acheson died in 1971. He was remembered in this description in a later biography as:
...over 6 foot tall, with steel-blue, "merry, searching eyes," and a "wolfish" grin … an unforgettable character -- intellectually brilliant, always debonair, and tough as tempered steel. 

 
Audio courtesy of the NYC Municipal Archives WNYC Collection.
Note: Some poor audio quality due to condition of original recording.