Leopold Stokowski, the Maestro, Advocates for Accessible, Affordable Art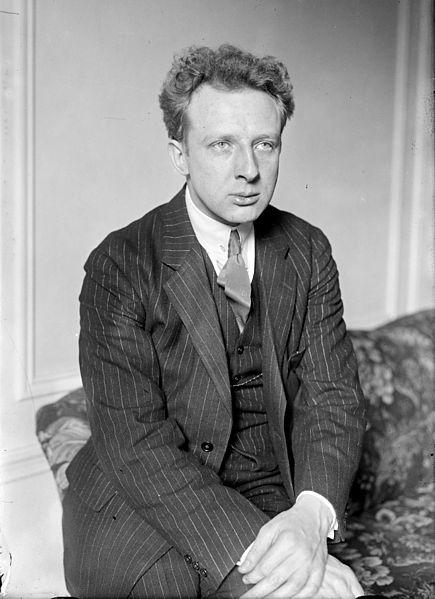 In a 1962 interview, Leopold Stokowski discusses his founding of the American Symphony Orchestra with WNYC's Seymour Siegel, calling for more emphasis on the arts. 
Despite his advanced age, the famous conductor is in fine form, sounding at times like a doting grandfather (he discusses what "games" he likes the orchestra to play with children), and at other times like an Eastern guru dispensing life advice that goes far beyond music. 
The symphony's aims are twofold: to provide "good concerts at moderate prices" and to provide employment for the flood of young talent being turned out by conservatories. The orchestra will expressly reserve one-third of its seats for newcomers, allowing them to mix with the remaining two-thirds, who will be experienced New York musicians. The programming will include an emphasis on 20th-century music, as well as children's concerts. Prompted by the interviewer to speak on the overall cultural health of the nation, the Maestro (as he is addressed throughout) lauds how the country is "expanding physically and materially," but says he feels there is still much work to be done on the "mental and psychological side." He recommends increased attention be paid to education, travel, and "the actual experience of living." He praises the country's conservatories for turning out wonderful players who are not just technically proficient but show such enthusiasm for music.
The interviewer tries to get him to talk about turning 80 but Stokowski brushes this aside, saying that "time is not important. What is important is inspiration…vitality…vision…" In keeping with this interest in the process rather than the finished product, he admits to liking rehearsals better than concerts themselves, because in rehearsal "everything is flexible."  At this point the recording, perhaps responding in its own way to Stokowski's call for incompleteness, cuts off abruptly. 
Stokowski was born in London in 1882. He displayed his musical talent at an early age, enrolling in the Royal College of Music at 13. Initially an organist, he soon turned to conducting, leading the Cincinnati Symphony for several years before beginning his legendary relationship with the Philadelphia Orchestra in 1912. The young man quickly established a reputation for innovation. As the website bach-cantatas.com recounts:
Leopold Stokowski gave the orchestra an entirely new sound, popularly known as the "Philadelphia sound" or the "Stokowski Sound." Its foundation was a luxuriant, sonorous tone and an exacting attention to color. He pioneered the use of "free" bowing, which produced a rich, homogenized string tone. A relentless innovator, Stokowski experimented with orchestral seating, famously lining up the string basses across the rear of the stage and, in an early instance, massing all the violins on the left side of the orchestra and the cellos on the right. He also had spotlights directed on his hands and his impressively prominent hair to enhance his dramatic, theatrical aura. One of the first modern conductors to give up the use of the baton, Stokowski employed graceful, almost hypnotic, hand gestures to work his magic.
This interest in making classical music more modern and accessible extended to recording, as well. Stokowski, always with an eye toward the commercial, was one of the first conductors to recognize the untapped potential records promised. The website stokowski.org tells how:
…On Wednesday, October 24, 1917, Stokowski and the Philadelphia Orchestra took the ferry across the Delaware River to Camden, N.J., where they made their first phonograph recordings.  These were of the Brahms Hungarian Dances Nos. 5 and 6, as orchestrated by Albert Parlow.  These were the first of more than 450 78-RPM sides Stokowski and the Orchestra made for Victor with the acoustic recording process, of which only 67 were released commercially from 1917 to 1925. 
These recordings, among the first made by a full symphony, helped establish both the Philadelphia Orchestra as a widely recognized "brand" and its charismatic conductor as a budding superstar. Stokowski, unlike some of his more determinedly highbrow brethren, was unafraid of dealing with the mass media of the day, most famously participating in Walt Disney's film "Fantasia," in which he shook hands with Mickey Mouse. Gossip about his love life (he had a romance with Greta Garbo and was at one point married to Gloria Vanderbilt) and his sweeping pronouncements on life (as heard here) made him a recognized and much sought-after public figure. All this tended to diminish his standing in the world of classical music, where he was often dismissed as a showman. That opinion has changed radically in the years following his death. With the reissue of his recordings, modern critics have re-evaluated Stokowski's work, seeing him -- paradoxically -- much as he was regarded at the outset of his career: as an innovator and a tireless champion of new work. 
Stokowski's commitment to making classical music more than just an amusement of the rich should also not be underestimated. As this talk illustrates, he was in the forefront of what we would now call musical education and community outreach. The American Symphony Orchestra website reminds us how he founded:
 …the American Symphony Orchestra -- and kept it alive with his own funds. He sought to fill the vacuum created when the New York Philharmonic left Carnegie Hall. He also wanted to show that an orchestra made up of young Americans trained here could match European orchestras and American ensembles dominated by Europeans. He encouraged young American conductors and composers during the 1960s. He premiered Charles Ives's Fourth Symphony with the ASO. At the ASO he developed a program of concerts with low ticket prices in an effort to broaden the audience for concert music.
Stokowski continued conducting and making recordings into his 90s. He died in 1977, at the age of 95.
Audio courtesy of the NYC Municipal Archives WNYC Collection.
Note: High-pitched noise throughout due to original recording issue.