'Eleanor Roosevelt Remembered,' a Touching Tribute by Eight Women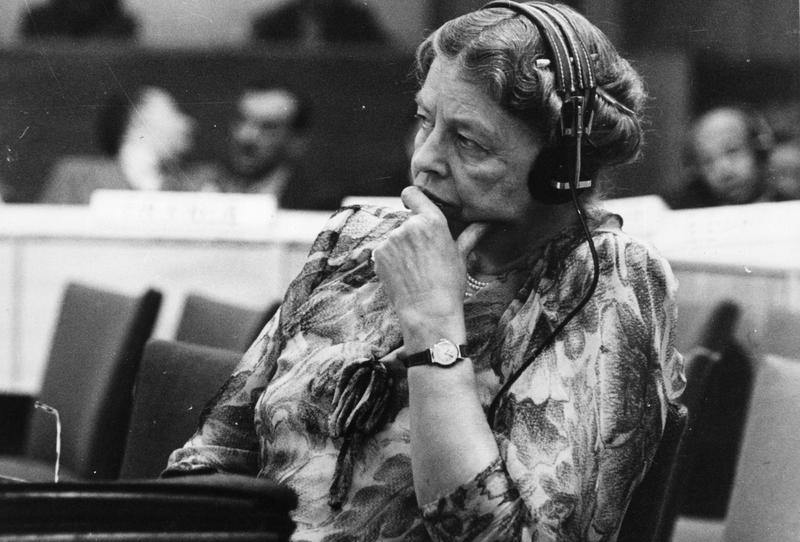 This 1962 tribute to the former first lady features eight women reminiscing about their friend, and illuminating the many different areas of Eleanor Roosevelt's politically wide-ranging life. 
Notable among the speakers are Fannie Hurst, the novelist, and Frances Perkins, former U.S. secretary of labor -- but all of the speakers testify to Roosevelt's "divine gift of compassion." They describe many instances in which Roosevelt simply could not stop from trying to help people in need, whether it was the polio-stricken daughter of a cab driver or the author of one of the thousands of letters she received at the White House. Her role as a leader of women, "a Joan of Arc," is also lauded, as well as her activity in the Women's Trade Union League. When one friend hesitatingly asked if she would come speak to the prisoners at the New York City Women's House of Detention, she responded, "I would consider it a privilege."
Perkins offers an interesting early portrait of Eleanor "sunk in domesticity" during the early days of her marriage and describes how cripplingly shy she was, how difficult it was for her to adjust to becoming a public figure. But then "she began to understand herself," and developed a "fearlessness" when it came to fighting for what she believed in. Mention is made of the "the hatred, the prejudices" she encountered, and how it led to no corresponding ill-will on her part. This is contrasted with Richard Nixon's recent (and, as it turned out, premature) retirement from politics when he so famously berated his enemies. Eleanor Clark French, the New York City Representative to the United Nations, emphasizes Roosevelt's importance not only in the formation of that body but in her fight to have it pass the Declaration of Human Rights. There are many tales of her humility and determination. Perhaps most memorably, she is characterized as "a woman who wasn't afraid to go." 
Roosevelt was born in 1884. Her upbringing, despite its atmosphere of wealth and privilege, was not a happy one. Her mother died when she was 8. Her father was often confined to sanatoriums, where he was treated for alcoholism and an unspecified mental condition. After his death, when she was 10, Eleanor was raised by her grandmother and a succession of tutors. The young Eleanor was interested in social reform but put aside her political goals after her marriage to Franklin Delano Roosevelt, a distant cousin. The couple had six children, five of whom survived infancy. Eleanor re-entered public life when her husband began his political ascent. In contrast to Franklin, who personified the easy-going, affable politician, her decidedly progressive views led her into many confrontations. The PBS program American Experience recounts an early battle:
Charles Murphy was the boss of the Democratic Party in New York. And he insisted that he be allowed to choose the women delegates to the coming convention. And Mrs. Roosevelt insisted that women would choose them. And in the most genteel and polite and ladylike way, she suggested that if he didn't give in to her, she would have to go to the press. Charles Murphy held his ground, and Eleanor carried out her threat. "Women must gain the respect of men." she declared in a blunt speech. "We will be enormously strengthened if we can show that we are willing to fight to the very last ditch for what we believe in." The battle made front-page news. The boss caved. It was really her first taste of political blood. She had beaten a formidable foe, right out of the box. And she had enormous pleasure in reporting this to Franklin, that she'd beaten this man.
With Roosevelt's election to president in 1932, Eleanor became a first lady such as none had ever seen before. She was, for starters, more visible than any of her predecessors. During the course of her time in the White House, she held 348 press conferences. Her newspaper column, "My Day," ran from 1936 to 1962. Her influence, as the National First Ladies' Library reports, was felt in many ways. 
No presidential wife served as first lady for a period longer than did Eleanor Roosevelt – 12 years, one month, one week, and one day. No first lady served through two nationally traumatic events such as did Eleanor Roosevelt, presiding at the White House during the Great Depression and World War II. Unique to her tenure was the fact that the president was physically limited by his then-hidden condition of polio. Thus apart from finding a way to integrate her own professional interests and experiences into the public role of first lady and assume the traditional management of the mansion's functioning as a political-social arena, Eleanor Roosevelt worked closely with the president and his staff as an unofficial administration representative and on policy-related issues. 
After Franklin Roosevelt's death in 1945, Eleanor continued to "break the mold" when it came to presidential wives. Rather than recede into the background, she continued to travel, speak out on issues, and represent the liberal wing of the Democratic Party. She also occupied government positions, becoming the first chairperson of the U.N. Commission on Human Rights. As mentioned in this tribute, many consider her crowning achievement the passage of the Declaration of Human Rights. In her speech before the General Assembly, when she presented the Declaration for review, she said:
We stand today at the threshold of a great event both in the life of the United Nations and in the life of mankind. This declaration may well become the international Magna Carta for all men everywhere. We hope its proclamation by the General Assembly will be an event comparable to the proclamation in 1789 [of the French Declaration of the Rights of Man], the adoption of the Bill of Rights by the people of the U.S., and the adoption of comparable declarations at different times in other countries...
Roosevelt's achievement, when taken in its totality, seems almost as impressive as her husband's, perhaps even more so when considering the obstacles she had to overcome. As The New York Times stated in its obituary:
In the White House and for some time thereafter, no first lady could touch Mrs. Roosevelt for causes espoused, opinions expressed, distances spanned, people spoken to, words printed, precedents shattered, honors conferred, degrees garnered. She was as indigenous to America as palms to a Florida coastline, and as the nation's most peripatetic woman, she brought her warmth, sincerity, zeal, and patience to every corner of the land and to much of the world. Her seemingly ceaseless activity and energy provoked both a kind of dazzled admiration and numberless "Eleanor" jokes, particularly in the 1930s and '40s. The derision fell away at the end; the admiration deepened.
Eleanor Roosevelt died in 1962, at age 78.
Audio courtesy of the NYC Municipal Archives WNYC Collection.