Jackie Robinson and Dr. Sterling Wade Brown Celebrate Brotherhood Week, 1968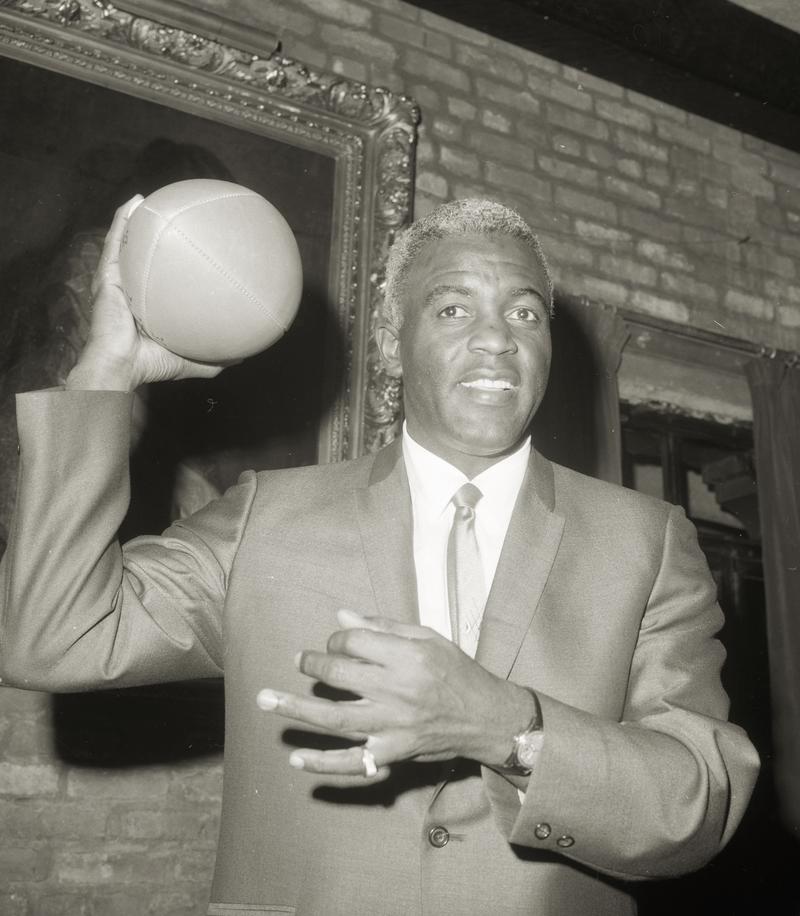 Jackie Robinson and Dr. Sterling Wade Brown, representing the National Conference of Christians and Jews, answer questions about the fight for civil rights in this 1968 interview. 
Although this talk highlights the less combative, more "middle of the road" segment of the civil rights movement, it is hardly a less angry one. At one point, Robinson corrects himself after referring to "militant groups," saying, "none of them are more militant than I am, where my rights are concerned." But the emphasis is on equal opportunity in business and education rather than on marches or legislation. 
Robinson is asked about his experiences in baseball and how they translate to his current role as an advocate for racial equality. He cites the example of his former teammate Pee Wee Reese, who had "enough confidence in himself" to allow Robinson to compete for his job. The white community, he feels, is fearful of blacks and must learn to overcome that fear. He praises Gov. Nelson A. Rockefeller and William Black, the founder of Chock Full o'Nuts (for whom Robinson worked), as people who hire based upon qualification, not color. 
White Backlash and Black Power are held up as the twin extremes the civil rights movement must navigate between. There's an interesting discussion of whites being afraid of interracial marriage, a concept of which Robinson is quite dismissive. "The great majority of us are more interested in becoming the white man's brother, not his brother-in-law." Asked about "A Raisin in the Sun," he says it's a good play, illustrating real problems blacks face. He's less enthusiastic about "Guess Who's Coming to Dinner," because, he says,  Sidney Poitier's character is too perfect. Robinson is characteristically blunt in his appraisals and advice. He says "I'm very concerned about 1968," and refers darkly to "secret meetings" he hears are being held. When asked what the individual can do to promote brotherhood, he urges people to "get out of the grandstand and participate in the movement." 
Robinson was born in 1919. As a young man, he showed remarkable athletic ability, becoming the first student at the University of California, Los Angeles, to letter in four sports: baseball, football, basketball, and track. While serving in the Army, he refused to take a seat in the back of a bus,  which led to his being court-martialed. He was eventually acquitted of all charges and received an honorable discharge. After spending one season playing in the Negro Leagues, Robinson was chosen to be the focus of what was to be called baseball's Noble Experiment. As the Oxford Companion to African-American Literature recounts:
Robinson was selected by Branch Rickey, general manager of the Brooklyn Dodgers, to become the first African-American to play Major League Baseball in the 20th century. Entering the big leagues in 1947, Robinson had to abide by an agreement he made with Rickey not to be provoked to retaliation by taunts from white players and fans. Robinson endured racial epithets shouted by opposing players and patrons, segregated hotel and restaurant accommodations, balls thrown at his head by opposing pitchers, spiking incidents by opposing runners, volumes of hate mail, and a threatened strike by some white players including several on his own team. Nonetheless, he performed brilliantly in the field and earned Rookie-of-the-Year honors in 1947. During his nine years with the Dodgers, Robinson also won a Most Valuable Player award and a batting title. He was elected to baseball's Hall of Fame in 1962.
Robinson's keeping cool under such enormous pressure is even more remarkable when one realizes (as glimpsed even in this friendly interview) what a naturally combative and competitive person he was. This combination of great skills and formidable powers of restraint came to enhance his legendary status. The website thebaseballpage.com explains:
Jackie Robinson is not generally considered to be among the very greatest players in baseball history.  He holds no cherished records in the manner of a Hank Aaron or a Joe DiMaggio, and his career numbers fall far short of the statistical milestones by which we currently measure "greatness."  But, as former Negro League star Buck O'Neill once observed, Robinson may not have been the best player of his era, but he was the right player for the task history set before him.  As such, Jackie Robinson is the pivotal figure in baseball's narrative, and he is perhaps its greatest hero. 
His life after baseball was characterized by this same mix of toughness and civility. He became a successful businessman and was active in politics, becoming for a time a well known figure in the Republican Party, although he switched his allegiance to the Democrats in 1968. He was instrumental in the formation of the Freedom National Bank of New York, a Harlem-based bank meant to serve the black community. His conservative stance on Vietnam and on the more radical aims of the civil rights movement often put him at odds with members of the younger generation, yet in his autobiography, I Never Had It Made (1972), this pillar of the middle class could sound as disaffected as any of them. After describing his emotions as he stood on the field, about to break the color barrier, before his first game as a Brooklyn Dodger, he comments:
"But as I write these words now I cannot stand and sing the National Anthem. I have learned that I remain a black in a white world."
Shortly after retiring from baseball, Robinson learned he had diabetes. Despite insulin injections, his health deteriorated over the subsequent years. Robinson died in 1972, at age 53.
Audio courtesy of the NYC Municipal Archives WNYC Collection.