SchoolBook
A Foreign Melody: Bel Kaufman Expounds on Pedagogical Concerns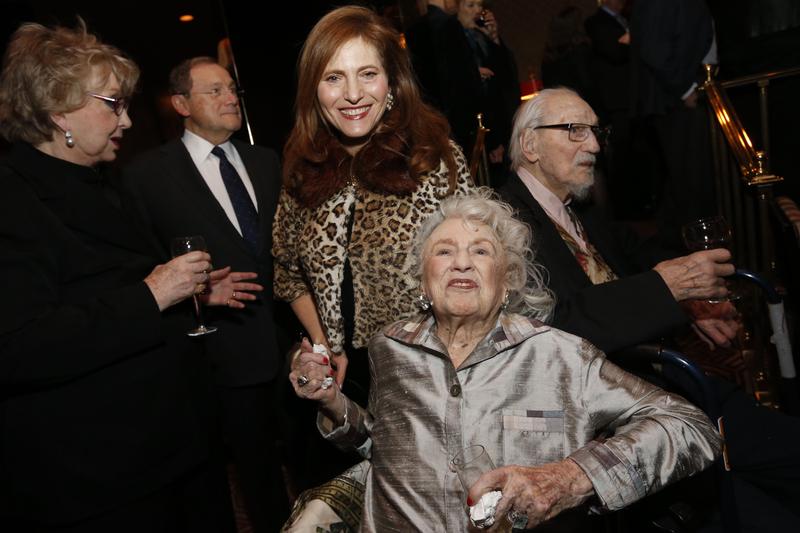 A few days after her death at age 103, listen to this interview with educator and writer Bel Kaufman where topics include her accent, poetry, and the classroom. 
"I feel like an impostor," Kaufman confesses in this talk given at the Overseas Press Club in 1966. The author of the classic book about teaching in a New York City public school, Up the Down Staircase, died on Friday at her home in Manhattan. 
She details her "outsider" status by recounting how at first she was repeatedly denied a teaching certificate because of her Russian accent. "Failed for foreign melody in your speech," was the euphemism of the day. When she finally overcame that hurdle, she was once again turned away for incorrectly interpreting a sonnet by Edna St. Vincent Millay.
Kaufman, not easily discouraged, wrote to Millay, who responded with a long letter vindicating her answer. The result was a major change in the way prospective teachers were evaluated: after this, the test cited only dead poets.
Since the success of her novel about teaching in the public schools, Up the Down Staircase, Kaufman reported, she has become "the unofficial spokesman for teachers across the country," addressing large groups as well as receiving a great deal of mail.
The picture she paints of the educational system in 1966 bears striking similarities to that of the schools today. There is an ongoing tension between the desire of teachers to teach, personally, intensely, emotionally, and the countervailing urge of the administration to make the science of instruction more quantitative and uniform. The students cry out for help, even when not saying a word. Real life intrudes.
"Lady," a policeman says, entering the classroom with handcuffs already out, "that kid, I gotta have." And even back then there is the standard lament that an ill-paying profession does not always attract the best applicants. Kaufman lists three qualifications all prospective teachers should have: a sense of humor, stamina ("physical, intellectual, moral"), and "a touch of teacherly love."  
Born in Germany in 1911, Bella Kaufman was raised in Odessa and Kiev. Her earlier memories are of scenes from the Russian Revolution. She recalls:
Dead bodies were frozen in peculiar positions on the street…People ate bread made of the shells of peas because there was no flour. But a child has no basis for comparison. Doesn't every child step over dead bodies? I didn't know any different.
She came to the United States at age  12. Despite not initially  speaking English, she soon excelled as a student, thanks in part to the dedicated efforts of several teachers she encountered in the public school system. This, in turn, encouraged Kaufman to consider a career in education. After the travails described above,  she taught in several New York City high schools. But writing was in her family's blood. Her grandfather was the famous Yiddish humorist Sholem Aleichem. It was while publishing articles and short stories in her spare time that she adopted the less feminine pen name "Bel" so certain editors would not dismiss her work out of hand. One of these efforts was a three-and-half-page story entitled "From a Teacher's Wastebasket." A book editor contacted Kaufman with the idea of her expanding her experiences as a teacher into a novel. This became Up the Down Staircase (1965). The Jewish Woman's Archive describes the book as:
…a portrait of a young teacher who shares much of Kaufman's iconoclastic spirit. It chronicles the career of Sylvia Barrett, a new teacher in the public school system, and offers an incisive and humorous portrait of the interaction between teachers and students in public school. It is also a satirical look at the administrative bureaucracy teachers must overcome in order to perform their jobs. The novel…spent 64 weeks as a best-seller, of which five months were spent in the number-one position. Up the Down Staircase was translated into 16 languages and has sold over 6 million copies. 
Up the Down Staircase incited a lively national discussion about the role and direction of education in the country. It was  made into a successful 1967 movie starring Sandy Dennis. 
Although Kaufman continued to write, publishing another novel, Love, etc. (1979), the main thrust of her activities  continued to be in  education. At the age of 99, she was teaching a course at Hunter College on Jewish humor. This made her the oldest hired professor in the country. (She turned 100 during the ensuing semester.) In trying to explain the position writing occupies in her life, Kaufman has described herself as a teacher first:
In fact, she has confessed, "I do not LIKE writing; in truth, I HATE writing, and would rather do anything else. But the joy comes when, almost in spite of myself, I come close to what I want to say. A sentence or an insight leaps from the page." 
The hopeful yet somewhat bittersweet tone of her grandfather can be heard in her work, as well as the humor. She ends this talk by quoting him: "That's life, but don't worry."
Audio courtesy of the NYC Municipal Archives WNYC Collection.