A Hero, Removed: A. E. Hotchner on Hemingway's Role as "Emissary of Other Men's Dreams"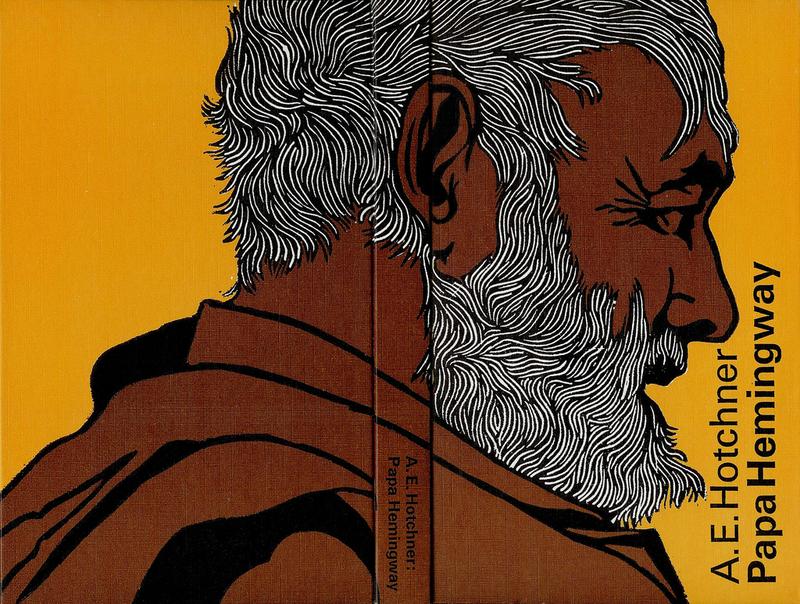 A.E. Hotchner, a friend of Ernest Hemingway during the last 14 years of the writer's life, reminisces about their relationship in this Books and Authors Luncheon appearance promoting his memoir, Papa Hemingway (1966). 
Hotchner tells a few stories (with some reluctance, as the audience is composed mostly of women), but devotes a large part of his talk to justifying his recounting of Hemingway's decline, including the then-shocking revelation that the author who was so identified with personal heroics ("He was the emissary of other men's dreams") had been in despair and committed suicide.
"Should you have?" Hotchner reports being asked, after the book's publication, by Hemingway's friend the journalist Janet Flanner. Hemingway's death had initially been deemed an accident incurred while he was cleaning his shotgun. The stigma of depression and suicide, greater then than now, seems to have made the notion of self-destruction unthinkable, particularly in relation to such an exemplar of the sensual, active life. And indeed, for much of their friendship, the younger man reports, there was nothing dark or morbidly inward-turning about his friend. He denies, perhaps a bit too strenuously, the critics' assertion that Hemingway had a death wish. "What he was really looking for was to have a hell of a good time every day of his life." But clearly Hotchner was troubled by Hemingway's last years. There was also an unspoken agenda behind his writing of this memoir. He mentions that he refused to send copies of Hemingway's letters to Hemingway's official biographer, Carlos Baker. In a later reissue of Papa Hemingway, Hotchner confessed that he worked passages from these letters (which he was forbidden to quote directly) into the body of the text. But this was hardly a "tell-all" celebrity biography. Hotchner defends his hero to the end, quoting Hemingway's favorite Spanish saying, A man can be destroyed, but not defeated, before adding, "…he was never defeated."
Hemingway was born in Illinois, in 1899. After serving as an ambulance driver in World War I, he became a journalist, returning to Europe, where he reported for The Toronto Star and worked on his own fiction. Paris was, at that time, a center of great artistic activity. Hemingway's connections with Ezra Pound, Ford Madox Ford, and other writers in the vanguard of what would soon be known as Modernism, not to mention his friendships with such startlingly original painters as Picasso and Miró, all aided in his creating a signature style of mysterious simplicity and compression. As the Hemingway Resource Center website makes clear:
From 1925 to 1929 Hemingway produced some of the most important works of 20th-century fiction, including the landmark short story collection In Our Time (1925), which contained "The Big Two-Hearted River." In 1926 he came out with his first true novel, The Sun Also Rises (after publishing Torrents of Spring, a comic novel parodying Sherwood Anderson, in 1925). He followed that book with Men Without Women in 1927; it was another book of stories which collected "The Killers" and "In Another Country." In 1929 he published A Farewell to Arms, arguably the finest novel to emerge from World War I. In four short years he went from being an unknown writer to being the most important writer of his generation…
The unparalleled success of this early work made Hemingway a celebrity, which somewhat hampered his remaining years, which were spent alternately evading and basking in the spotlight of being the world's most famous writer. Style and man became, to some extent, one, as in this 1958 Paris Review interview, which is an excellent example of both the Hemingway style, pushed to an almost parodic extreme, and the Hemingway ethos, imitated -- often to grotesque effect -- by countless American males:
When I am working on a book or a story I write every morning as soon after first light as possible. There is no one to disturb you and it is cool or cold and you come to your work and warm as you write. You read what you have written and, as you always stop when you know what is going to happen next, you go on from there. You write until you come to a place where you still have your juice and know what will happen next and you stop and try to live through until the next day when you hit it again. You have started at 6 in the morning, say, and may go on until noon or be through before that. When you stop you are as empty, and at the same time never empty but filling, as when you have made love to someone you love. Nothing can hurt you, nothing can happen, nothing means anything until the next day when you do it again.
Hemingway's attempt to live up to his own myth became a kind of novel in itself. It was this aura of ongoing performance that inspired Hotchner and others to the degree of hero worship exhibited in Papa Hemingway and other reminiscences. This "public journey" Hemingway made, with its terribly sad ending, threatened to obscure his very real artistic achievement. As the critic Edmund Wilson pointed out in The Atlantic magazine:
Hemingway has expressed with genius the terrors of the modern man at the danger of losing control of his world, and he has also, within his scope, provided his own kind of antidote. This antidote, paradoxically, is almost entirely moral. Despite his preoccupation with physical contests, his heroes are almost always defeated physically, nervously, practically: their victories are moral ones. He himself, when he trained himself stubbornly in his unconventional, unmarketable art in a Paris which had other fashions, gave the prime example of such a victory; and if he has sometimes, under the menace of the general panic, seemed on the point of going to pieces as an artist, he has always pulled himself together the next moment.
Ernest Hemingway died in 1961, at the age of 61.
Audio courtesy of the NYC Municipal Archives WNYC Collection.