Ralph Bunche Announces Landmark 1949 Arab-Israeli General Armistice Agreement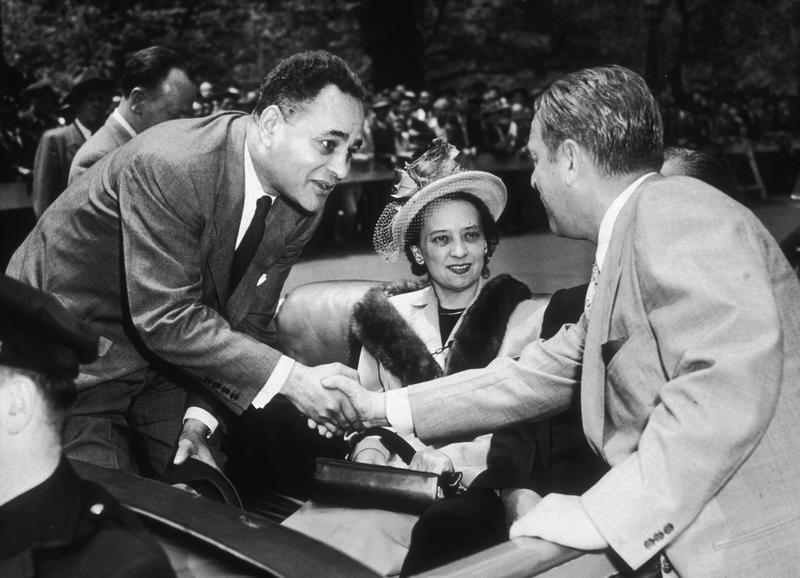 In the early hours of February 24, 1949, on the Greek island of Rhodes, Dr. Ralph J. Bunche emerged from the Egyptian-Israeli talks to announce the signing of a General Armistice Agreement.
Bunche, the chief negotiator for the United Nations, compliments both sides on their "restraint and dignity," promising that this is "only the first of the agreements with the Arab states, which will ensure a return of peace to Palestine and the Near East." Although the marathon talks were arduous, Bunche was so confident in eventual success that he had commissioned a local potter to make commemorative ceramics, which he then presented to the representatives upon the signing of the document. When the Israeli negotiator Moshe Dayan asked what he would have done if they had failed to  come to an agreement, Bunche replied, "I'd have broken the plates over your damn heads."
This agreement addressed four major concerns. It established an Armistice Demarcation Line which was not to be considered a territorial or political boundary. It ceded to Egypt what has since become known as the Gaza Strip. It allowed the encircled Egyptian forces at Fallujah to leave with their weapons. It created a Demilitarized Zone between the two nations. It was considered an interim agreement. Subsequent negotiations were supposed to finalize borders and diplomatic relations between Israel and her neighbors. Instead, the terms of this agreement and similar pacts signed with Lebanon, Jordan, and Syria, remained in force until the 1967 Six-Day War.
Bunche was born in 1904. By 13, he had lost both his parents. He was raised by his maternal grandmother, who fought against local school officials when they tried steering the boy into a commercial training course. After working as a janitor and a carpet-layer he was finally able to attend college, which proved to be the start of a brilliant academic career culminating in his earning a Ph.D. in political science from Harvard. He was  the first black American ever to receive such a degree from an American university. Although Bunche is remembered now for his international achievements, he turned for a time to domestic matters. As a UCLA profile of Bunche points out:
… 1939 he began to work with Swedish sociologist Gunnar Myrdal on a project to survey the conditions of blacks in America, sponsored by the Carnegie Corporation. He spent two years on the project, which resulted in the landmark work An American Dilemma: The Negro Problem and Modern Democracy. The team conducted its research through in-person interviews -- Bunche took three trips through the South under the auspices of the study, the first with Myrdal himself and the second two with three field assistants -- as well as through lengthy questionnaires…. One of his most shocking findings was the extent of corruption in Southern political practices; he also criticized the extent of disenfranchisement of both black and white voters and the lack of effective grassroots reform movements. It would be difficult to overstate the impact of An American Dilemma on race relations or on American scholarship. Just like Franklin Roosevelt's 'second Bill of Rights' speech in January 1944 -- which helped redefine American liberalism -- the publication of Myrdal's book was a watershed event.
Bunche began working for the United Nations at the organization's inception and soon rose to be one of its chief negotiators. The agreement that he announces here was the result of 81 days of often contentious bargaining. For his work, Bunche was awarded the 1950 Nobel Peace Prize. This established Bunche as the United Nations' most prominent diplomat when it came to defusing volatile situations. Despite his international stature, Bunche's reputation at home was less secure. Gale Contemporary Black Biography reports:
…Bunche's principal contribution to history lies in his pacifying heated political tempers in the Middle East, the Congo, Greece, and other hot spots around the world. In his later years, Bunche was criticized by some elements of the conservative right wing in the United States, and, more scathingly, by members of the militant wing of the black civil rights movement, who charged that he was an "Uncle Tom" more interested in serving his white superiors and resolving international conflicts than in addressing the plight of blacks in his own segregated backyard. He graciously answered this criticism by pointing to his history of commitment to civil rights and, on a broader level, by arguing that efforts made toward world peace would help the United States maintain peace at home as well.
Bunche did involve himself in the civil rights movement, participating in the 1963 march on Washington and the 1965 Selma-to-Montgomery march, as well as serving on the board of the NAACP. But he was first and foremost a creature of the United Nations, an organization he had helped found and to whose mission of world peace he devoted much of his working life. In its obituary, The New York Times describes his skills behind closed doors:
At a negotiating conference table, he usually gave the outward appearance of being calm, soft-spoken, unflappable, But there were signs for those who would note them of the deeper turmoil in the man: the chain-smoked cigarettes, the darkening circles under his grave eyes, the hoarseness in his baritone voice. He could haggle, bicker, hairsplit, and browbeat, if necessary, and occasionally it was. But the art of his compromise lay in his seemingly boundless energy and the order and timing of his moves.
In 1971, suffering from a variety of ailments, Bunche was eventually forced to retire from the United Nations. So instrumental was he considered by the Secretary General U Thant that, at first, no announcement was made, in the hopes that he would recover and resume his duties. Bunche died, however, that same year, at the age of 67.
Audio courtesy of the NYC Municipal Archives WNYC Collection.
Note: Some poor audio quality due to original transmission.